Samsung Announces True 8-Core Exynos Ahead iPhone 5S's A7 Processor
Ahead of Apple's debut of the iPhone 5S that will usher in a new Apple-designed, ARM-based A7 processor, Samsung is trying to one-up Apple by announcing an update to its Exynos 5 processor line that would allow all 8 cores to be fired on simultaneously.
Current Exynos 5 processors on the international variant of Samsung's current Galaxy S4 Android flagship smartphone have 8 cores, but only four cores could be used at a time in a design called big.LITTLE. When the phone is running high performance apps, the four higher power cores kick in while the four lower powered cores activate when the phone doesn't need to be in performance mode to conserve battery life.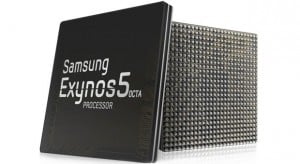 Thanks to the Heterogeneous Multi-Processing (HMP) solution, Samsung is able to run all 8 cores simultaneously to deliver better performance and battery efficiency on its Exynos 5 Octa design. At this time, the company isn't stating how much of a performance gain the HMP process will deliver versus the older big.LITTLE architecture where only four cores are active at any given time.
"HMP is the most powerful use model for ARM big.LITTLE technology, as it enables the use of all physical cores at the same time," Samsung wrote in its press release. "Software threads with high priority or high computational intensity can be allocated to the 'big' Cortex-A15 cores while threads with less priority or are less computationally intensive, can be performed by the 'LITTLE' Cortex-A7 cores, enabling a highly responsive, low-energy system to be built."
It's unclear if a software update could be enabled on current Exynos 5 smartphone models, like the international variant of the Galaxy S4, to enable these devices to power on all eight cores simultaneously when needed.
Samsung's most recent Exynos 5 smartphone was the Galaxy Note 3, a phablet that was introduced last week and will be available by the end of the month globally; customers in the U.S. and Japan will have to wait until October and devices launching in LTE markets will use rival Qualcomm's Snapdragon 800 processor instead.
Apple is expected to deliver an upgrade to its processing and graphics capabilities of its flagship iPhone 5S and there are rumors that Apple will unveil a new proprietary A7 processor design alongside its smartphone. It's unclear what the A7 will be able to deliver at this time.

As an Amazon Associate I earn from qualifying purchases.