Samsung ATIV Odyssey Phone Coming To Verizon January 24 for $49.99
Today Verizon announced the Samsung ATIV Odyssey will come to its network tomorrow, January 24, for $49.99 on a two-year contract after a $50 mail-in rebate.
The Samsung ATIV Odyssey will cost users $99.99 upfront, which is the same price as the Windows Phone 8X and iPhone 4S on Verizon. After the rebate the ATIV Odyssey comes out to the same price as the Nokia Lumia 822.
Like the Lumia 822, the ATIV Odyssey is a mid-range Windows Phone 8 device. It has a 4-inch display with an 800×480 resolution and a dual-core 1.5GHz Qualcomm processor. The phone also has a 5MP rear-facing camera, 1.2MP front-facing camera, 1GB of RAM, 8GB of storage space and a microSD card slot for expanded storage.
Samsung bundled a number of exclusive apps into the ATIV Odyssey including Mini Diary, Photo Editor and Now for checking weather, news and stocks. Windows Phone 8 still looks the same as it does on every other device, as manufacturers can't put custom skins on top of the platform.
The ATIV Odyssey looks like a smaller Samsung Galaxy S3 from the front, with the same brushed metal look on the plastic. The ATIV Odyssey uses capacitive buttons instead of a physical home button, however. The back of the device is also much different from other Samsung devices.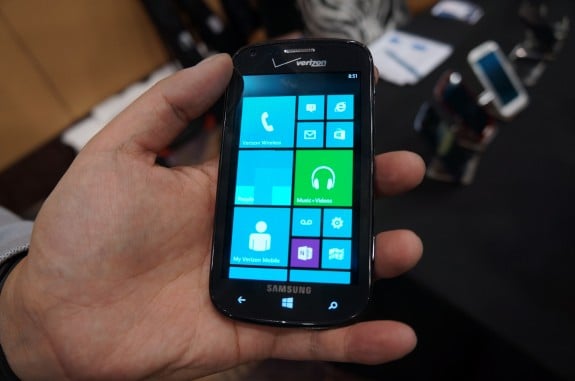 At $49.99 the ATIV Odyssey is almost identical to the Lumia 822 in specs. The decision comes down to which exclusive apps the user wants. Nokia has a wider selection of exclusive apps than Samsung, which could push more users towards to the Lumia 822.
Before the $50 mail-in rebate, however, the ATIV Odyssey is the same price as the Windows Phone 8X. The Windows Phone 8X by HTC has better specs with a 4.3-inch 720p display, 16GB of storage and an 8MP camera. For the same price, the Windows Phone 8X is a much better phone.