Samsung ATIV Odyssey First Look (Video)
At CES 2013, we got to take a look at Samsung's first Windows Phone 8 smartphone for the U.S. market in the form of the ATIV Odyssey, a device that's now promised for Verizon Wireless' 4G LTE network in the coming weeks. The ATIV Odyssey, unlike the international GSM ATIV smartphone, won't be a high-end device and is instead positioned for the entry level market. The device is a solid contender and features the familiar Metro UI with the Windows Phone Live Tiles user interface along with some custom Samsung apps to make it a good experience.
In the video below, Samsung's Ryan Biden gives us an overview of what we can expect of the Windows Phone 8 device once it launches on U.S. store shelves.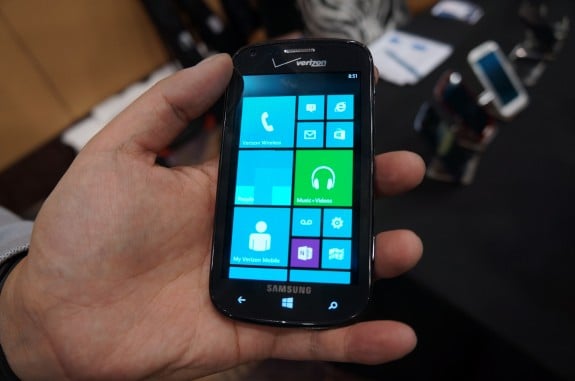 Some of the custom apps include Samsung Now, an app that aggregates weather, stocks, and local news content, Mini Diary, which is program to help you keep track of your day and appears to be similar in scope to the Diary app on Samsung's Android devices but with the panoramic UI of Windows Phone's app screens, as well as a Photo Editor.
In terms of specs, the ATIV Odyssey won't be positioned in the same class as the Windows Phone 8X by HTC on Verizon's network. It will have a smaller 4-inch Super AMOLED display with a lower resolution of WVGA. The screen appears bright and vivid, however, and works fine for normal use.
For more CES 2013 coverage, please visit the GottaBeMobile CES 2013 page. 
The camera is a lower 5-megapixel camera on the rear with an LED flash and the battery cover looks to have a similar treatment as newer Android Samsung devices, like the rear metallic blue covers on the Galaxy S3 and the Galaxy Note 2.
Though the ATIV Odyssey is limited with only 8 GB of built-in storage, the device does accommodate a micro SD card slot for expandable storage and can take up to 64 GB of additional storage.
The device will be a global phone as well so it should work on GSM networks when users travel internationally. In the U.S., it would operate on Verizon's 3G CDMA/EVDO network as well as the carrier's 4G LTE network.