Samsung ATIV Odyssey Release Date Could Be January 24
The Samsung ATIV Odyssey could come to Verizon on January 24 according to @evleaks.
The Samsung ATIV Odyssey is the upcoming mid-range Windows Phone device which Verizon announced at CES last week would come to market soon. At the trade show Verizon would only say the phone will release in the coming weeks, but now it looks like the phone could come to stores shelves next week.
The entry-level ATIV Odyssey will likely cost no more than $50, though there's also the chance Verizon will offer the phone free on contract. The carrier hasn't announced pricing for the ATIV Odyssey, but the company's only current mid-range Windows Phone is the Nokia Lumia 822, which it sells for $49.99 with a two-year contract.
The Samsung ATIV Odyssey looks like a typical Samsung smartphone from the front with a design similar to the Galaxy S3 but with no physical home button. The back, however, has a different design with a speaker grille below the removable battery door.
Neither Samsung nor Verizon have announced detailed specs for the ATIV Odyssey yet, but at CES the phone seemed to run WIndows Phone 8 without any hiccups. Samsung's custom apps were a bit slow to open, but it's not clear if that's the fault of the apps or of the phone itself. Without another Samsung Windows Phone 8 device it's hard to judge.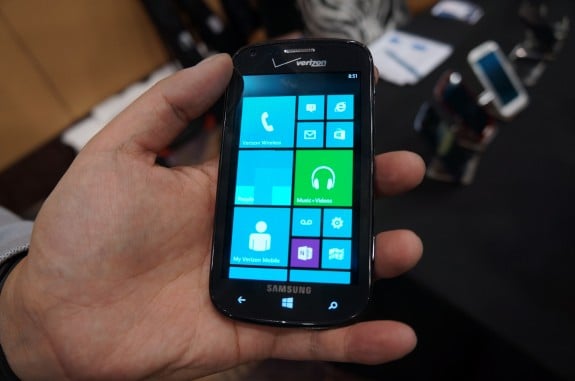 The Samsung ATIV Odyssey isn't a phone meant for power users, it's more designed for first-time smartphone users. When it does come to Verizon, it will help the company reach its goal of offering a different Windows Phone for each market segment.
If Verizon does release the ATIV Odyssey for free on a two-year contract the phone will compete against phones like the two-year old iPhone 4 which Verizon currently offers with the same deal. The iPhone 4 has a larger selection of apps, but doesn't have 4G LTE support which, while the ATIV Odyssey can connect to Verizon's 4G LTE network.