Samsung ATIV Odyssey Review: Budget Windows Phone 8 on Verizon
The Samsung ATIV Odyssey is a budget Windows Phone 8 smartphone on Verizon Wireless which competes more with budget Android devices like the LG Lucid 2 and Droid RAZR M than other Windows Phone 8 devices like the HTC 8X.
Samsung focuses specifically on a low-cost device with a plastic design that doesn't look or feel as nice as the Galaxy S3 or match up to the construction of the HTC 8X.
Even though the device doesn't offer the flair of the competitors it does deliver a good smartphone experience for the $50 on a two-year contract price.
Read: HTC 8X Review
That said, there are better options for Verizon shoppers to check out, like the Verizon HTC 8X we reviewed last year and Android devices such as the Samsung Galaxy S3 for users looking to spend less than $100 on a new smartphone.
Pros

Runs Windows Phone 8 well, with snappy performance.
Long lasting battery life.

Cons

Low resolution screen.
bulky, plastic design.
Better options available for similar prices.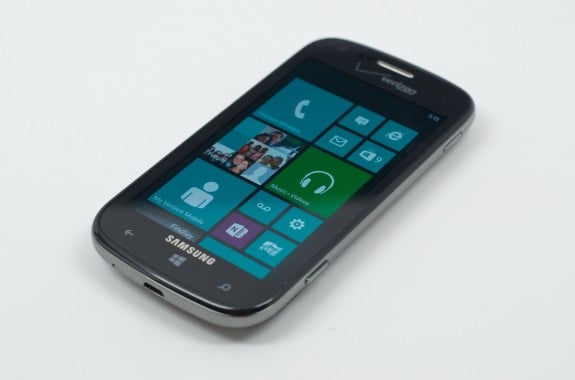 Samsung ATIV Odyssey | $50 | Verizon

Samsung ATIV Odyssey Review Guide

Related Samsung ATIV Odyssey Review Articles

Buy the Samsung ATIV Odyssey
Samsung ATIV Odyssey Hands On Video
We go hands on with the Samsung ATIV Odyssey at CES 2013. This short Samsung ATIV Odyssey hands on video shows off some of the software on the smartphone and a fast look at the hardware.
Design
The ATIV Odyssey features a plastic design that is similar in overall style to the Galaxy S3, but is bulkier and not as visually appealing as the flagship Android smartphone. The phone measures 4.82 inches tall, 2.5 inches wide and is nearly half an inch thick.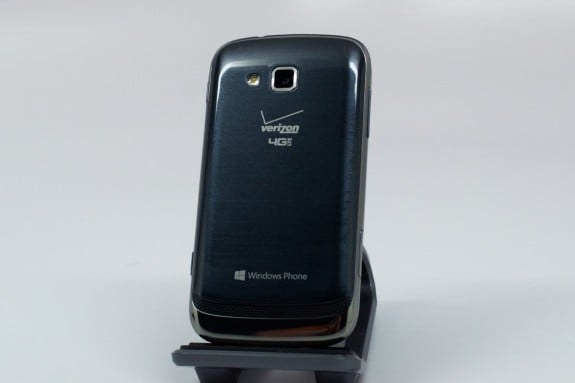 The Samsung ATIV Odyssey features a two-tone design with a silver plastic band running along the edges of the phone and part of the back. The majority of the phone is a dark grey with a slight brushed metal finish, though no one will mistake it for actual metal.
The plastic design incorporates a removable back so users can swap in a second battery. There is also a Micro SD card slot on the side of the device to add more storage. The phone features a standard Micro USB charger and puts the headphone jack at the top.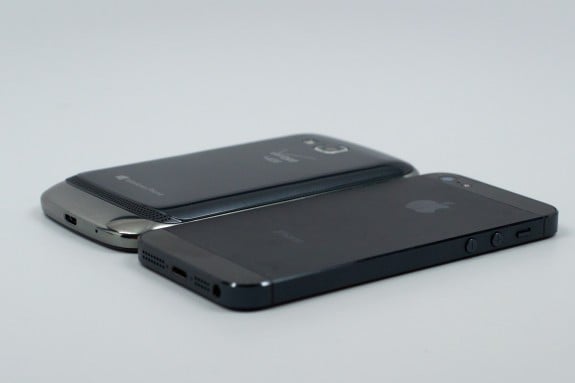 There is a volume rocker on the left side of the ATIV Odyssey as well as power and camera hardware buttons on the right side of the device.
While the Samsung ATIV Odyssey lacks the visual stylings of new Samsung devices it looks ok, but fails to stand out in a sea of colorful Windows Phone 8 devices.
Samsung ATIV Odyssey Display
The Samsung ATIV Odyssey features a 4-inch Super AMOLED display that delivers a WIndows Phone 8 experience complete with Live Tiles and offers an ok experience.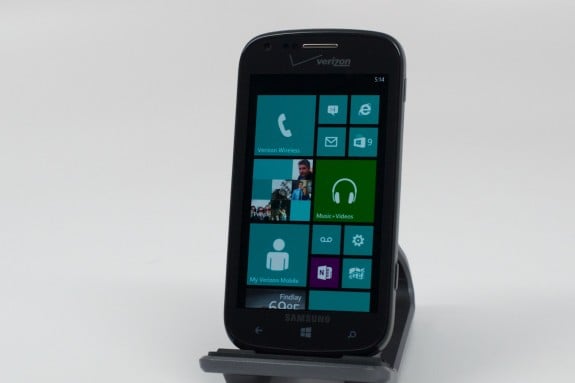 Ultimately though, the ATIV Odyssey is limited by the 800 x 480 resolution of the display which makes itself known in lower quality on-screen text while reading ebooks or browsing the web. When the iPhone 4 is available free with a Retina Display that looks great, it's tough to switch to a 4-inch display with such a low resolution.
Colors on the ATIV Odyssey display look very good, but the overall brightness of the display is lower than the competition, such as the HTC 8X and many non-Windows Phone 8 devices.
Samsung ATIV Odyssey Performance
The Samsung ATIV Odyssey pairs a 1.5GHZ Qualcomm dual-core processor with 1GB of RAM which is more than enough to deliver good performance for basic smartphone tasks. This smartphone even includes the specs needed to play upcoming Xbox Live titles like Modern Combat 4, and it handles the Windows Phone 8 Apps we threw at with ease.
With 4G LTE on board loading web pages and videos on YouTube is quick and switching between apps is also snappy. Even with the budget price it's good to know users won't be left with sluggish performance.
While it's not going to replace a higher end smartphone it is a capable smartphone.
Samsung ATIV Odyssey Battery Life
The Samsung ATIV Odyssey features a 2,100 mAh battery that delivers enough power to last us through the day during average use of the smartphone.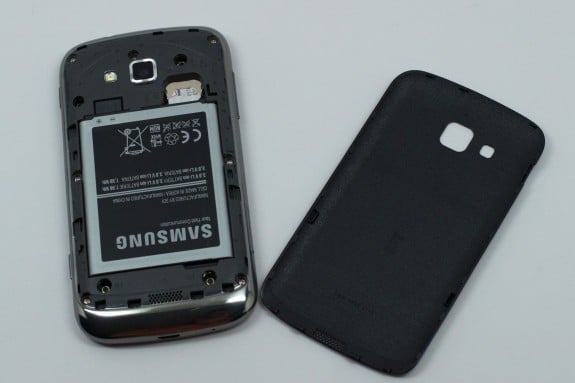 Users who need more battery life, such as those coming from a flip phone that used to last a week, may see longer battery life and can always carry a spare battery in the car to swap out.
Samsung ATIV Odyssey Call Quality and Audio
The ATIV Odyssey delivers very good sounding call quality while talking on the phone, but the speaker phone is not one users should count on for long conversations. While on speaker, callers sounded pretty clear, but reported that we did not sound good.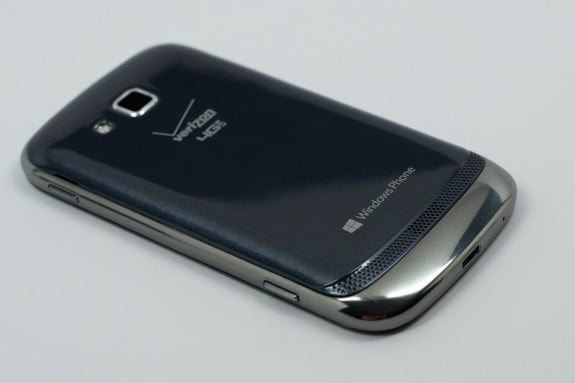 Listening to music or movies on the ATIV Odyssey is enjoyable, with clear sounding music, though we wish the volume went louder.
Samsung ATIV Odyssey Cameras
The Samsung ATIV Odyssey features a 5MP rear camera and a 1.2MP front facing camera. These cameras are capable, but are below the average for smartphones, and deliver average results.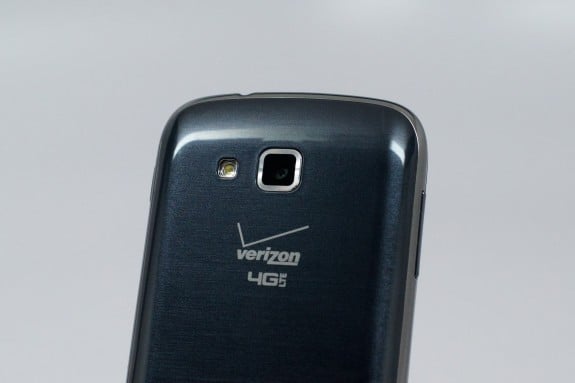 The following samples show what the ATIV Odyssey camera is capable of. The phone can capture 1080P HD video as well, and delivers decent results.
Samsung ATIV Odyssey Photo Samples
Software and Apps
The Samsung ATIV Odyssey runs WIndows Phone 8 with Live Tiles and access to a growing number of apps. There are still a number of missing apps, like Instagram for Windows Phone, but Microsoft is delivering more apps to help compete with Phone and Android.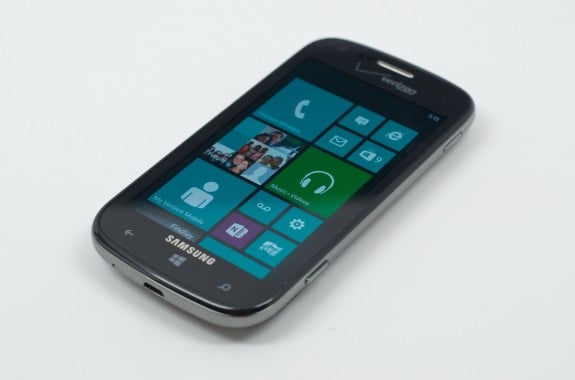 The Windows Phone 8 experience delivers Live Tiles with constantly updating information and photos, but unfortunately tapping on each of these does not take the user to what they saw. This is potentially confusing and often frustrating.
Still, there are many nice features of Windows Phone 8 like groups that allow users to see their friends' updates in one spot across a variety of social networks and a kids mode that locks down what kids can do.
Is the Samsung ATIV Odyssey Worth It?
While the Samsung ATIV Odyssey is available for as low as $9.99 with a two-year contract, there are better smartphone options available.
The good news is that the ATIV Odyssey delivers in performance, but when it comes to cameras, display and design the phone falters compared to the competition.
Users looking for a Windows Phone 8 smartphone on Verizon should check out the HTC 8X which retails for $99 on a two-year contract but is available for $50 on Amazon with a two-year contract. There are also better Samsung options like the Galaxy S3 and the upcoming Samsung Galaxy S4 for users looking at Android. The iPhone 4 is also free on Verizon and is a better option for many users.
Samsung ATIV Odyssey Gallery