Samsung ATIV S Neo Coming to Sprint on August 16th
Starting this Friday, users on Sprint will finally be able to pick up a Samsung Windows Phone device of their very own. That's when the carrier has announced that the Samsung ATIV S Neo will hit store shelves for $149.99.
According to the specifications detailed on the smartphones factsheet, potential ATIV S Neo users can expect a smartphone outfitted with the latest hardware available to Windows Phone users. That includes a 1.4GHz dual-core processor, 1GB of RAM, NFC (near field communications) functionality and compatibility with Sprint's next generation LTE data network.
The ATIV S Neo will also sport a very large — again for a Windows Phone — display, with its 1280 x 720 display measuring 4.8-inches.  The device will also feature an 8-megapixel rear facing camera and a front-facing 1.9-megapixel camera for taking photos and self-portraits.
Users will have 16GB of on-board storage with the option to add more using the microSD slot that's available near the device's removable battery. That's pretty unique for a Windows Phone, as most high-end devices running the operating system don't allow users to add any external storage to their device.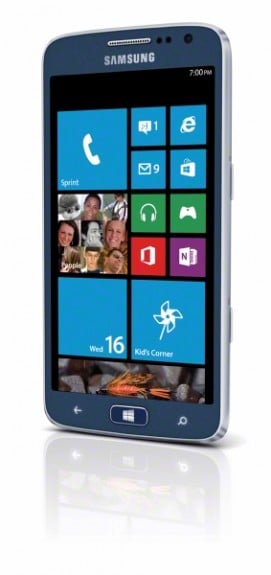 Just like the Samsung ATIV S on AT&T, and the Samsung ATIV Odyssey, the ATIV S Neo will come with a few applications that are only available to other Samsung Windows Phone users. This includes ATIV Beam, a way for users to share their media between devices using their Windows Phone's NFC chip and Bluetooth connection. Sprint is also loading a few applications of its own, including the Sprint TV application and the Sprint Music Play subscription service. Users shouldn't worry about either Sprint or Samsung loading the device up with too many apps, all of these can be removed by the user, unlike on the Samsung Galaxy S4.
The ATIV S Neo joins one other smartphone that only recently made its way into Sprint's smartphone line. The HTC 8XT debuted on the carrier around a month ago and sports many of the same features as the ATIV S Neo for just $99.
Users who choose to pick up the ATIV S Neo this Friday will have to sign up for a two-year service agreement to get the device's $149.99 price. They'll also have to submit a $50 mail-in rebate card that usually takes around a month to redeem.

This article may contain affiliate links. Click here for more details.