Samsung ATIV Smart PC Pro with LTE Brings Surface Productivity and iPad Battery Life
The Samsung ATIV Smart PC Pro with AT&T-compatible 4G LTE may be one of the most under-rated tablets from Microsoft's Windows 8 camp. The device boasts an 11.6-inch full HD 1080p touchscreen display, an Intel Core i5 gut, the productivity of Microsoft's Surface Pro tablet, an 8-hour battery life to rival Apple's iPad, and built-in 4G LTE connectivity. It's got everything that a fully configured Windows 8 tablet should have, but that no other manufacturer has been able to deliver to date.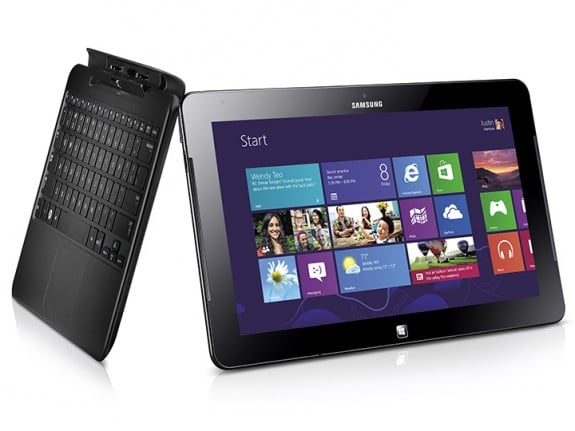 The ATIV Smart PC Pro 700T model with 4G LTE comes with its own detachable keyboard dock, like the non-LTE model. The tablet has 128 GB total SSD storage, 4G RAM, and a total weight of nearly 2 pounds, comparable to Ultrabooks. The package costs a whopping $1,600.
At the time of this writing, the ATIV Smart PC Pro with AT&T-compatible LTE isn't listed on AT&T's website. The ATIV Smart PC is, as well as the Windows RT-powered ASUS Vivo Tab RT, but not the Smart PC Pro model.
So far, Windows 8 tablets has been about compromises. The Surface Pro has a gorgeous design, but comes without options for 4G LTE connectivity and has a rather anemic 4-hour battery life. Other retailers focus on battery life, but fail to deliver a sleek design.
Additionally, the ATIV Smart PC Pro utilizes Samsung's S-Pen active digitizing technology from Wacom, similar to the technology on the company's Galaxy Note series.
Given the Intel chipset, Windows 8 license, and the detachable keyboard dock, the ATIV Smart PC Pro costs $670 over a similarly configured iPad with the 128 GB storage. Still, with Windows 8, you're getting a more production-oriented system rather than the more content consumption goal of the iPad, though iOS and Android are narrowing in with more productivity apps. The ATIV Smart PC Pro LTE costs about the same as a similar Chromebook Pixel with LTE.
Samsung also has a cheaper ATIV Smart PC with AT&T LTE support that comes with a more modest Intel Atom CPU.