Samsung ATIV Tab: No One Knows What Windows RT in the U.S.
Samsung made some news at the Consumer Electronics Show by announcing it won't be releasing one of its previously announced products, at least in the U.S. market. According to the South Korean tech giant, the Windows RT-powered ATIV Tab won't be headed to the U.S. market because it's confusing and the average consumer doesn't understand what the difference between Windows RT and Windows 8 is.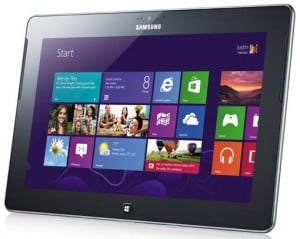 In an interview with CNET, Samsung senior VP of the U.S. PC market Mike Abary says that it was unclear what the differentiation would be and the company would have to make cost-cutting measures it was unwilling to make to keep costs down:
There wasn't really a very clear positioning of what Windows RT meant in the marketplace, what it stood for relative to Windows 8, that was being done in an effective manner to the consumer. When we did some tests and studies on how we could go to market with a Windows RT device, we determined there was a lot of heavy lifting we still needed to do to educate the customer on what Windows RT was. And that heavy lifting was going to require pretty heavy investment. When we added those two things up, the investments necessary to educate the consumer on the difference between RT and Windows 8, plus the modest feedback that we got regarding how successful could this be at retail from our retail partners, we decided maybe we ought to wait.
According to Abary, Samsung would have to use less memory, for example, to keep prices low to consumers, but this was not a move the company was willing to make at the expense of a good user experience.
Microsoft had announced Windows RT as a Windows 8 variant with more limited capabilities that can run on ARM Holdings' low-powered processor, marking a big jump away from Intel and the x86 platform. While Windows 8 will run on Intel's and AMD's processors and can run legacy apps designed for Windows 7 or earlier, the robust performance comes at the expense of battery life and comes with increased cost. In contrast, Windows RT runs the new HTML 5 Metro apps and doesn't support any legacy programs and has a cheaper starting price.
In addition to the now canned ATIV Tab, Samsung's Windows 8 tablets are now already on sale in the U.S. Those models include the ATIV Smart PC and the ATIV Smart PC Pro, the former uses an Atom processor while the latter uses an Intel Core architecture for more powerful performance.

As an Amazon Associate I earn from qualifying purchases.