Samsung Debuts Android-powered Galaxy Camera 2
With one of the biggest electronic shows of the year just days away, Samsung is taking this moment to get ahead of the pack and just announced its all-new Samsung Galaxy Camera 2 running Android. Blending all those Android smartphone features into a full-fledged camera.
Similar to the Galaxy Camera from last year, the new Galaxy Camera 2 is quite large, has awesome specs, and runs one of the latest versions of Android complete with all of Samsung's camera enhancements. That, and it also supports 3G and full 4G LTE in many areas for photographers on the go. It doesn't have phone features like the Galaxy S4 Zoom Cameraphone, but it still has plenty to offer.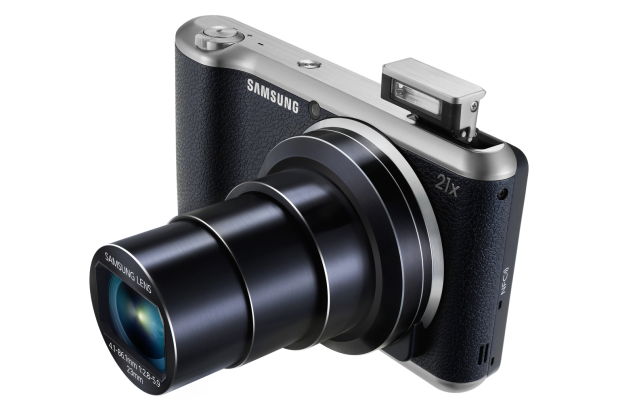 The Samsung Galaxy Camera 2 blends most of the mobile tech from the Samsung Galaxy range into a camera equipped with a quality 16.3MP BSI CMOS sensor, delivering a 21x optical zoom option with a 23mm wide angle F2.8 lens. All of that is attached to a 4.8-inch 1280 x 720p HD AMOLED display that takes advantage of live view photos, video recording, and of course thousands of Android apps.
Running Android 4.3 Jelly Bean and a suite of Samsung-specific photo apps and features such as Drama Shot, quick eraser, and much more. It's powered by a Samsung 1.6 GHz Quad-core processor with 2GB of RAM, offers 8GB of storage and micro-SD support for expansion, and sadly the biggest area that needed improvement only saw minimal gains, which is the battery. Samsung added a 2,000 mAh battery that should last for a few hours, maybe more without LTE enabled.
As far as connectivity goes we have WiFi, Bluetooth, and even NFC, then the Galaxy Camera 2 will support data with 3G and 4G LTE from select carriers and regions. After initially launching last year the Galaxy Camera launched on both Verizon and AT&T separately with 4G LTE support and plans, and likely will be bundled with tablets or the Galaxy Note 3.
Read: Samsung Galaxy Camera Review
We enjoyed the original, as you can see from our review linked to above, and will be sure to try out the new Galaxy Camera 2 at CES early next week. Availability and pricing should arrive shortly, and we'll update once it arrives.