Samsung DualView T225: I think I found my next point and shoot
Photography is my favorite hobby and I lug my Nikon D300 around just about everywhere, but I also carry around a point and shoot camera as backup, to take self-portraits and to hand off to others who aren't comfortable taking pics with a DSLR. I often use my Canon Powershot at arm's length to snap photos of my wife and myself. I often cut off one (or both) of our heads and have to re-shoot.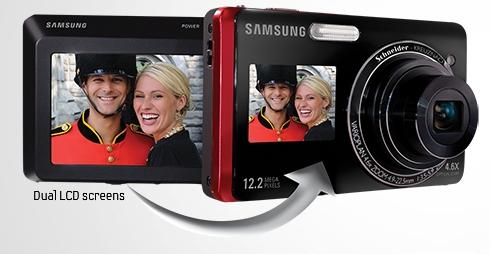 The Samsung DualView T220 and DualView T225 are a pair of cameras that will definitely alleviate my reach-and-shoot troubles. On the back of these cameras are haptic touchscreen displays. On the front you'll find a 1.5-inch secondary display. The front-facing display looks like it'll be great for taking self portraits, whether handheld or on self-timer mode. The display also has something called 'Chldren Mode' which flashes a video of a goofy looking clown to catch your kids' attention. This might work the first few times, but I imagine the novelty will wear off pretty quick and they'll just go back to ignoring your requests to smile for the camera. There's a countdown meter for self-timer shots, which is better than the pulsating light commonly seen on cameras.
The Dualview T220 has an MSRP of $299 and the T225 is $349. It'll start shipping in September, but I'm going to wait for the holiday sales to kick in to order.
via jkOnTheRun