Samsung Epic 4G Now Listed with Gingerbread, Roll Out Imminent?
We know that the Samsung Epic 4G Android 2.3 Gingerbread is on the horizon and the fact that the device is now listed as shipping with Android 2.3 on Sprint's website is a good indication that this is the case.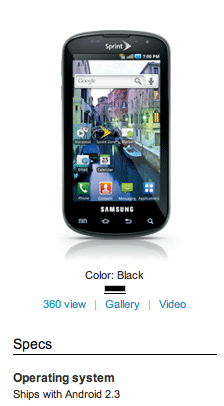 A few days ago, a rumor started circulating stating that the Epic 4G would finally be getting a boost to Gingerbread at some point this month and it's looking more and more like that will be the case. Sprint is notorious for pushing updates out on Friday's so it's possible that we could even see it as soon as this Friday, the 15th if we're lucky.
I was unable to confirm whether or not the device is actually shipping with Android 2.3 or if this is just a blunder by the carrier but as far as I know, it's still shipping with Android 2.2. Still, this is a fairly good sign that something is in the works over at Sprint and if you currently own an Epic 4G, that has to be exciting.
Via: Phandroid
Update: It's a typo but it's still coming and likely very soon.

As an Amazon Associate I earn from qualifying purchases.