Samsung Finally Launches Ativ S Windows Phone 8 in Austria
After having refuted rumors that the Ativ S Windows Phone 8 smartphone may have been delayed into 2013, Samsung is making good on its promise of an end-of-year launch by making the device available in Austria. It's unclear when the Ativ S will launch in other countries and markets, but in the U.S. no carrier has committed thus far to carrying the device; Verizon Wireless will be offering a variant called the Ativ Odyssey.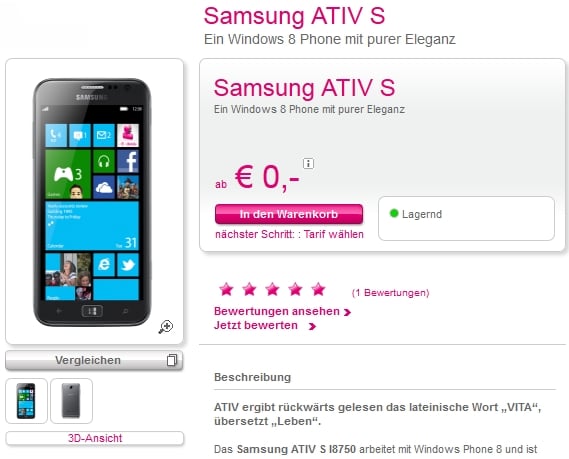 The Ativ S is viewed by many as a Galaxy S III variant that's running Windows Phone 8 as its OS rather than Android. The device sports a similar 4.8-inch HD Super AMOLED display, but will come with a dual-core 1.5 GHz Snapdragon processor along with 1 GB RAM. Additionally, the Ativ S will also have a micro SD card slot for expansion. The phone will have a front-facing camera as well as rear-facing 8-megapixel camera.
The phone is currently available through Austria carrier T-Mobile, according to a report on WP Central. 
The Ativ Odyssey is also expected to launch before the end of the year on Verizon's 4G LTE network. Neither Samsung nor Verizon has detailed the exact specs behind the Odyssey and it's unclear if that device will be a close variant of the international Ativ S or if it will be something entirely different.
In addition to Windows Phone 8, Samsung is also delivering Windows 8 products as well under the Ativ brand. An Ativ Tab tablet runs Windows RT is joined by the Ativ Smart PC (Atom processor) and Ativ Smart PC Pro (Intel Core CPU) to round out Samsung's products that run on Microsoft's OSes.