Samsung Focus 2 Hitting AT&T's 4G LTE Network on May 20
Samsung's next Windows Phone is the Focus 2 which will come to AT&T on May 20 for $49.99 on a two-year contract.
The Samsung Focus 2 is Samsung's first 4G LTE Windows Phone on AT&T, and the carrier's third 4G LTE Windows Phone. The Focus 2 is also the smallest Windows Phone with 4G LTE, sporting a 4-inch screen that's just a bit smaller than the Lumia 900's 4.3-inch display.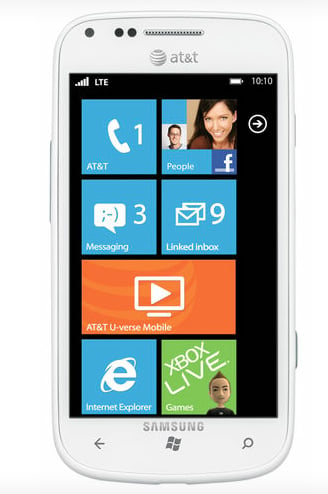 The Focus 2 will be available in glossy white, with no other colors available, or at least no other colors announced. It features a 5MP rear-facing camera that can shoot 720p video and a front-facing VGA camera for Skype and other video chat options. The rest of the specs of the phone are nothing to write home about as they're the same as every other Windows Phone on the market. The big differentiator for the Focus 2 is it's slim 10.98mm thickness and light weight of just 4.3 ounces.
Unfortunately the Samsung Focus 2 only has 8GB of internal storage with no microSD card slot for expansion.That means less space to store media, but 4G LTE  and services like Spotify should help users that want a large collection of music available on their phones.
The Samsung Focus 2 is actually the fourth in the Focus lineup. Previous iterations include the original Focus, Focus Flash, and Focus S. Users who recently purchased one of the previous models might not find much reason to upgrade to the new Focus 2 unless they really like the new phone's design. That's especially true if current Windows Phones won't get upgraded to Windows Phone 8.