Samsung Galaxy Alpha Details Firm Up as Release Nears
The highly rumored Samsung Galaxy Alpha that is set to take on the upcoming iPhone 6 leaked again this weekend revealing more key details, specs, and potentially the price. Over the past month more and more information has surfaced, but a new photo this weekend confirms many of the recent rumors.
Earlier this month we received our first clear images of the new Samsung Galaxy Alpha and Samsung's new metal design language, but the specs, price, and release date are still somewhat of a mystery.
Read: Samsung Galaxy Alpha Rumored to Arrive Ahead of iPhone 6
This weekend new details have emerged from Brazil, reportedly showing what appears to be a presentation slide confirming the handset, and what it will offer when it is released this September. The image below shows the full specs, some which may not be finalized or for all regions, but sheds more light on what prospective buyers can expect come next month.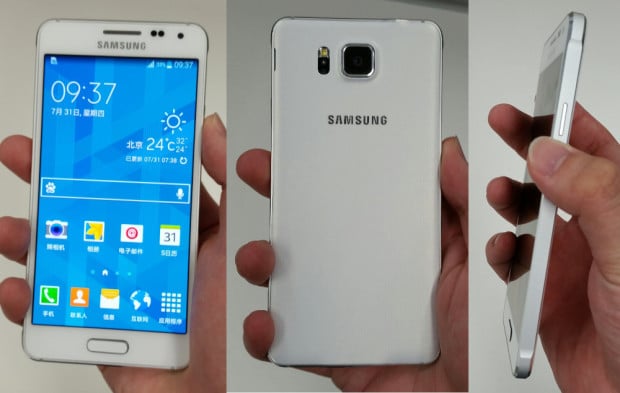 All the leaks leading up to today have claimed the Samsung Galaxy Alpha is being built and released to help Samsung compete with the big-screen iPhone 6, which is coming this September. It has a brand new aluminum design with chamfered edges and sleek subtle curves, as well as many key featured from the flagship Samsung Galaxy S5.
However, that's where the good news stops, because this latest leak is sharing some less than stellar specs. While the smaller 4.7-inch device may be a refreshing change of pace from the recent 5-inch and 5.7-inch Samsung devices of late, the internals may not stack up against the iPhone 6, or some of Samsung's other competition this fall.
Spotted by SamMobile, the Samsung Galaxy Alpha Specs will reportedly include a 4.7-inch 1080 x 720p display. Yes that isn't 1280, but 1080, which could be a mistake. Buyers will get a slim and aluminum device running Android 4.4 KitKat, which is powered by Samsung's own Exynos 8-core processor. Four cores running at 1.7 GHz like many flagship devices, and four 1.3 GHz low-power cores for average tasks to preserve battery life and make the smartphone last for days.
However, while the information above all sounds great, this leak also suggests the Galaxy Alpha will only contain a small 1,860 mAh battery. As a comparison the original Galaxy S2 had a 1,700 mAh battery, and the new Samsung Galaxy S5 is 2,800. Meaning this may not have good battery life, unless the lower resolution display and new 8-core processor really keep things running smooth all day long.
The rest of the details include a 12 megapixel ultra-fast auto-focus camera on the rear, 2.1 front camera, a fingerprint scanner for security, heart rate monitor for Samsung's S-Health fitness tracker, USB 3.0, and 32GB of internal storage with a micro-SD slot for storage expansion.
Again, it's worth noting that some of the specs in the leaked image above say TBD (to be determined) meaning some of the details have yet to be finalized, so we'll have to wait and see once this iPhone 6 competitor is released.
Read: Samsung Galaxy Alpha Photos & Rumors Emerge
Slightly different options may be available in a model for the United States, but we won't know until the smartphone is released. The Samsung Galaxy Alpha recently cleared the FCC as a final hurdle before release. The latest reports suggests an August 13th unveil with a release date arriving in early September before the Galaxy Note 4 and iPhone 6.
The leakster claims the new Galaxy Alpha will be R$2,399 in Brazil, which is about R$100 less than the Galaxy S5. Meaning we could see a decent price coming in under $500 or $49 on contract here in the United States. It's too early to tell, but if the rumored August 13th announcement is accurate, we'll have all the details before the week comes to a close.

As an Amazon Associate I earn from qualifying purchases.