Samsung Galaxy Alpha Hits AT&T to Battle iPhone 6
Back in August Samsung announced the "next evolution" in the Galaxy brand with the all-new aluminum Samsung Galaxy Alpha smartphone. A stunning device from all sides with sleek metal chamfered edges, and great hardware all packed inside a 4.7-inch device aimed at competing with the iPhone 6.
Now a little over a month later the iPhone 6 is officially here, shipping to buyers as we speak, but the impressive and metal Samsung Galaxy Alpha is only available outside of the US and for select markets. However, this morning AT&T and Samsung announced the phone will be available exclusive with AT&T starting later this week.
Read: Samsung Galaxy Alpha Release Hints at Note 4 Design
For months rumors suggested the Samsung Galaxy Alpha would be a new flagship smartphone in a smaller form factor to battle the iPhone 6, and for the most part it does, but it wasn't quite as powerful as many expected. That being said, it's still a highly impressive and pocketable 4.7-inch device that should have iPhone 6 buyers looking Samsung's way.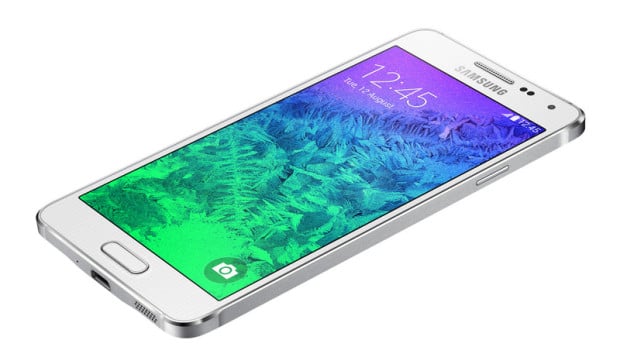 The upcoming Samsung Galaxy Note 4 is a massive 5.7-inch smartphone, and that may be sized a bit too big for some buyers hands. For those looking for a premium device that passed on the Galaxy S5 in favor of waiting for the iPhone 6, the Galaxy Alpha may be the perfect choice. It has a sleek design, a small form factor, and impressive specs to keep it a quality smartphone for years to come.
This will be yet another exclusive smartphone for AT&T, at least for now anyways, and here's what you need to know about the all-new AT&T Samsung Galaxy Alpha.
Samsung Galaxy Alpha Specs
4.7-inch 1280 x 720 HD AMOLED Display
1.8 GHz 8-Core Samsung Exynos Processor with 2GB of RAM
32GB internal storage, no micro-SD slot
12 Megapixel rear and 2.1 front Camera setup
Metal "solid finish" design
Android 4.4.4 KiKat
Fingerprint scanner and heart rate sensor
1,860 mAh battery
Sleek design being only 7mm thick
The Samsung Galaxy Alpha is essentially the Galaxy S5 and new Note 4 combined into one, but delivered in a small 4.7-inch size to compete directly with the new iPhone 6. Those who don't want a large phone like the iPhone 6 Plus or Note 4, but still want a premium experience with an aluminum design (there's the HTC One M8) the new Alpha is worth considering.
Prospective buyers that like what the new Galaxy Alpha has to offer will be able to get the phone exclusively from AT&T starting on September 26th. The usual pricing applies, but here's the breakdown courtesy of AT&T.
$25.55 per month on AT&T Next18.
$30.65 per month on AT&T Next12.
$199.99 with a two-year agreement.
No annual commitment for $612.99.
It's a flagship smartphone and comes with a flagship price. It's worth noting that the iPhone 6 from AT&T is the same $199 with a new 2-year contract for the 16GB variant, and jumps to $299 for the 64GB option. The Galaxy Alpha is only $199 for the 32GB model, but it's one of a few Samsung smartphones that does not support expandable storage with a micro-SD slot.
Samsung's new Galaxy Alpha has the same fingerprint scanner, heart rate sensor, and aluminum edges as the Note 4, so should be an excellent phone to hold and use.
For now AT&T is the exclusive carrier of the Galaxy Alpha, but we could see others offer it at a later date. It has impressive specs that line up rather nicely with the new iPhone 6, as does the size, so buyers may be in for a tough decision once they head into an AT&T store and try this phone out in person. Expect it in-stores starting September 26th.

As an Amazon Associate I earn from qualifying purchases.