Samsung Galaxy Alpha Release Hints at Galaxy Note 4 Design
Today Samsung announced the "next evolution" of the Galaxy smartphone brand with their first metal device, the Samsung Galaxy Alpha. A stunning smartphone from all sides with sleek metal chamfered edges, and great hardware all packed inside a 4.7-inch device aimed at competing with the iPhone 6.
Over the past month or so a slew of leaks started to emerge suggesting a new line was coming from Samsung that would deliver a top-tier smartphone in a smaller package for those who don't want a massive screen, and may consider the upcoming 4.7-inch iPhone 6. And that's mostly what was unveiled today.
Read: Samsung Galaxy S5 vs Samsung Galaxy Alpha: What to Expect
This morning Samsung officially took the wraps off of its new smartphone, but it isn't quite what everyone may have been expecting. It's still a premium device and a first for Samsung Android devices, but we'll have to wait and see how well it does, or if it ever comes to the United States. Read on for more details and a quick video of the beautiful new Samsung Galaxy Alpha.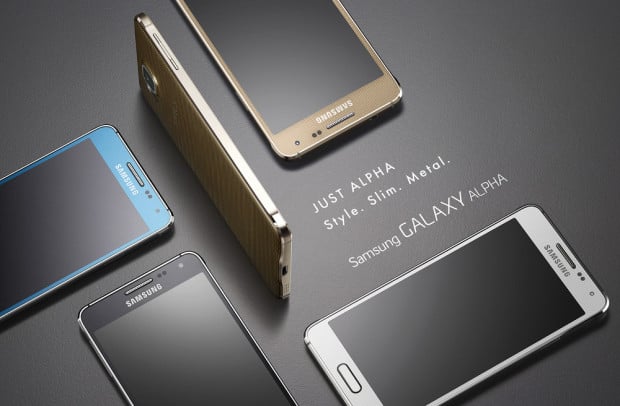 As previously rumored, today Samsung had a quiet unveiling of the new Samsung Galaxy Alpha. It wasn't a mainstream event like the Galaxy S5 or upcoming Galaxy Note 4 event will be, so we're not sure exactly where all the company plans to launch this new device. However, it's pretty impressive looking, has decent specs, and is essentially a Galaxy S5 Mini with aluminum sides and a few small changes.
Samsung's press release makes sure to mention this is more about setting a new standard for its smartphone designs, rather than being a premium device that will sell millions. Meaning we could see this same beautiful design in the new Note 4. In fact, it's the same look that leaked earlier this week for the new Samsung Galaxy Note 4, and we'll likely see this evolve into something pretty great next year with the Galaxy S6.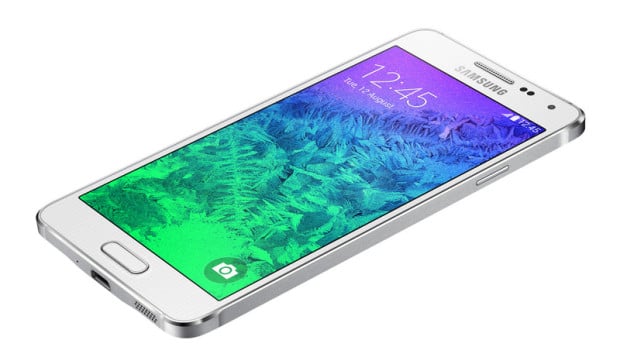 That all being said, here's what buyers can expect now we know the official details from the new smartphone.
Samsung Galaxy Alpha Specs
4.7-inch 1280 x 720 HD AMOLED Display
1.8 GHz 8-Core Samsung Exynos Processor with 2GB of RAM
32GB internal storage, no micro-SD slot
12 Megapixel rear and 2.1 front Camera setup
Metal "solid finish" design
Android 4.4.4 KiKat
Fingerprint scanner and heart rate sensor
1,860 mAh battery
Sleek design being only 7mm thick
Aside from having a display that isn't 1080p like most flagship devices as of late, and a tiny battery inside, this is a pretty impressive smartphone. If Samsung could have tossed a 1080p display and a bigger battery inside, rather than make it one of the slimmest Galaxy devices ever, it would probably appeal to a lot more buyers.
Without talking about it much more, check out the teaser video and official unveiling below.
https://www.youtube.com/watch?v=u8OZoyHvX78
Samsung's clearly aiming this as a device with a stunning design unlike anything we've seen before, and they're right. Nothing we've seen from Samsung, but it has quite a resemblance to the iPhone on the sides. Samsung makes sure to mention it has "elegantly curved corners and a tactile soft back cover." Making it one of the best Galaxy smartphones to date, but we'll let you decide.
The all-new Samsung Galaxy Alpha will be available at the beginning of September in black, white, gold, silver and blue, depending on the market. A few places such as Carphone Warehouse have already snatched the blue version as an exclusive outside of the US, but we've yet to hear any other official details surrounding this new smartphone.
All said and done, the new Samsung Galaxy Alpha is a rather impressive looking phone, and even though we've yet to hear any confirmation of a release in the United States, it gives potential buyers a good idea of what to expect once the Galaxy Note 4 hits all major US carriers in October. Samsung mentioned more than once this is the new standard they'll use moving forward. A comment which essentially confirms all the latest Galaxy Note 4 leaks are accurate.
So far all announcements regarding the Samsung Galaxy Alpha release date have been for the UK, but we'll update the moment we have more details.

As an Amazon Associate I earn from qualifying purchases.