Samsung Galaxy Alpha Release Inches Closer
Over the past few weeks more and more leaks have emerged of a new smartphone called the Samsung Galaxy Alpha. A device which is reportedly set to take on the rumored iPhone 6, and this morning even more details have surfaced.
We've been hearing this device has a brand new design material, metal, and will be sized at 4.7-inches to directly battle the iPhone 6. A smartphone which if all reports are accurate, will finally get a bigger 4.7-inch display. A first for Apple.
Read: Samsung Galaxy Alpha Photos Emerge
Earlier this week an array of photos leaked of the new Samsung Galaxy Alpha giving us our best look yet at the new design approach from Samsung. Offering a device quite similar to the current Galaxy S5, but with a few redesigns. It's thinner, smaller, and wrapped with aluminum edges and sleek subtle curves.
The Samsung Galaxy Alpha release date has been rumored a few times for August, but so far the company has yet to make any formal announcements. That being said, a device matching the Samsung Galaxy Alpha just cleared the FCC, which is the final hurdle before a potential release date.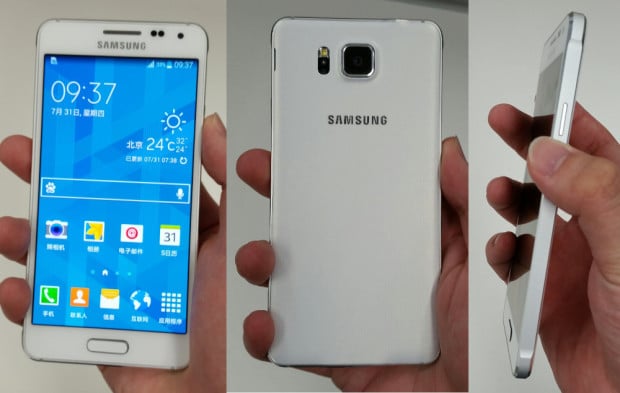 A device listed as Samsung SM-G850F cleared the FCC today giving us a few additional details, although most of the important information or specs were hidden for obvious reasons. The device matches earlier images showing the Galaxy Alpha as model SM-G850F, but we'll have to wait for the launch to know for sure.
Once a device passes through the FCC this means the design is finalized and the manufacturer is preparing for a launch, but we don't know which carriers will be on board. This was the European model, but the Galaxy Alpha has the equipment on board to run on both AT&T and T-Mobile networks here in the United States.
Read: Samsung Galaxy Alpha Leaks to Take on the iPhone 6
In an earnings report last week Samsung confirmed two new smartphones were coming soon this year, and one would feature a brand new "design material" they've yet to use for an Android smartphone. Of course one is the Galaxy Note 4, which will be announced on September 3rd in Germany, and the second is reportedly this aluminum-clad Galaxy Alpha.
The FCC report mentioned above confirms the size being 4.7-inches, and thinner than the current iPhone 5s. Meaning it's looking very much like an iPhone 6 competitor right down to the aluminum edges, impressive specs, thin design, and 4.7-inch screen size.
If the latest leaks and rumors are accurate the global version will have a 4.7-inch 1280 x 720p HD display (sadly no 1080p like recent releases) but come with top-tier specs everywhere else to help make this a premium device. Those include an 8-core Samsung Exynos processor with 4G LTE and 2GB of RAM, 32GB of internal storage, a 12 or 13 megapixel camera with optical image stabilization, and the usual bells and whistles.
Other reports confirm the fingerprint scanner under the dedicated home button, and a heart rate monitor built into the camera flash similar to Samsung's current Galaxy S5 flagship smartphone.
So when can we expect the Samsung Galaxy Alpha to actually be announced and released now that it appears official, and is starting to pass through FCC certification processes? This month. According to an exclusive report from AllAboutSamsung the Galaxy Alpha will be announced at a small event on August 13th, and released roughly one month later.
At this point most of the attention will be on the current flagship lineup that's about to be refreshed, with the launch of the Samsung Galaxy Note 4 next month. However, as Apple's iPhone 6 release approaches we'll start to learn even more about the Galaxy Alpha, and even see it released around the globe and throughout the United States.

As an Amazon Associate I earn from qualifying purchases.