Samsung Galaxy Alpha Rumored to Take on iPhone 6
This morning, a new report has emerged suggesting Samsung has yet another flagship smartphone coming later this summer in hopes of taking on the incoming iPhone 6. Rumors have been swirling for months, but a new Samsung Galaxy Alpha is reportedly in tow with build quality and an excellent aluminum design in mind.
In February Samsung debuted the brand new Galaxy S5 with tons of impressive features, a new camera, fingerprint sensor for security and more, but apparently that may not be enough. With the LG G3 offering strong competition and the iPhone 6 quickly approaching it appears as if Samsung could deliver another phone later this summer.
Read: Samsung Galaxy S5 Prime Details Emerge
Over the past few months more and more rumors have continued to emerge about a brand new smartphone from Samsung. Similar to the flagship Galaxy S5 or Note 3 lines, a new Samsung Galaxy Prime has been talked about. Add that to the Samsung Galaxy F that leaked last month, and now talks of a Galaxy Alpha.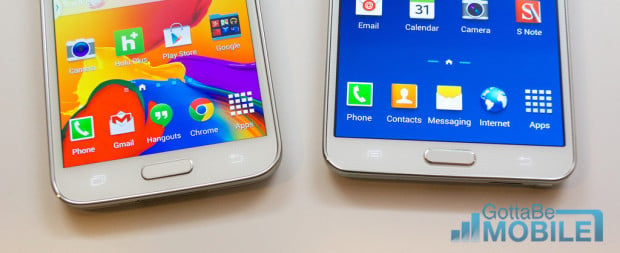 At this point it's hard to know exactly what Samsung has planned, but according to ETNews who spoke directly with a source in Korea, the next smartphone will be called the Samsung Galaxy Alpha. Or at least that's the codename for what's next for Samsung.
Last month and even earlier in July we received reports that Samsung has a Galaxy S5 Prime in the works, which was essentially the same Galaxy S5 available now but with an improved processor that allows for faster gaming and 4G LTE data performance, as well as an aluminum design around back. Then to take things further another device being called the Galaxy F emerged, which was essentially the same device as the Galaxy S5 Prime. That being a regular Galaxy S5 with a gold aluminum frame.
Read: Samsung Galaxy S5 Review
Today though, things took a completely different turn as there's now another device being called the Samsung Galaxy Alpha, which is reportedly on track to be released sometime in August. While the reports are just starting to surface, we're hearing they're from reliable sources that have been accurate in the past.
The details are still extremely light regarding what consumers and prospective buyers can actually expect from the Samsung Galaxy Alpha, but from the sounds of it this won't be nearly the same as the Samsung Galaxy S5. A brand new design could be on board with the entire device being built from metal or a lightweight aluminum frame similar to the HTC One M8 or iPhone 6.
Rumors of a metal smartphone from Samsung have been appearing for years, but 2014 may finally be the year Samsung delivers something to take on Apple's iPhone 6. As it stands right now however, no specs have been rumored for the Galaxy Alpha, except for the metal body. Meaning we don't have any additional details to go on, but more information should surface in the coming weeks.
If the rumors are accurate and this device does arrive sometime this summer, potentially before the end of August, we'll be learning more extremely soon. Given the past where details and photos leak weeks or months ahead of the release date, buyers should be on the lookout for more information. Previous Galaxy F images suggested September 12th for a release date, but again, that could be a different device for Korean markets only.
In previous years Samsung's released the flagship Galaxy S line earlier in the year, followed by a fall launch of the flagship Samsung Galaxy Note. While buyers wait for the incoming Galaxy Note 4 and iPhone 6, a new Samsung Galaxy Alpha could also be on the horizon to help Samsung steal some of the iPhone buzz and limelight. These are only rumors for now, but we'll keep our ears open for additional information.

As an Amazon Associate I earn from qualifying purchases.