Samsung Galaxy Camera 2 Review
When the original Galaxy Camera was introduced, Samsung brought forth hopes of a world where smart cameras would help people capture memories with more capable sensors than smartphones, edit those photos on the fly with any number of easy-to-use photo editing applications available on Google's Play Store that doesn't require a skilled knowledge of Adobe Photoshop, and share those photos so they can be enjoyed by all and not stuck living on your camera's memory card. And even though the smart camera market hasn't taken off in a way that Samsung had anticipated, the Galaxy Camera gained a cult-like following of enthusiast photographers on AT&T's and Verizon's wireless networks in the U.S. To those who believe that there is more to photography than what's capable on a Galaxy smartphone or an iPhone, Samsung has listened to its users and introduced a Galaxy Camera 2 with some notable improvements, both externally and under the hood.
Design
The Galaxy Camera is no small camera, and bearing roughly the same dimensions as the original the Galaxy Camera 2 is just as big. In part, this is to accommodate the optics and the telescoping 21x zoom lens that will let you get up close and personal to your subject from afar, bringing you the power of the paparazzi in the palm of your hand.
Though the Galaxy Camera 2 may not fit comfortably inside the pockets of your pants, it's still a highly portable camera–given the capabilities that are included–that will travel well inside a jacket pocket or inside a bag.
This year, Samsung had abandoned a simple point-and-shoot styling of the first generation model, opting instead to go the retro route that's inspired from the company's high-end mirrorless NX series lineup, in particular the NX300. Decked with a chrome styled top and bottom plates and generously cloaked in faux leather, the updated looks is equally stylish as it is functional as the leatherette trim aids in gripping the camera so it doesn't feel like it's about to fall out of your hands.
Unfortunately, though, while the chrome accents are nice, they're mostly constructed from plastic. In the hands, the Galaxy Camera 2 feels a bit more hollow than the first generation model, and this is apparent when holding both devices as the Galaxy Camera 2 had shed about 0.5-ounce of weight, clocking in at 9.98 ounces.
On the back, you still have a similar 4.8-inch 720p HD resolution Super Clear LCD screen. This time around, Samsung had included a very small and narrow thumb grip just to the right of the display and near where the shutter button at the top. This addition is very much welcomed, though we would still have liked to see a slightly larger thumb grip even as it does aid in handling the camera, particularly trying to capture photos in one hand.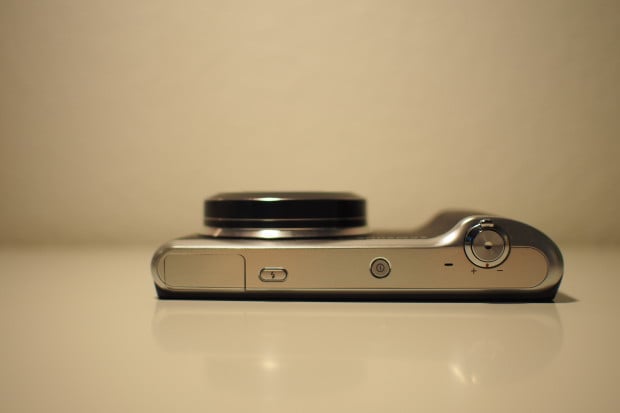 Around the device, you'll find a pop-up flash at the top, similar to the first model. What's new is that the flash module can be tilted. You can use your finger to angle the flash, for example, to shoot upwards towards the ceiling so that the light would bounce back down onto your subject. For portraits, this is preferable since it will give your photos a more soft light, rather than harsh lighting. The full Xenon flash is bright and powerful, and the flash was able to capture colors accurately.
On the bottom, you'll have a standard tripod mount and a pop-out door that houses the memory card as well as the battery.
A lanyard loop, a door for the micro USB charge and sync port, and a standard headphone jack are situated on the right side.
And on the left, the device is kept clean with just a speaker as well as the logo for NFC, which is a new addition for the Galaxy Camera 2.
Unlike the Galaxy Camera, which was initially introduced with 4G capabilities–HSPA+ globally and on AT&T and with LTE on Verizon in the U.S. market–the Galaxy Camera 2 is debuting with just WiFi. It's unclear if Samsung will introduce a future model that will integrate wireless capabilities in the future. Given the lack of ubiquitous mobile broadband, the inclusion of NFC makes sense as you can tap a Galaxy smartphone or any device with built-in NFC to the Galaxy Camera 2 to quickly transfer shots captured on your smart camera to your phone. And then, from your phone, you can instantly upload to Instagram or Facebook while you're out in the middle of a hike and away from a WiFi hotspot for your camera to connect to.
Camera
The specs sheet for the Galaxy Camera 2 may be deceiving as going through the specs, it looks like nothing has changed–both devices sport a 16-megapixel camera sensor, autofocus assist light, 21X optical zoom, optical image stabilization, and 1080p HD video capture. On paper, the most dramatic changes going from the Galaxy Camera to the Galaxy Camera 2 appear to be cosmetic with a radically new design, however there are enough upgrades under the hood that make the Galaxy Camera 2 a better camera.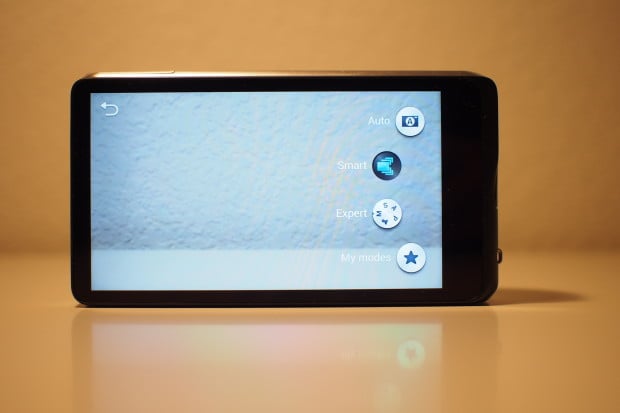 In use, though, Samsung really did make the camera better in the second-generation model. Night time photos taken with Night mode retained more details and revealed a "brighter" image on the Galaxy Camera 2 than the Galaxy Camera 1. Processing speeds in stitching together an HDR–Samsung calls this "Rich Tone" mode–or a panoramic image is a lot quicker, allowing you to get to your next shot faster without having to wait for the camera to think. And finally, the quality of the optical image stabilization mechanism has also improved as well. This isn't so apparent with a shorter zoom, or even one when the zoom isn't engaged at 1X, but when you go out to 21X, this makes a huge difference in trying to capture a photo or video.
With a longer zoom range, the refined optical image stabilization means that what you see on your screen–before hitting that shutter button and capturing the image–won't be wobbly. On the first generation camera, 21X and OIS resulted in a lot of jarring previews on the 4.8-inch LCD, but on the second generation model, it was pretty much smooth watching the preview on the LCD. Both cameras were able to capture images without blur from camera shake regardless of the shaky previews on the LCDs, however.
In terms of image performance, image quality was generally good, with accurate colors, and the sensor was able to retain a lot more details this time around. The downside is that Samsung's camera software processes the images heavily, and when you view the captured photos at full resolution, you'll notice a lot of artificial sharpening resulting in an image that at first appears to be pleasing and sharp, but on deeper inspection feels digitally enhanced.
On the zoom end, when you get closer to the 21x mark, the camera's image quality degraded. Though you'll still have more details than a digital zoom on a smartphone–which can get no where near the 21x zoom of the Galaxy Camera 2–focus wasn't as sharp and the images appear soft.
Yet despite the strong performance of the telephoto zoom, at the zoom end the lens becomes a bit slower. This makes it harder for users who want to use the Galaxy Camera 2 zoom with the lens fully zoomed to capture action shots and sports photography, diminishing the value of the camera to soccer moms and birdwatchers who may want to get birds in flight. The zoom did well for stationary objects as it was able to reach quite far.
At night, when using Night mode, the Galaxy Camera 2 performed surprisingly well, even without the flash engaged. On the dark campus of Stanford University, pictures captured with Night mode engaged revealed a lot of details and noise was kept to a minimum. Compared to the Nokia Lumia 1020, which is known for its low light capabilities, the Galaxy Camera 2 does remarkably better–a better lens on the Samsung camera kept flares and glare to a minimum and images were sharper with better focus.
Samsung was able to improve night shots in a couple ways. Though Night mode allows users to capture images with more details and less noise–a positive thing–the downside is that it does take an extra second or two. The way this mode works is that the Galaxy Camera 2 would capture several images quickly in successive order–similar to how HDR mode works in many cameras–and then stitch this pictures together to eliminate noise and bring out the details.
This processing takes a little bit of extra time, but the speedier processor in this year's model makes a big difference in reducing the time it takes to capture and save a Night mode shot.
Another improvement that Samsung made that enhances the photography experience of the Galaxy Camera 2 is that now you can set the exposure and focus separately. This is useful when shooting in a high contrast area, such as shooting in front of a bright window. Here, you can focus on the subject by tapping on the screen using tap to focus. By doing this, a small white box will appear to indicate where the focus is. To adjust the exposure, you can tap and hold, and then drag your finger out from the focus box where a second small, square box with dotted lines appears where you can move that box to adjust the exposure.
And unlike the Galaxy S4 Zoom–which is a phone first, but one that's attached to a 16-megapixel camera with a 10x optical zoom lens–the Galaxy Camera 2 doesn't have a secondary camera mounted on the same side as the screen for selfies, or self-portraits. Samsung has managed to combat this by including a "Selfie Alarm" mode that automatically detects and captures your image when the main camera detects your face. This allows you to know if you're in the frame when you're blindly trying to capture the selfie.
And like the Galaxy S4, Galaxy Note 3, and soon to be available Galaxy S5, the Galaxy Camera 2 comes with a number of various modes for consumers, including Best photo, Beauty face, Continuous shot for bursts of 4 photos per second, Best face, Kids shot, Landscape, and many more. The various modes will be overwhelming to look at and scroll through, and likely consumers will stick with just the Auto mode and utilize just a few of the more specialized modes.
There is also an Expert mode where you can shoot in Program mode, Aperture priority, or Shutter priority. In full Manual mode, users have full control over the shutter speed, aperture, exposure compensation, white balance, ISO, metering, and drive mode through a number of on-screen digital "rotary" dials that can be swiped to adjust.
The screen is one area where smart cameras like the Galaxy Camera 2 excel and regular cameras fail. Shooting in the bright afternoon sun, the Galaxy Camera 2's screen was still very visible under bright sunlight whereas using a dedicated camera, like Sony's excellently rated RX100, often times may lead to a very washed out screen, making it hard for you to see what you're trying to capture and frame your shots. Samsung's experience in mobile has definitely helped the company make a camera that's usable under bright sunlight.
Image Samples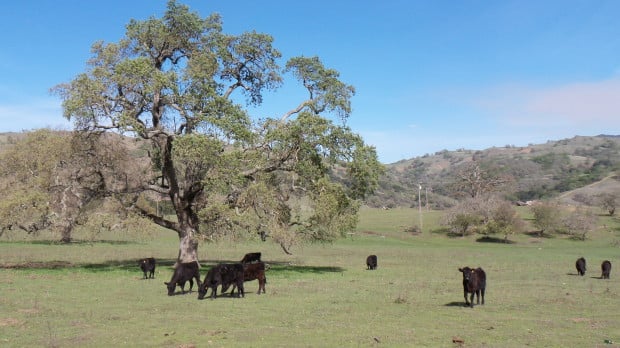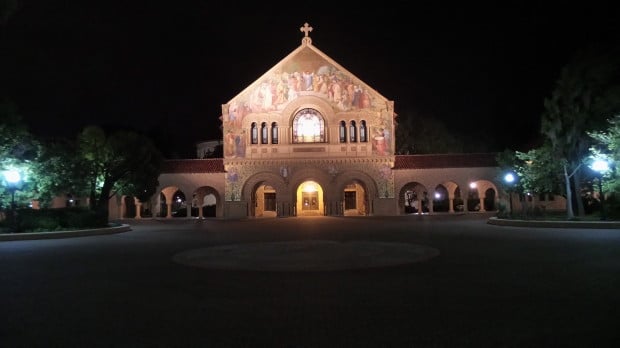 Performance
As an Android device, the Galaxy Camera 2 runs Android 4.3 Jelly Bean out of the box. To power the Android and camera experiences, Samsung has equipped the Galaxy Camera 2 with a beefier quad-core 1.6 GHz processor. Though the original Galaxy Camera was never slow in running and opening apps, the extra horsepower under the hood helps in processing images, particularly ones that require stitching, such as Night mode, HDR, or panoramic shots.
The Galaxy Camera 2 comes with 8 GB of on-board storage, and a micro SDXC card allows users to add up to 128 GB of extra storage. The camera comes with 2 GB of RAM so you shouldn't run into any problems juggling multiple tasks on this camera. Surprisingly, even though there was no issue with lag in launching and running apps, there was a bit of lag opening the camera roll. Hopefully, a future firmware update will rectify this issue.
Like most of Samsung's Android devices, TouchWiz makes a prominent return on the Galaxy Camera 2. You'll find the familiar icons and menu aesthetics as you would on a Galaxy smartphone, though the features are less clunky on the Galaxy Camera 2.
If you're moving from one of Samsung's smartphones to the Galaxy Camera 2, you'll immediately find that the TouchWiz home screens can be operated in landscape mode, which is a more familiar orientation given the camera-centric nature of the device. You won't find the excessive amount of add-on customizations, like Multi Window View for simultaneous multitasking or enhancements that keep the display on if the device senses you're looking at the display. It's a leaner build of TouchWiz, and one that doesn't overwhelm the budding photographer.
And while having Android on a camera makes sense–you can share photos quickly and easily and you have access to any number of touch-enabled photo editing app on the Play store–the reality is that it could be a bit jarring when every time you turn on your camera within a WiFi area, you're greeted by a string of vibrations, chimes, and alerts for emails, chats, and Facebook notifications. It's a good idea in theory, but unless you stop automatic synchronization of these apps, it's like turning on your Android phone after a cross-country flight and you find yourself inundated with notifications.
Conclusion
Is it worth it to spend $450 to get Android and a connected WiFi experience on the Galaxy Camera 2? Though performance of the Galaxy Camera 2 is surprisingly good–it's on par with many point-and-shoot cameras on the market today and far exceeds most of the smartphones available–the pricing will continue to make the Galaxy Camera 2 a niche product.
For about $200, or less than half the price of the Galaxy Camera 2, you can get a similarly equipped Samsung WB800F, a camera that includes WiFi connectivity but sacrifices Android and exchanges the larger 4.8-inch display for a smaller 3-inch touch panel. Essentially, this means that Android and the WiFi access to Google's ecosystem costs a $250 premium.
Yet, given how mobile and connected the world is, it doesn't seem to make sense for Samsung to launch the Galaxy Camera 2 without the option for 4G connectivity. Especially given the price tag–the AT&T version of the Galaxy Camera with HSPA+ launched at just $500 without a two-year contract requirement–it may make sense for some users to pay a little bit more to have an always-connected camera where they can instantly upload. As it stands now, for the camera to be really smart, you'll need to tether it to a WiFi source or resort to bumping your phone to the Galaxy Camera 2 to get images off of the camera and onto your phone so that you can instantly upload on the go.
And while the features are a step up from the original Galaxy Camera, I'm not sure that many users will be pushing the limits of the camera as we did in our sample images to warrant an upgrade. As it stands today, an unlocked HSPA+ version of the Galaxy Camera can be had for as little as $300, making it a far better deal than the $450 WiFi-only Galaxy Camera 2, even if the latter can be used in more challenging shooting scenarios.