How to Fix Samsung Galaxy "Disabled By Administrator" Error
Lately multiple reports have surfaced that many Android smartphones and tablet owners are running into an error that lists "Disabled by Administrator, encryption policy, or credential storage" while trying to change settings, switch their Samsung Galaxy lockscreen back to a swipe method, and other problems. Below we'll explain how to quickly fix this for most users.
Android smartphones and tablet have a lot of different security measures in place, and apps do too. Many users end up enabling some administrator policy or encryption at some point, and later realize they can't access or change certain settings and options on their phone.
Read: 8 Common Galaxy Note 5 Problems & Fixes
I recently ran into the "disabled by administrator" error on the Samsung Galaxy Note 5 while trying to disable my fingerprint lockscreen security, and go back to a regular swipe to unlock, or pin. Below is a quick fix to solve this problem for Samsung Galaxy users, or any Android smartphone or tablet.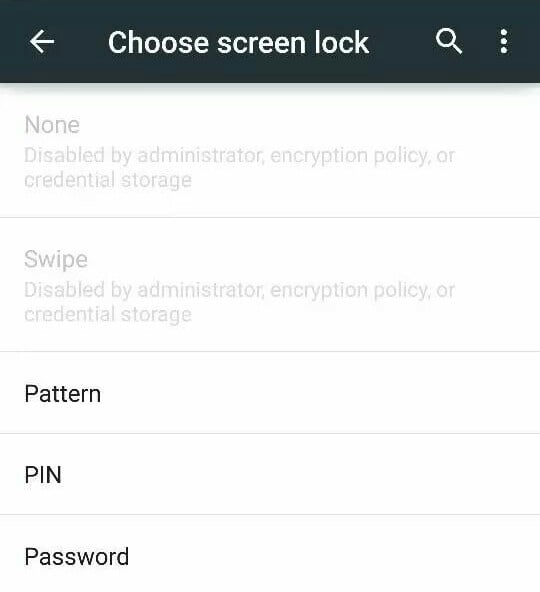 Heading into settings on the Samsung Galaxy Note 5 and other phones, some users may notice that all lockscreen and security options are disabled, and greyed out. Rather than being able to change these settings, an error message in grey pops up instead that reads, "Disabled by Administrator, encryption policy, or credential storage".
Once this happens users aren't able to change their lockscreen security from a pattern to a pincode, use a fingerprint, or go from a fingerprint lockscreen security measure back to something else. With the Jelly Bean update Google added encryption to Android, and ever since this has been an occasional problem for Samsung Galaxy owners.
Those wanting to simply switch back to swipe to unlock on their phone, on Samsung devices just select "None" under the lockscreen settings, which defaults to the swipe method. If you have the problem mentioned here, read on for more details.
If you're facing the dreaded "Disabled by Administrator, encryption policy, or credential storage" error on your Samsung Galaxy S6, Note 5, or other devices, here's how to quickly fix it and get access to all of your settings and lockscreen options.
Instructions
This typically happens if your smartphone or tablet is encrypted, which protects files or certain aspects of the device. Those using Samsung Pay, Android Pay, Outlook or some other apps may find that this error appears, and they're unable to change certain settings. Here's how to fix it.
Users will need to head into the settings menu on their Samsung Galaxy or other smartphone and tablet and clear the credentials. Once this is done, these options will no longer be greyed out. Below are some screenshots for help, as well as step-by-step instructions.
Navigate to "Settings"
Personal Column and select "Lockscreen and security"
Then select "Other security settings" or "More"
Scroll down to Credential storage and select "Clear credentials"
Now Change the lockscreen and other settings options
Once selected the "Clear credentials" option will be greyed out, everything will be cleared, and users will have access to all settings again. If it's already greyed out, there's another problem and we'd suggest heading to a few forums for help.
For whatever reason changes to the credentials because of Samsung Pay, some secure 3rd party apps, or switching to something like a fingerprint for lockscreen security appears to disable certain options or settings from being changed. All users need to do is follow the steps above and clear the credentials, and it should fix this error message.
It's worth noting that this will not erase fingerprints that have been saved to a device like the Galaxy S6 or Galaxy Note 5, or delete patterns, pins, or passwords. Users will then be able to select the lockscreen method of choice, and continue using their phone.
This is an odd error that we've been getting asked and more and more, so give the steps above a try and regain control of your Samsung Galaxy smartphone, or other Android devices.

As an Amazon Associate I earn from qualifying purchases.