Samsung Galaxy Express Coming To AT&T November 16 For $99.99
Today AT&T announced its newest mid-range Android phone, the Samsung Galaxy Express, which will come to the network on November 16 for $99.99 on a two-year contract.
The new Samsung Galaxy Express has a 4.5-inch Super AMOLED display with an unspecified resolution and a dual-core 1.5 Ghz processor. The phone looks a lot like the Samsung Galaxy S III albeit with a smaller and likely lower resolution display.
The Samsung Galaxy Express also has a 2000 mAh battery, a 5MP rear-facing camera, and a front-facing camera for video chat. The phone has NFC for S Beam so users can share content with other devices. The NFC chip can also transfer content to non-Samsung Android devices and small bit of data like URLs or contact information to Windows Phone 8 devices.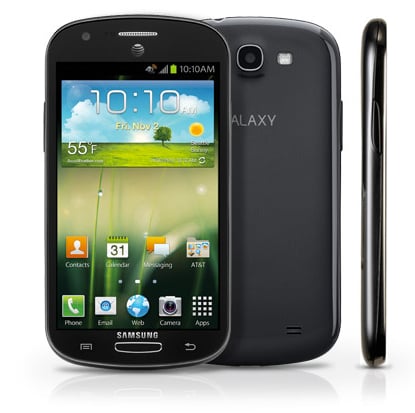 Like the Samsung Galaxy S III the Galaxy Express runs Android 4.0 Ice Cream Sandwich with Samsung's TouchWiz Nature UX laid over it. The phone should have all the same apps and most of the features found in the Galaxy S III, but will likely run a bit slower.
The Samsung Galaxy Express is very similar to the Galaxy S III Mini, but it has a larger screen than Samsung's "mini" 4-inch phone. The main difference between the two phones is the Galaxy Express has a larger screen that's about the same size as flagship Windows Phone 8 devices like the Windows Phone 8X.
AT&T users that want a mid-range Samsung device but don't want to wait until November 16 might want to look at the Galaxy Rugby Pro. The Samsung Galaxy Rugby Pro has many of the same features as the Galaxy Express except it has a smaller 4-inch screen and a smaller 1850 mAh battery. The Rugby Pro is more durable, however, which makes it a potentially better choice for users who fear they might break their phone.