Samsung Galaxy F Looks to Top Galaxy S5 in New Leaks
The Samsung Galaxy S5 debuted earlier this year with tons of stunning new features and an improved camera, but the build quality we've heard complaints over for years didn't change. Based on a flood of rumors a new Galaxy F is on the horizon which could replace the Galaxy S5. One that could finally help Samsung compete with the aluminum iPhone 5S, HTC One M8, and the rumored iPhone 6.
Over the past few months more and more reports have continued to emerge suggesting a new Galaxy S5 Prime, also known as the Samsung Galaxy F, is coming soon and could potentially replace the Galaxy S5. Last month we received our first live images of the purported device, and more lately images have surfaced to keep the rumor mills churning.
Read: Is the LG G3 Better Than The Galaxy S5?
While the argument over aluminum vs plastic will likely never end, it's safe to assume Samsung is looking into offering a few different options in upcoming devices. Not only will the Galaxy F have a metal design, but the specs will help it compete with anything else released later this year, if rumors are to be believed.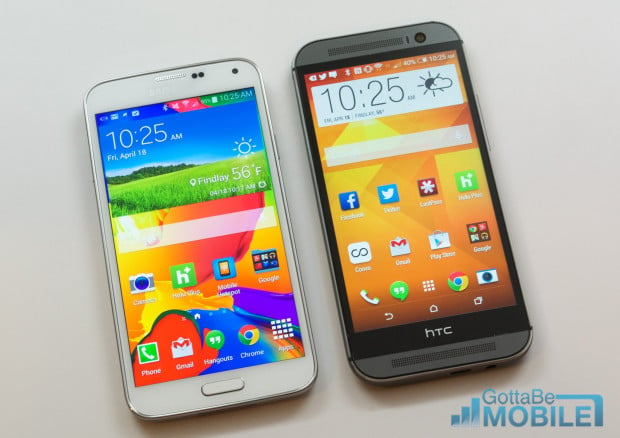 Last month Samsung actually announced a new Samsung Galaxy S5 LTE-A in Korea with some improved specs similar to the new LG G3, mainly the 2560 x 1440 Quad HD display, and that same feature looks to be one of the main improvements on the new Galaxy F.
In recent months consumers have been looking forward to what else is coming soon now that the Galaxy S5, HTC One M8, and LG G3 are all official. Aside from the Galaxy Note 4, users may want to wait and see what the Galaxy F has to offer. That's if it comes to the United States of course.
We've been seeing live pictures of the device recently, but this week more concrete evidence have begun to surface thanks to the usual leakster evleaks. This week he's shared new photos showing off what could be the final look of the new Galaxy F, shown below.
The importance of photos being revealed by evleaks is that a release date could be inching closer, now that final press photos and additional materials are starting to surface. While we haven't seen live photos in a few weeks, these renders could be a sign that Samsung could be preparing to release the new Galaxy F smartphone. Previous rumors and speculation suggested a late summer release, so we could be learning more soon. September 12th is shown in the image, for what it's worth.
That said, here's what we've heard thus far. The Samsung Galaxy F will largely be very similar to the flagship and popular Galaxy S5 available today. The same general design will be employed, along with a 5.1-inch display. However, prospective buyers can expect a 5.1-inch 2560 x 1440 Quad HD display, or a 2k resolution screen. Add in an improved Snapdragon 805 quad-core processor running at 2.5 GHz with 3GB of RAM and an aluminum design, and this could be the device many have been waiting for.
Read: Samsung Galaxy S5 Prime Details Emerge
The Samsung Galaxy F should run on Android 4.4.4 KitKat and have the same 16 megapixel camera but add optical image stabilization. Then Samsung's dedicated home button should house a fingerprint scanner for improved security, as well as a heart rate monitor on back near the flash for health and fitness reasons.
According to evleaks the Samsung Galaxy F is not the Galaxy S5 LTE-A, and will be a brand new device with the full metal design. His reports also suggest a gold option will arrive with the silver mode, but we'll have to wait and see.
Consumers may of noticed the entire shape and design is largely unchanged, and essentially the device looks exactly like the Samsung Galaxy S5 available today. However the aluminum unibody design on back and improved internals are what will separate this from the Galaxy S5 today, and upcoming devices like the iPhone 6.

As an Amazon Associate I earn from qualifying purchases.