Samsung Galaxy Gear Smartwatch Official
Samsung's heavily-rumored smartwatch is now official, and it's called the Galaxy Gear smartwatch. The Korean company unveiled the wearable device today during its press conference at IFA 2013, and it's Samsung's first go at a smartwatch. The Galaxy Gear comes with a 1.63-inch Super AMOLED touchscreen display, voice controls, and even a camera built in the wrist strap.
The overall look of the phone is rather similar to the leak we saw a couple days ago, although it appears to have gone through a slight slimming before its official unveiling today; it certainly looks a lot better than the leaked images that we've seen. The wrist strap appears to be made of rubber, and the body is made out of stainless steel. Six colors will be available, including brown, different shades of blue, orange, and green.
The Galaxy Gear has a camera attached to the wriststrap, and Samsung is calling it Memographer (a twist between memory and photographer). The company didn't provide megapixel count or other specs about the camera, but they've made it super easy to take a photo: just point and swipe down on the display at any time to snap a photo.
The smartwatch will be able to make and receive calls, and users can simply raise their hand to their ear — almost as if they're covering it up. The speaker and microphone on the Gear is "strategically placed" on the watch so that so that you can hear the other person without a problem, as well as them hearing you without a problem.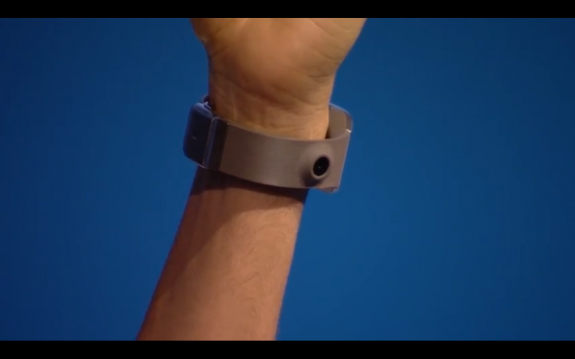 The watch also has a feature called Smart Relay, which takes whatever is displayed on the Galaxy Gear and beams it automatically to your Galaxy phone when you take it out of your pocket. It'll detect that you took your phone out of your pocket and will bring up the email that you were ready on your watch so that there's no barrier when switching between the two devices.
The Galaxy Gear has a 315mAh battery that can run for 25 hours, which certainly isn't up to snuff with the Pebble's seven-day lifespan, mostly thanks to the Super AMOLED display with a 320×320 resolution and the single-core 800MHz Exynos processor, but users should get a much better experience from the Galaxy Gear, thanks to its touch input and seamless integration with Galaxy smartphones. The watch uses NFC to pair with your smartphone, making it super easy to set up.
The Galaxy Gear will have an accompanying app store of its own, which is currently in the works, and 70 apps will be available at launch with more to come afterward. The Galaxy Gear will launch globally later this month and will be available in the United States in early October for $299.

As an Amazon Associate I earn from qualifying purchases.