Samsung Galaxy K Zoom: 5 Things You Need to Know
With the Samsung Galaxy S5 now official and readily available around the globe, Samsung has switched gears and is busy sharing what else the company has in store for later this year. And we're not talking about the Galaxy Note 4.
Samsung's newest smartphone was officially unveiled this week, and will be called the Samsung Galaxy K Zoom. Initial reports and rumors called this device the Samsung Galaxy S5 Zoom, similar to the Galaxy S4 Zoom from 2013, but Samsung's decided a brand new name and category is needed for this special camera-optimized smartphone.
Read: Samsung Galaxy S5 Zoom Leaks Ahead of Release
Following a similar launch as previous years, the new Samsung Galaxy K Zoom is a smartphone with a stunning and impressive camera mounted on the back. If the 16 megapixel camera on the flagship Galaxy S5 wasn't good enough, the 20 megapixel lens with 10x optical zoom and optical image stabilization on the K Zoom should do the trick. This is what the company hopes photography enthusiasts will use, rather than a dedicated camera.
Prospective smartphone (and camera) buyers will want to know what the Galaxy K Zoom has to offer and how it stacks up against the competition, so read on for more details regarding five key things you'll need to know.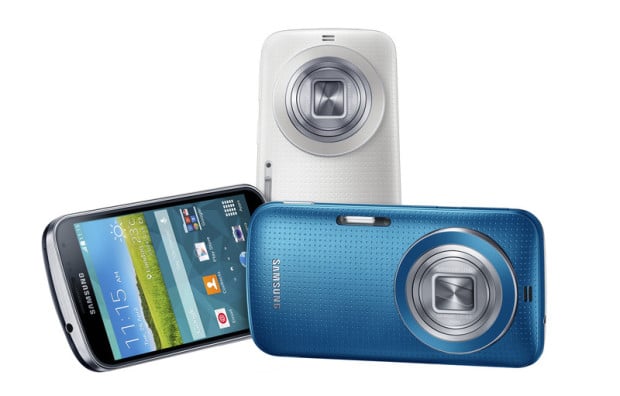 Essentially the Samsung Galaxy K Zoom is a 4.8-inch Galaxy smartphone with a massive 20 megapixel camera packed inside. Delivering nearly everything the Galaxy S4 has to offer, only with a much better camera under the hood. Samsung took the design cues and shape from the Galaxy S5, and slimmed the entire device down to be more pocket-able.
The Galaxy S4 Zoom last year was an overall impressive device, but due to a huge bulge and rather large size wasn't as successful as many had predicted. As a result, this year Samsung is back with a similar device only the company has thinned it out, improved the specs, and are poised to offer a compelling device for photography enthusiasts. Here's what you need to know.
It's a Smartphone First
Clearly the most important aspect of the new Samsung Galaxy K Zoom is the camera, this is still a smartphone first. Overall the device is still quite thin, and comes with mid-range or better specs to keep it competitive in the smartphone market. The Galaxy K Zoom features a 4.8-inch 720p HD display, a 6-core Samsung processor with 2GB of RAM, 8GB of internal storage and micro-SD support, which will be needed for all those photos and video.
The smartphone runs Android 4.4.2 KitKat and features the same TouchWiz software experience as the Samsung Galaxy S5, only with a few things like S Health and the fingerprint scanner obviously excluded. There will however still be an S Health Lite app in case owners buy any of Samsung's Gear watch or Fit accessories, and the smartphone features 4G LTE from most major carriers. Last year the Galaxy S4 Zoom arrived on AT&T, and we could see the same in 2014.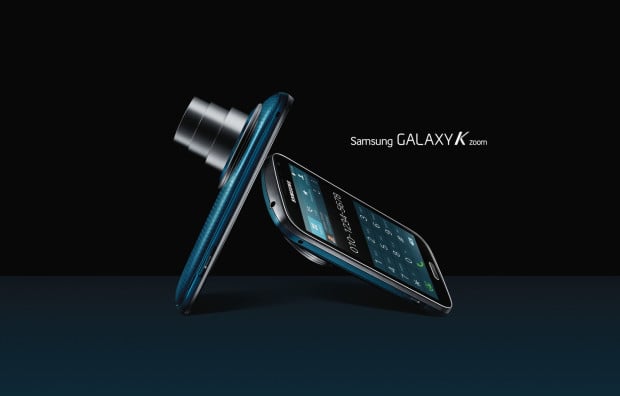 The Samsung Galaxy K Zoom is a smartphone first, but has that massive camera on the back. It's all powered by a rather small 2,430 mAh battery, which is quite small considering the 2,800 mAh battery found inside the Samsung Galaxy S5.
Camera
The most important aspect of this phone, of course, is the camera. Offering a 20.7 megapixel camera with 10x optical zoom the Galaxy K aims to replace many users DSLR cameras. However there is still only a 2 megapixel front camera for selfies, which is small compared to the 5 megapixel front camera of the new HTC One M8. Samsung however has added tons of software features specific to the front camera, including a "selfie timer" for the perfect shot.
Without getting too into what to expect from the camera, Samsung's released a brand new video highlighting everything this new smartphone has to offer, so take a peek below.
https://www.youtube.com/watch?v=S6pdF6pgeeo
The Galaxy K zoom is equipped with new retracting lens technology that provides a 20.7 megapixel lens with 10x optical zoom all in an extremely thin profile, and small body. Optical Image stabilization helps reduce blur from motion, and the 20.7 megapixel CMOS sensor is reportedly improved for low-light photography. the Xenon flash will provide a better flash than current devices, all while remaining sleek and low profile for the average smartphone buyer.
The Galaxy K Zoom camera features auto focus and auto exposure separation, a 10x optical zoom (24-240mm) with an F/3.1-6.3 aperture. There is also an auto focus-assist LED lamp on the back.
Video
Unlike the Galaxy Note 4 and new Samsung Galaxy S5, for whatever reason the Galaxy K Zoom can't record in 4k video. However, Samsung still promises 1080p HD video recording with 60 fps playback. If you were hoping for 4k video recording, the information provided appears to show that isn't available.
Software
While the Samsung Galaxy K Zoom has just been announced and we've yet to see the software in action, the company confirmed it indeed runs Android 4.4.2 KitKat. Most likely the same new software overlay provided with the Galaxy S5 is included, but there's an entire suite of apps and settings specific to the dedicated camera.
The Galaxy K Zoom has blink detection, object tracking, and an improved Samsung Studio app for post processing and editing of these beautiful photos. There's no word as to whether an enhanced focus feature is included, like the HTC One M8 or new Galaxy S5, but we're assuming that will also be on board.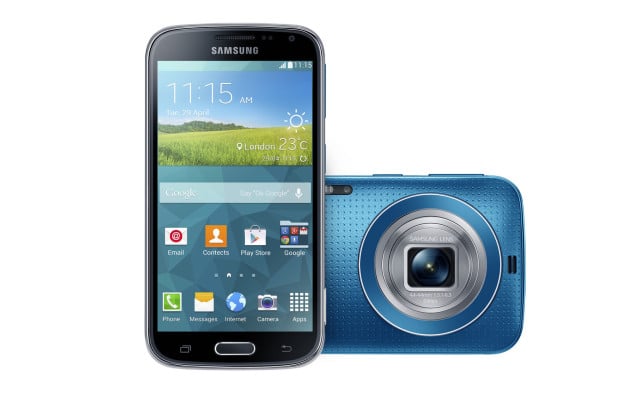 Other additional features like Ultra Power Saving mode to save battery life is included, like the Galaxy S5, as well as Kids mode, S Health Lite, and a new "Pro Suggest" camera setting for the perfect photo. Users can expect the same HDR, Beauty Face, Portrait, Sound Shot, Macro and other custom settings.
Release Date & Carriers
Today Samsung announced and confirmed the new Galaxy K Zoom, but sadly that's all we have thus far. The company didn't reveal any exact details on pricing, a release date, or if any specific carriers will be offering this smartphone in the United States. In the past the Samsung Galaxy Camera, as well as the Galaxy S4 Zoom both arrived on US carriers with Verizon and AT&T.
While users can expect the new Samsung Galaxy K Zoom to be available sometime this summer from Verizon or AT&T, no exact details have been released, nor confirmed.
There's no launch details, pricing, or camera samples yet, but surely more will be coming soon. Asia will be up first with the release, given the announcement was in Singapore, and hopefully other regions quickly follow.

As an Amazon Associate I earn from qualifying purchases.