7 New Samsung Galaxy KitKat Update Details Emerge
New Samsung Galaxy KitKat update release details have emerged as Samsung continues its Android 4.4.2 KitKat update and Android 4.4.4 KitKat update push ahead of its inevitable Android 5.0 Lollipop update release.
Since January, Samsung has been delivering Android 4.4.2 KitKat updates to select devices in the United States and abroad. We've seen updates push out to the Galaxy S4, Galaxy S5, Galaxy Note 3, Galaxy Note 2, and even the aging Samsung Galaxy S3. The Samsung Galaxy Android 4.4.2 KitKat update, as many Galaxy device owners know, brings new features and bug fixes that are important to their overall experience.
Android 4.4.2 KitKat isn't the only Android update that Galaxy users have in their sights. Samsung is also rolling out Android 4.4.4 KitKat to select Galaxy devices and it also appears to have grand designs for Android 5.0 Lollipop, the update that Google will use to replace its Android 4.4 KitKat update later on this year.
Despite the presence of Android 5.0 Lollipop, Samsung's Android 4.4 KitKat update push continues and we've tracked down a number of new details for Samsung Galaxy users. Samsung continues its aggressive Android 4.4 KitKat update roll out and new KitKat updates have landed for the Galaxy S4 and Galaxy Note 2. We've also seen a few other developments emerge as well.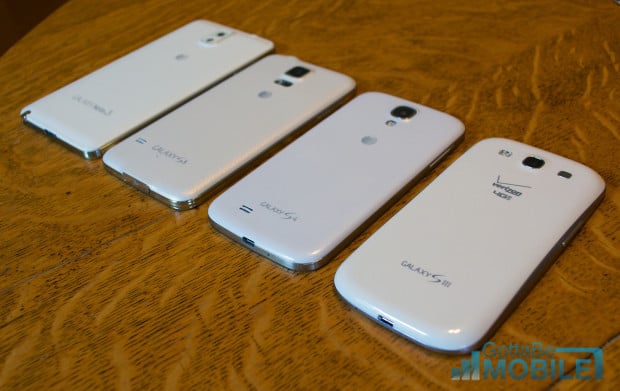 French carrier SFR has announced three different Android 4.4 KitKat roll outs. The first, a Galaxy Note 2 Android 4.4.2 KitKat update for its 4G model. That update had been promised for months and the carrier finally delivered. This is fantastic news for those Galaxy Note 2 users who are still waiting on KitKat because it means that Samsung and its carrier partners are still committed to getting the update out.
The carrier also recently rolled out a Galaxy S4 mini Android 4.4.2 KitKat update and a new Galaxy Note 4 Android 4.4.4 KitKat update. While the Galaxy S4 mini's update is massive, it takes it up from Android 4.3 Jelly Bean after all, the Galaxy Note 4's Android 4.4.4 KitKat update is simply a maintenance update aimed at improving the stability of the device.
Vodafone Australia, a carrier that serves as a gauge for many international Galaxy Android update roll outs, recently released its updated Android update schedule and it contains several interesting tidbits. First and foremost, the Galaxy Note 2 Android 4.4 KitKat update and Galaxy S3 Android 4.4 KitKat update, both of which were promised months ago and at one point had precise ETAs, haven't moved. The carrier appears to be waiting on Samsung and it's still not clear when Samsung is going to deliver.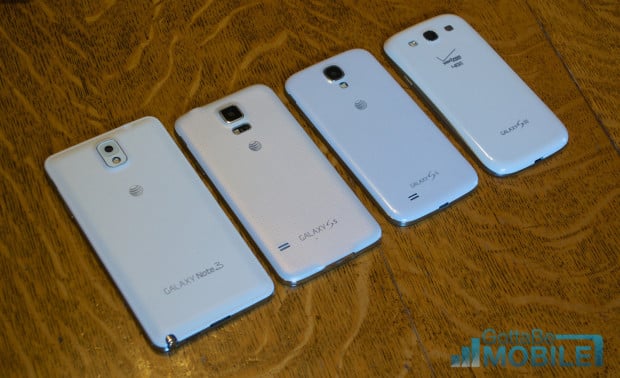 Of course, they may not be any kind of a rush. Both of these devices are old and there's a good chance that they'll miss out on the Android 5.0 Lollipop update that's set to hit the Galaxy S5 and others. Samsung typically keeps devices around for two years before killing them off. Both the Galaxy S3 and Galaxy Note 2 are now two years old. The carrier's new Galaxy Note 3 Android 4.4 KitKat appears to be in the same boat.
It's also worth mentioning that the carrier has finished testing on the Galaxy S4 Android 4.4.2 KitKat update and that update is set to roll out at some point in the future. Look for the carrier to set a date and time sometime next week.
As we push into November, Samsung Galaxy users are starting to keep an eye on Android 5.0 Lollipop but thus far, only the Galaxy S5 and Galaxy Note 4 updates have been rumored. Samsung itself hasn't confirmed anything but Galaxy S5 Android 5.0 leaks continue to point to an arrival in December ahead of the new year. If true, it would represent a faster roll out than last year's KitKat update for Galaxy smartphones and tablets.

As an Amazon Associate I earn from qualifying purchases.