Galaxy Note Too Big For You? Tiny Samsung Galaxy Mini 2 Boasts NFC
Samsung announced that updates to the company's Galaxy Mini 2 and Ace 2 handsets will arrive this spring. France and the UK will get them first, but a global launch will follow.
The Galaxy Mini 2 will appeal to users who are tired of the upward trend in display sizes that make phones heavier and harder to use with teeny, tiny hands. The display is only 3.27 inches and features a 480 x 320 resolution.
It's not a superphone, but then not every phone needs to be. An 800MHz processor backed by 512MB of RAM run Android 2.3 Gingerbread skinned with TouchWiz on 4GB of internal memory. Though the Mini 2 is missing some features that many consider standard on an Android phone — like a front-facing camera — I think optional NFC makes up for it.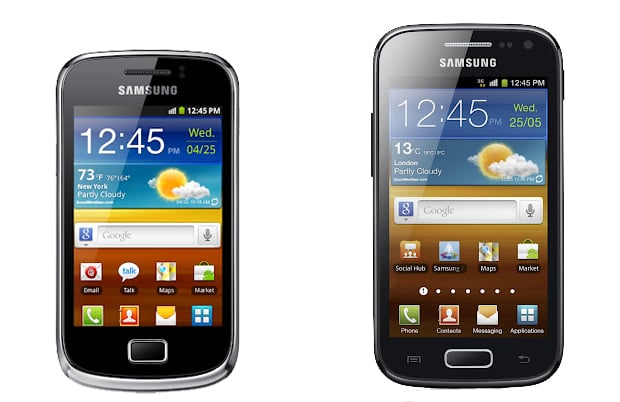 Yep, there's an NFC option, though it's not clear if the "optional" bit is for consumers or the carriers who pick it up.
Weighing just 3.77 ounces and measuring 2.3 x 4.3 x 0.47 inches, the Galaxy Mini 2 will be much easier to whip out discretely to tap at the turnstile or checkout. And, unlike the Galaxy Note, it won't make you feel like a Lilliputian when you hold it (no assurances you won't feel like a Brobdingnagian, instead).
Back in the land of more average-sized phones, Samsung also released details on the Galaxy Ace 2. This handset features a larger 3.8-inch 800 x 480 display, though the internal specs are similar to the Mini 2: 800MHz CPU and 4GB of internal memory for Gingerbread. There's more RAM here — 768MB — and both a front and rear camera with 720p recording on the latter.
The Ace 2 also has optional NFC.
Expect the Galaxy Mini 2 to hit the UK next month and the Galaxy Ace 2 to debut in France in April. The rest of the world will have to wait, but hopefully not for long. Check out Samsung's press release for full specs.

As an Amazon Associate I earn from qualifying purchases.