Samsung Galaxy Note 10.1 2014 Edition Review
Whether or not you use the stylus, the Galaxy Note 10.1 2014 Edition, which we'll hereon out refer to as "the new Note 10.1," represents Samsung's best tablet effort to date.
Introduced alongside the Galaxy Note 3, the Galaxy Note 10.1 2014 Edition bears a striking radically new design that's now part of the Note lineup moving forward. The Note 10.1 represents Samsung's high-end challenger to upmarket tablets like Apple's iPad, and packs in plenty of power and a high-end price to match. With powerful specs upgrades under the hood, an elegant re-design, and the inclusion of the hallmarked S Pen, there is much to love about the new Note 10.1 for both upgraders from the first generation model and new users to Samsung's flagship productivity tablet.
With an entry price of $550 for the 16 GB model, Samsung is confident enough in the differentiating technologies of its flagship tablet to price the new Note 10.1 a full $50 ahead of the entry level iPad. It's a bold move, and productivity seekers will find a lot to love about the new Note 10.1 as Samsung is introducing a number of substantial upgrades to the Note 10.1 line.
The Galaxy Note 10.1 2014 Edition has a new design this year. Gone are the curves and angles of last year's model for a more angular and boxy design.
In a move that keeps the tablet's design consistent with the Note 3 phablet's good looks, the Note 10.1 has the grooved side trim, a faux leather back with faux stitching, and slimmer bezels all around that makes the new model slimmer, shorter, and more narrow than the exiting Note 10.1 from last year.
It's immediately more compact and the design lends to a more luxury feel. The new Note 10.1 is both more compact and lighter than the current iPad, but that may change when Apple updates its tablet later this fall.
Unlike on the smaller Note 3, Samsung didn't create impossibly thin side bezels on the Note 10.1 2014 Edition. This is actually a good thing as it gives the user some surface area to grip onto the tablet without worrying about activating the display with errant touches when all you're trying to do is hold the slate.
Unfortunately, this is also where Android's "open" ecosystem falls short of Apple's tight software and hardware integration–if you brush up to the very edge of the display while you're holding the tablet, the new Note 10.1 will think you're trying to launch an app, select an item, or command something on the display. Samsung, and by proxy Google, did not implement intelligent touchscreen algorithms that can detect if you're holding the tablet or poking at it, a move that Apple had mastered on the iPad mini with its svelte design through iOS.
That's about the only thing that I can fault the Galaxy Note 10.1 2014 Edition right now. Love it or hate it, TouchWiz is here to stay for Samsung, so we're not going to talk about the merits or lack there of in that decision. What I can say is that the TouchWiz OS and Android 4.3 looks strikingly good on the new Note 10.1's significantly upgraded display.
With the same ultra high resolution 2560 X 1600-pixel display as the Google Nexus 10, you do really get lost in the tablet experience. Things just seem so much more immersive with a display that sharp and that big, especially when you're used to staring at a smaller smartphone or phablet screen all day.
And the pixel density isn't the only thing that doubled moving between the old and the new. On the new Note 10.1, Samsung is using a new Exynos 5 octa processor. Alongside the processor, you also get 3 GB of RAM for some serious multitasking.
Speaking of multitasking, that has changed slightly too with the new Note 10.1. On the previous Note, users had the tablet version of Multi Window view that offered one set of apps that could be snapped to either side of the display. it's similar to the Multi Window View that's present on the Note 2 and the Note 3 phablets. However, on the Note 10.1, you can also view more than just two apps side by side by an optional "Cascade View," which brings users to a UI that's similar to Microsoft Windows so you can have multiple, resizable windows. It's less organized than snapping two windows next to each other, but brings more multitasking power.
On the new Note this year, you have the old Multi Window View with the snapped windows. Gone is the Cascade View, but instead, you have a new option for Pen Window found underneath the Air Command menu. With Pen Window, you can draw additional windows and have those running in separate cascading windows on top of the snapped windows. It's a bit more confusing that the old method, but provides for similar functionality. Separate sets of apps are compatible with Multi Windows View and you have another set of apps for the Pen Window.
And with the Air Command menu, your S Pen got a bit more useful. There are other features such as Action Memo where you can jot down an address, webpage URL, telephone number, or email address and then link that to a specific action so you can automatically have the phone launch and the number dialed if you're saving a person's telephone number. This way, it saves you the steps of having to look up the number on your digital Post-It, commit that number to your short term memory, and then physically dialing it when you launch the phone app. It's an elegant way to make Post-It notes actionable. Another feature is Scrapbooker, which allows you to quickly clip specific content. It's more convenient than taking a screenshot, and you can clip text, pictures, and videos to create your own scrapbook.
You can organize the clippings with handwritten or text annotations as well as tags, and these contents–even the handwritten ones–are easily searchable with the new S Finder universal search tool. And lastly, there's Screen Writer, which takes a snapshot of your screen and allows you to annotate that content easily.
The S Note application also got revamped in a new minimalist design theme that eschews the old skeuomorphic design. Now, the UI has gotten a lot more simplified to allow users to focus on the content that they're trying to create. With the old S Note, you had to think ahead if you're trying to convert a hand drawn shape into a digital perfect circle or square, if you want your scribbles to be transcribed into typed text, or if you're trying to write a mathematical formula. On the new S Note app, you don't have to make those decisions in advance. Now, you can write, draw, and doodle, and then you can convert things as you please after you've finished with your hand-crafted handiwork should you wish to go digital. Text can now be selected via a lasso tool and then you can have S Note transcribe that later if your handwriting is too messy. If your organization chart is too cluttered, you can lasso your drawing and digitize them to perfect lines, squares, and circles pointing to your company's hierarchical structure.
Additionally, you can also record voice memos and add them to your S Note notebooks, and you can also capture pictures and videos as well and include those. The new Note 10.1 has an 8-megapixel rear camera and a front-facing camera. For those who want to use the cameras for fun rather than for documenting things for their notebooks, Samsung also included the dual camera shot feature from the Galaxy S4 where you can capture photos and videos with both cameras simultaneously allowing the photographer to be in the photo.
Here are some sample images captured with the new Note 10.1's camera: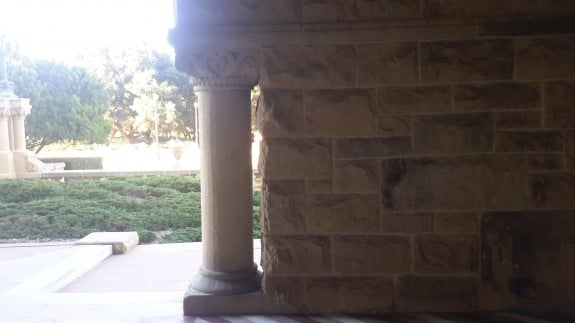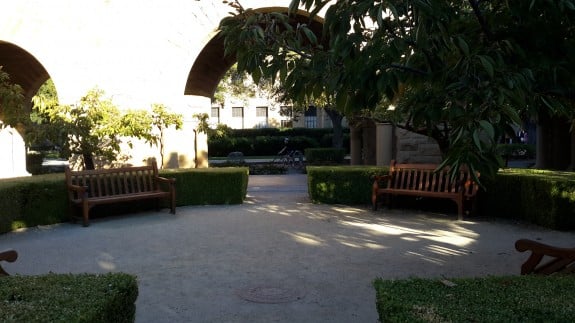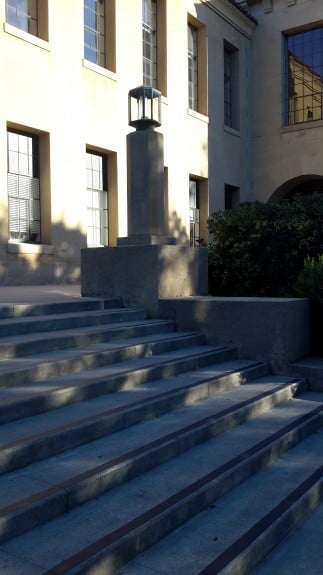 In general, images captured with the 8-megapixel rear camera are about on par with the camera on last year's Galaxy S3 flagship smartphone. Photos turned out to be decent in good lighting, though the camera did suffer when there was a heavy contrast in lighting. In these situations, bright areas were usually blown out and details were lost in the shadows as a result of poor dynamic range. We took many of these images at Stanford University alongside the Galaxy Note 3 this year, which has a 13-megapixel sensor. Be sure to check out our Galaxy Note 3 review and compare the sample camera images taken with that device withe results from the new Note 10.1.
However, we doubt you'll be using your tablet to capture the most important memories of your life, and with an 8-megapixel shooter you should have a great camera to document important moments, scan in documents, or document things you like photographically in a pinch. Best of all, with the S Pen, you can draw on your images, annotate and highlight important details you want to focus on, and preserve the visual world with your personalized handwritten notes.
Additionally, Samsung has also bundled a few value-added apps to the experience, including a year's subscription to Bloomberg Businessweek magazine, Dropbox storage, a limited trial of the New York Times, a time limited Hulu Plus trial, and a few others.
You also have access to Flipboard and a new My Magazine that allows you to create your own feeds with news, social, local, and other personal content. It's Samsung's answer to HTC's BlinkFeed, though lacks the cleaner UI of the rival.
Conclusion: 
The Galaxy Note 10.1 2014 Edition is a huge improvement over the old model, but its high price may limit the appeal of the tablet to students, enterprise users, digital artists, and those who crave the Wacom-powered S Pen. The tablet is a huge jump from last year's model, offering much faster speeds, a high resolution display that makes content immersive, and a simplified UI design that allows you to forget about the technology and focus your attention on writing that novel or sketching the next Van Gogh masterpiece. Samsung has put a lot more attention into the way the S Pen works, and now it feels more like an integral part of the computing experience rather than as an after-thought accessory.
Where the Galaxy Note 10.1 2014 Edition continues to shine is its ability to multitask. I am not talking general Android multitasking of just switching between apps, but running multiple apps simultaneously. You can snap two apps side-by-side and then layer additional windows and apps on top of that so your tablet can get as cluttered as your Windows desktop on your PC if you're not careful. The Note 10.1 2014 is a workhorse and will satisfy a lot of power users.
However, it's not without its flaws. Despite having a higher resolution screen, you cannot fit more icons or content onto the home screen display. And Android's tablet-centric app ecosystem isn't quite up to par with Apple's catalog of apps designed for the iPad experience.
Still, Samsung is showing that it can create a premium experience with a luxurious feel without having to chase after Apple's metal design. Though not as rigidly solid as the iPad, the faux leather lends a warm feeling to the tablet that begs you to pick it up like a journal or sketchbook, and once you do the simplicity of the S Pen will invoke you to pur your thoughts, ideas, and creativity into the tablet. Admittedly, as a user of the old Note phablets (Note 1, Note 2), and last year's Galaxy Note 10.1, I don't use the S Pen too often because the S Note interface was a bit too cumbersome and complicated for a quick jot. This year, though, Samsung did a great job of fine tuning S Note and Action Memo and Scrapbooker make the pen a pleasure to use that I hardly replace it back into its silo.
If you're in the market for a full-sized tablet, you should definitely consider the Note 10.1 2014 Edition. It's packed to the brim with power, and despite being a heavyweight, the tablet's size and heft puts it more in the bantamweight category.