Samsung Galaxy Note 10.1, ATIV Odyssey Coming to Verizon Soon
Samsung and Verizon had announced at the Consumer Electronics Show that the Galaxy Note 10.1 tablet and the Windows Phone 8-powered ATIV Odyssey smartphone will be available for customers to purchase 'in the coming weeks.' The ATIV Odyssey will be Samsung's first Windows Phone 8 smartphone device to land in the U.S. Both devices will support Verizon's 4G LTE network.
The ATIV Odyssey will feature a 4-inch Super AMOLED display with a WVGA 480 X 800 resolution. The smartphone will feature a 1.2-megapixel front-facing camera, rear 5-megapixel camera, global GSM radio as well as CDMA/LTE support in the U.S., 8 GB of internal storage, support for a 64 GB micro SD card, and custom Samsung apps such as a Photo Editor, Mini Diary, and Now, which accesses current information such as news, weather, and stocks.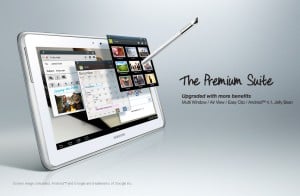 The Galaxy Note 10.1 will be similar to the WiFi-enabled Galaxy Note 10.1 that's currently available on the market today, but includes support for Verizon's 4G LTE network. The tablet features Samsung's S Pen support and comes preloaded with Kno's education app for e-textbooks. Featuring unique Samsung software on top of Android 4.1, the Galaxy Note 10.1 such as Multi-Window view, Pop up Play, Group Cast, and All Share Play.
The Galaxy Note 10.1 features a quad-core processor, 2 GB RAM, and 4G LTE support, making it speedy.