Samsung Galaxy Note 2: Multi-Window View
One of the coolest features of Samsung's Galaxy Note 2 is the Multi-Window View feature, which allows the 5.5-inch phablet to run two apps side-by-side simultaneously. This really takes multitasking to the next level as it allows users to juggle tasks efficiently without having to enter and close applications to switch between apps.
The feature is available as a software update on Sprint's Galaxy Note 2–if you haven't received the update yet, you should check for the OTA update–and it came natively on Verizon's Note 2 release. There is two ways to enable the Multi-Window View. The first, which is more convoluted, is through Android's settings menu. The second is more useful and can be accessed anytime through the scrollable widgets once you pull down Android's Notification Tray.
How to Use Multi Window View on the Galaxy Note 2
Once the feature is enabled, you can go ahead and hide or show the drawer that allows you to choose the apps you want to run in Multi-Window View by pressing and holding the capacitive back Android navigation key. There, you'll see a tab, and tapping on the tab will show a drawer with apps.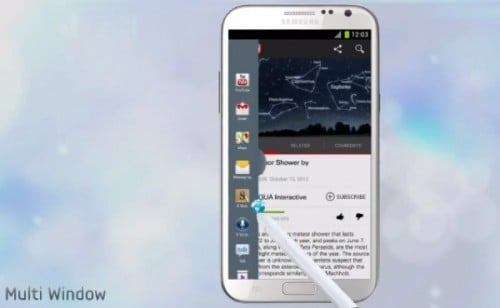 Unfortunately, at this time, you can't choose which apps get enabled for Multi-Window functionality; the app selection that works with Multi-Window get curated by Samsung and your local carrier. On Sprint's model, you'll have a more diverse app selection filled with native and third-party applications; Verizon's selection is more limited but may be expanded via a future software update.
Tap on the app you want, or tap and drag to the main window to launch it. Then you can open the Multi Window tray again to tap a second app or tap and drop to launch the second app. Apps can be launched top and bottom in portrait view or side by side in landscape view. You can also expand the apps as well to fill the screen if you find you need more viewing area for a specific app and no longer need to run two windows at the same time.
With tablets and smartphones in the post-PC era, the lack of windows forced users to single-task and it's great to see Samsung maximize the usefulness of the larger 5.5-inch display by enabling two windows to run simultaneously.
And thanks to the quad-core processor alongside the 2 GB of RAM, running two apps do not show any noticeable decrease in performance.

As an Amazon Associate I earn from qualifying purchases.