Samsung Galaxy Note 2 Release Date Tipped for October
The Samsung Galaxy Note 2 release date looks like it will coincide with the iPhone 5 release date this fall, pitting one of the largest smartphones against one of the most popular smartphones.
The latest Galaxy Note 2 release date rumor comes from T3, which reports an early OCtober launch.
Samsung just launched the Galaxy S III on all major U.S. carriers and it will waste no time delivering the Galaxy Note 2, capitalizing on the 7-million Galaxy Notes shipped and consumer interest in a phone with a large display.
Read: Why I Bought the Galaxy Note
Rumors say the Galaxy Note 2 will have a 5.5-inch display with a massive 1680 x 1050 resolution, though more recent rumors suggest that Samsung will choose to use a flexible display, like the one shown below, in the Galaxy Note 2.
Samsung Galaxy Note Specs
We expect that the Samsung Galaxy note 2 will use a dual-core 1.7 GHz or higher Exynos CPU with 1.5GB of RAM and 4G LTE connectivity for U.S. models. The Galaxy Note 2 will certainly include special software that uses the S-Pen and includes some of the software features from the new Galaxy S III.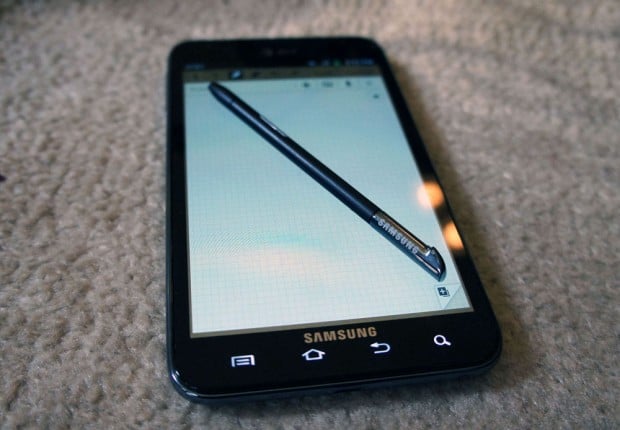 We expect that Samsung will use the upcoming Android JellyBean release on the upcoming Galaxy Note 2. Google will announce the new version of Android at Google I/O in late June.
Samsung Galaxy Note 2 Release Date
The newest rumors suggest that Samsung will release the Galaxy Note 2 in early October, pitting it against the upcoming iPhone 5 at launch.
Read: Samsung Galaxy Note Review
The iPhone 5 release date looks good for September or October. The two phones are drastically different in size, but if Apple releases a taller iPhone it may offer more competition for users who are just looking for a bigger display.
The Galaxy Note includes the S-Pen, an accessory that delivers handwriting and other functions to the phone, a feature which Apple cannot match with the iPhone 4S, and no iPhone 5 rumors point towards the same type of stylus functionality offered by the Note.
Which phone looks best so far, the Galaxy Note 2 or the iPhone 5?