Galaxy Note 3 Android 4.4 Update MIA as AT&T KitKat Push Rolls On
AT&T continues its Android 4.4 KitKat update roll out today though it's not the much-needed Samsung Galaxy Note 3 Android 4.4 KitKat update that is pushing out to users. Instead, it's an update for a mid-range HTC smartphone.
Last year, HTC made it clear that it was going to make software support a big focus going forward. The company started to communicate with HTC One owners about upcoming software updates and the company has continued to be extremely transparent with its Android 4.4 KitKat update push in the United States and elsewhere. It also has made it a point to get its updates out quickly and efficiently.
HTC's push continues today with the AT&T HTC One mini Android 4.4 KitKat update's release. The HTC One mini is one of AT&T's mid-range smartphones and the company offers it as a smaller, cheaper version of its HTC One flagship. In the past, users of mid-range devices in the U.S. have been made to wait for major Android updates but that's certainly not the case here.
The AT&T HTC One mini's Android 4.4 KitKat is a big one and it should help to improve the overall performance on AT&T's mid-range smartphone. Here is the full change log, courtesy of AT&T:
Improved user interface with Android (4.4 KitKat): The latest version of Android includes enhancements such as restyled status and navigation bars, a new full-screen immersive mode, color emoji support, improved closed captioning support, stronger security, enhanced bluetooth and smarter power use.
Phone dialer app: The phone app now includes the ability to look up contacts directly from the dial pad, see and tap frequent contacts, and search corporate directories easily.
Caller ID: Whenever a call is received from a phone number not in saved in contacts, the phone will look for matches from businesses with a local listing on Google Maps.
HTC BlinkFeed™ app: The new menu gives quicker access to switch content sources and search for custom topics and includes more news sources.
New copy and paste options: Copy and paste allows users to share or Google highlighted information.
New e-mail user interface: E-mail look and feel similar to Gmail and allows in-line editing.
Camera app from lock screen: Click on the camera app icon on the lock screen for quick access to the camera app.
Control music from the lock screen: Jump to specific past songs or videos from lock screen.
Immersive viewing: Immersive mode enables full screen viewing of books, videos, and games.
New clock interface: The clock now has an enhanced analog user interface.
The roll out means that the HTC One mini, a mid-range smartphone, has beaten AT&T's flagship Samsung Galaxy Note 3 to the punch. AT&T's Galaxy Note 3 Android 4.4 KitKat update remains missing in action, despite a major GPS problem that has been affecting Galaxy Note 3 owners since last year.
AT&T is one of only two U.S. carriers yet to roll out the Galaxy Note 3 Android 4.4 KitKat update. Verizon is the other. To make matters worse, Samsung has listed the AT&T Galaxy Note 3 as having the Android 4.4 KitKat update on board for weeks now. The listing servers as the ultimate tease for AT&T Galaxy Note 3 users.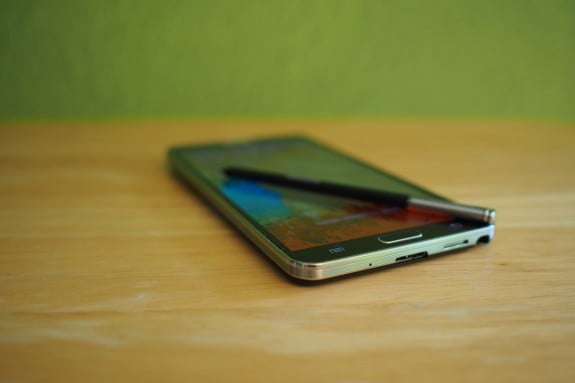 It's also extremely surprising given that AT&T's Galaxy Note 3 Android 4.4 KitKat update leaked out in January and given that AT&T, like many other U.S. carriers, has already rolled out the Galaxy S4 Android 4.4 KitKat update.
It's not everyday that a mid-range smartphone beats a flagship smartphone to a major Android 4.4 KitKat update though it's not surprising that it's a mid-range smartphone made by HTC. Perhaps the Galaxy Note 3 Android 4.4 KitKat update is next in line, perhaps not. AT&T still hasn't confirmed it for release.