Samsung Galaxy Note 3 & Galaxy Gear Lowdown: Everything You Want to Know
After having teased a 6-minute walk-thru after unveiling the Galaxy Note 3 phablet and the Galaxy Gear smartwatch, Samsung is back again this time with a more in-depth look at both devices. In an 18-minute long video, the Galaxy-maker shows off the hardware of the Galaxy Note 3, the software enhancements and S Pen features, and then moves on to detailing the Galaxy Gear smartwatch.
We're going to break down the videos into several key parts. While the same video will be used throughout this post, we're going to embed various starting points for the video so you can quickly jump to the key highlights.
Galaxy Note 3
Design:
In terms of design, Samsung is highlighting the fact that despite the screen being larger, Samsung says that the device still maintains a slim profile and compact footprint that makes the device comfortable to hold. The screen is a full HD Super AMOLED panel and measures 5.7 inches diagonally.
https://youtu.be/-Fo5x7ZIPCM?t=14s
Samsung is also emphasizing the "premium look and feel" of the device. Despite not using metal and glass components like rivals such as Apple, Google on the Nexus 4, Sony on the Xperia Z1, and HTC on the One, Samsung is going down a different path with the Galaxy Note 3 by using a faux leather back with stitching that gives it a more luxurious feel and makes it warm to touch. The material choice harks back to the BlackBerry Bold 9000 and the faux leather gives the device the appearance of a consumer edition of Vertu's luxurious animal hides.
The Note 3 will be available in white, black, and also pink.
Hardware:
The device is powered by a quad-core processor–either Exynos for HSPA+ or Snapdragon for LTE markets–and has a large 3200 mAh battery. This year, there won't be a 16 GB model and Samsung is upping the storage capacity to either 32 GB or 64 GB.
https://youtu.be/-Fo5x7ZIPCM?t=1m31s
The device will have 3 GB of RAM, useful for multitasking and simultaneous multitasking through Samsungs proprietary Multi Windows interface. It will also come preloaded with Android 4.3 Jelly Bean.
S Pen & Software
The S Pen allows the Note 3 to do more and have quick access to many of the underlying settings and apps that are packed into TouchWiz on the Note 3. This year, the Note 3 comes with even more S Pen functionality. Some of those may be useful, others may be superfluous, but for those who want to be productive and get more out of their device.
The S Pen features a new Air Command that is accessible by hovering the pen on the screen and clicking the side button on the pen. A radial menu will appear with various options.
Action Memo: Like the S Memo that it replaces from older Note models, this one brings up a pop-up memo that you can move around and jot notes on. If you jot a name and number, it can intelligently recognize that so you can save it to your contacts or even call the number based on your handwriting. You can even minimize the memo, like a program on your desktop on a PC, and then pull it up again so it can move out of the way when you don't need it.
https://youtu.be/-Fo5x7ZIPCM?t=2m37s
Scrapbook: as its name implies, Scrapbook allows you to click things and save them as you're browsing the web. It allows you to keep clippings from webpages, images, videos, and you can even organize them by categories. This is similar to how Microsoft's OneNote works on Tablet PCs. Clippings are arranged in a magazine-style layout, similar to Flipboard or even HTC One's BlinkFeed, except this time it's content you're saving and curating.
https://youtu.be/-Fo5x7ZIPCM?t=4m10s
Easy Clip: Similar to scrapbook, new easy clip allows you crop out what you"re seeing on a webpage. It works with Scrapbook and allows you just cut out what you need. If you're a shopaholic, this feature can allow you to pin stuff to create a Pinterest-like magazine of things you want.
https://youtu.be/-Fo5x7ZIPCM?t=6m31s
S Finder: S Finder is like a universal search and allows you to find content on your phone. You can search across various different photos, videos, and S Note. You can narrow down search results by days as well. You can also search settings and help as well.
https://youtu.be/-Fo5x7ZIPCM?t=7m23s
S Note: S Pen now comes with improved organization skills and comes with improved handwriting to text capabilities. You can even create charts. Notes can be synchronized with the cloud with Evernote.
https://youtu.be/-Fo5x7ZIPCM?t=8m50s
Multi Window: Multi Window simultaneous multitasking on the Note phablet is even better now with a larger 5.7-inch display, up from last year's 5.5-inch model. New this year, you can launch the same app in both windows. This means you can now have two chat windows running side by side. You can even drag and drop content to share, making it easy.
https://youtu.be/-Fo5x7ZIPCM?t=10m31s
Pen Window: This functionality is accessed via the Air Command gesture and selecting Pen Window. Pen Window allows you to draw a rectangular box on your display to launch a widget, such as a calculator widget that pops up when you're working on an Excel spreadsheet.
https://youtu.be/-Fo5x7ZIPCM?t=11m53s
Galaxy Gear
Galaxy Gear is a smartwatch with a stainless steel frame, rubber strap with a mounted camera and microphone and speaker. Users could interact with the Gear via voice through the S Voice app or through the 1.63-inch touchscreen.
https://youtu.be/-Fo5x7ZIPCM?t=13m
Gear pairs with the Note 3 over Bluetooth and you can control Gear via the Gear Manager companion app. You can control settings and personalize the watch face using the Gear Manager app.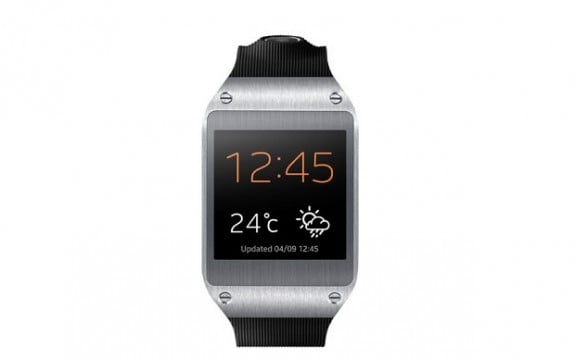 Gear will display notifications and messages on the screen, and you can tap the notification to get more information. If you get a message alert on Gear and pick up your Note 3, Smart Relay will automatically open the message on your Note 3.
With Gear's built-in speaker and microphone, you can also answer calls on Gear. S Voice will allow you to control Gear with your voice as well.
Additional Galaxy Note 3 Coverage on GottaBeMobile
Launch Dates & U.S. Pricing
New information from AT&T shows that the carrier is ready to ship the Galaxy Note 3 and Galaxy Gear by October 1. T-Mobile is readying the Galaxy Note 3 for an October 2 availability. We haven't heard much from Sprint and Verizon has begun to take preorders but hasn't given a launch date for the device yet. Early pricing information shows that AT&T is charging $300 with a two-year contract for the Note 3 and if you get both the phablet and the Gear, you're out $600. T-Mobile will charge $200 down and users will have to cough up an additional $21 per month over two years. Verizon's pricing is believed to be similar to AT&T's and the device will have an off-contract price of $700.

As an Amazon Associate I earn from qualifying purchases.