Samsung Galaxy Note 3 and Galaxy Gear Official Hands-On Video
Samsung Mobile posted the firsts official hands-on video highlighting the new features in their Samsung Galaxy Note 3 smartphone phablet announced at the company's launch event at IFA in Germany. The video also shows off the features of the Samsung Galaxy Gear smartwatch intended to work with the Samsung Gaalxy Note 3 and other Galaxy smartphones running Android 4.3 and higher, which means just the Note 3 until other devices get an update.
The video runs 18 minutes long and details many of the important new features that we shared in our 25 Samsung Galaxy Note 3 Features You'll Actually Care About post.
We get to see the phone's hardware and software features. We see the faux leather back in both "classic white" and "jet black." It looks like the pink version as well as the other colors we saw on-screen at the launch event may have to wait.
https://youtu.be/-Fo5x7ZIPCM
The presenter shares the S Pen features, including the new Air Command feature where the user hovers over the screen while holding the pen button to reveal a half circle menu of five commands. They include:
Action Memo – an on screen memo pad with which users write actions that the app uses to perform actions like making calls or finding locations using written addresses
Scrap Booker – grabs snippets from web sites or apps and saves them to the Scap Book app
Screen Write – writes on the screen over apps
S Finder – search the phone's contents using the S Pen isntead of typing into a search field
Pen Window – multi-tasking tool that opens a small window drawn on the screen using the S Pen and populated with supported apps like a calculator
We get to see how each of these work in real time. The video also shows off the other Samsung Apps with important upgrades like S Memo.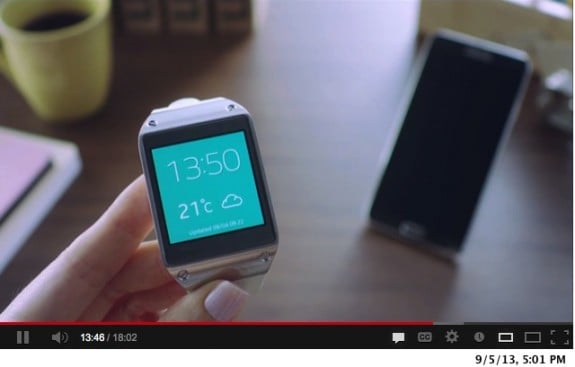 Samsung's hands-on video also details some of the features of the Samsung Galaxy Gear, including the ability to change the watch face, seeing messages on the watch and making calls using the built-in speaker and mic.

As an Amazon Associate I earn from qualifying purchases.