Samsung Galaxy Note 3 Launch Event Confirmed
The Samsung Galaxy Note 3 launch event is set for September 4th thanks to a teaser posted by Samsung Mobile early this morning.
The Samsung Unpacked Episode 2 event will take place in Berlin on September 4th, during the first day of press events for IFA 2013. Samsung relased the event in a tweet from the official Samsung Mobile account, telling followers to "Note the date."
The combination of sketches and handwritten text with the clever use of "Note" in the tweet is enough to confirm Samsung plans to launch the Galaxy Note 3 at this event.
Read: Samsung Galaxy Note 3: Making Sense of the Rumors
The Samsung Galaxy Note 3 launch event will take place at 1PM Eastern, 10 AM Pacific on September 4th, with a full live stream of the event. This date is not a surprise as multiple leaks and rumors pointed to the Galaxy Note 3 launch ahead of IFA 2013 in Berlin.
Samsung used the Unpacked  Episode 1 event to launch the Samsung Galaxy S4 in March, with a collection of fanfare and over-the-top acting. Expect a similar display of force with a big show for the Samsung Galaxy Note 3.
There is no teaser for the Samsung Gear smartwatch which is rumored to arrive on the same date and could make a great Galaxy Note 3 accessory by bringing alerts and information from the big screen to a wearable display, but it's not surprising something like this would take second-billing to the Galaxy Note 3.
Expect many more teasers from Samsung as the Galaxy Note 3 launch event approaches.
Samsung Galaxy Note 3 Specs & Design
We expect the Samsung Galaxy Note 3 will make an appearance with a new design and a larger screen. Despite a multitude of leaks showing the Galaxy S4 earlier this year, Samsung appears to have the Galaxy Note 3 team on lockdown, or at least those carrying a version of the Galaxy Note 3 with a finished design.
Thanks to many leaks it's clear the Samsung Galaxy Note 3 is set to arrive with a larger screen. A leaked document appears to show Samsung experimenting with a 5.5-inch, 5.7-inch and 6-inch display for the Galaxy Note 3, but in the end it looks like the Galaxy Note 3 will feature a 5.7-inch 1080P display.
Expect a Snapdragon 800 processor in some versions of the Samsung Galaxy Note 3 and a new Samsung Exynos Octa 5 processor in others, possibly those limited to the international market. Rumors suggest the Galaxy Note 3 will use 3GB of RAM and run Android 4.3 at launch. Based on sample photos and leaks it appears the Galaxy Note 3 camera will use a 13MP sensor.
Through a number of leaks we've seen various possible Galaxy Note 3 prototypes which show off a massive screen and the physical home button Samsung is well-known for, but we've yet to get a good look at the design. The photo above shows a photo reportedly taken with the Galaxy Note 3, which includes a reflection showing a boxy Galaxy Note 3.
Samsung Galaxy Note 3 Release & Carriers
As we move within a month of the  Galaxy Note 3 launch event there are no solid  Samsung Galaxy Note 3 release date rumors, but it does help point to a window.
The Samsung Galaxy S4 launch took place on April 26th, roughly six weeks after the launch. Unless Samsung can copy Apple's announce and sell two weeks later strategy this fall, it looks like the Samsung Galaxy Note 3 release window will start in the middle of October, and possibly shift into November or December for some carriers.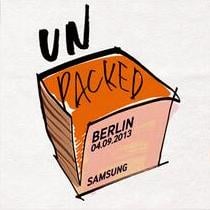 Previous leaks indicate Samsung is working on a Galaxy Note 3 version for all of the major U.S. carriers with unique model numbers;
SM-N900A – AT&T Galaxy Note 3
SM-N900T – T-Mobile Galaxy Note 3
SM-N900V – Verizon Galaxy Note 3
SM-N900S – Sprint Galaxy Note 3
We could also see a Samsung Galaxy Note 3 for US Cellular, though there is a chance considering the carrier offers the Galaxy Note 2. It's a fair bet that AT&T and T-Mobile will be among the first U.S. carriers to offer the Samsung Galaxy Note 3, and that Verizon will be one of the last.