Samsung Galaxy Note 3 v. Nokia Lumia 1520: What to Buy?
There's no denying that the phablet revolution is upon us with manufacturers now focusing a chunk of their design, engineering, and manufacturing efforts on devices with 5-inch or larger displays. Though Samsung wasn't the first to market with its Galaxy Note series–Dell's Streak 5 arrived a few years earlier to a devoted cult following despite skeptics–the revolution was born customers realized that powerful features could marry a smartphone and tablet experience into one.
And though there have since been larger devices like the Samsung Galaxy Mega 6.3 that we reviewed for AT&T Mobility and Sony's 6.4-inch full HD Xperia Z Ultra with its Triluminos display, two of the most talked about phablets on the market are Samsung's Galaxy Note 3, continuing to deliver a precise pen input, powerful multitasking, and top shelf specs, and Nokia's Lumia 1520, which is the first phablet for Windows Phone, beating out the release of Apple's rumored iPhablet.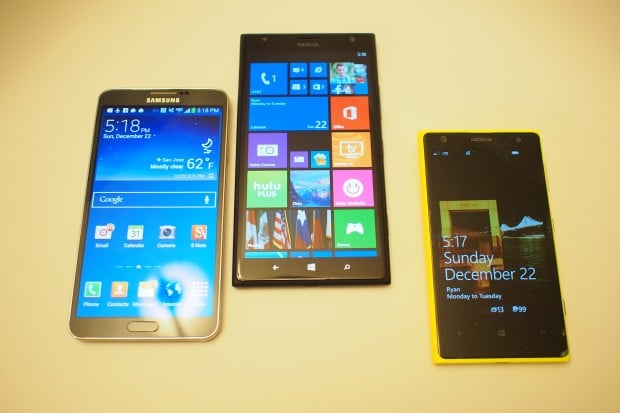 So how do these devices measure up? Screen for screen, and spec for spec, we'll explore not just the hardware of these gorgeous devices, but we'll also take in the whole user experience to give you a more informed decision before you consider buying either large-bodied phone.
Design
A bigger phone is a bold one, and manufacturers must take into consideration how it feels not just in the hands, but in the pocket or bag as well. Not quite a tablet, yet not quite a phone, phablets have to still straddle both worlds to offer powerful computing and ultraportable mobility in a carefully crafted package.
Nokia Lumia 1520. The Lumia 1520 is the new kid on the block being the first Windows Phone 8 phablet, and Nokia went big. A 6-inch full HD display alongside with one of the day's most powerful quad-core processor makes this device scream performance. And perform it does as it matches the Note 3 spec-for-spec.
With such a large device–it doesn't sound much larger than the Galaxy Note 3 as it's display is only 0.3-inch larger, but it does feel like a behemoth of a phone–Nokia was wise o have subtle tapering and smooth curves to make the Lumia 1520 feel slimmer in the hands than it is. Still, straight lines make the device feel modern, and Nokia had also shaved off some bezel space so the Lumia 1520 feels like it contains more glass for the screen real estate than for the frame of the screen.
Still,  despite making the best efforts to minimize the Lumia 1520's footprint, the phone just is huge in a pocket. It's meant more for a bag or purse.
In the hands, though, the Lumia 1520 feels very ergonomic and comfortablet, and the phone still benefits from the solid feel thanks to the beautiful unibody polycarbonate shell.
Another design win for Nokia is that this is the first premium Lumia smartphone in the range with an accessible micro SDXC card slot–previous high-end Lumias were limited to the on-board storage.
Galaxy Note 3. Samsung had always pleased power users with its Galaxy Note series, and the third iteration is no different. Updated with a full HD Super AMOLED display, quad-core processor, and ample 3 GB of RAM, this device screams fast. The best part about this phone is that it is actually a tiny bit smaller than the previous generation, despite Samsung packing in a 0.2-inch larger 5.7-inch display on the latest model. Thanks to slimmer side bezels and a refined design, the Galaxy Note 3 continues to offer powerful features, like an accessible micro SDXC card slot, removable battery, and USB on the go support, the last feature important for those who have an adapter cable and want to read a flash drive on the phone, for example.
And Samsung is trying to rid itself of some of the complaints that plagued the Galaxy series in the past, chiefly the fact of overabundant use of glossy plastic. Now, the Note 3 has a faux leather back cover and faux stitching around the edge that makes it look and feel more premium. Samsung also made ridges into the surrounding plastic–although chrome-looking–sides of the phone, and when you combine the device with an optional cover it really looks like a journal.
It's a nice design play that brings back a bit of the old into the digital age, and it's well played given that the Note 3 comes with a precise S Pen that uses Wacom's excellent active digitizing technology for writing, drawing, or doodling.
The Galaxy Note 3 may not have the sleek curves and tapered side edges that the Lumia possesses, but it still feels comfortable to hold and the faux leather makes it less slippery. And as a phone, the Note 3's more compact size makes it more comfortable to hold the device up to your face or tote around in your pockets.
Performance
From camera to software, we'll take a gander at how hardware and software interacts with both Windows Phone and Android. We'll cover some of the biggest features that make the Galaxy Note 3 and the Lumia 1520 standout.
Nokia Lumia 1520. The Lumia 1520 doesn't quite match the 41-megapixel sensor on the Lumia 1020, but with optical image stabilization and 20 megapixels of resolving power, it gives the Galaxy Note 3 a run for its money. Full 1080p video recording may sound like it's a limiting factor given that the Note 3 could record 4K UHD videos, but many homes aren't even equipped with 4K monitors or TVs to take advantage of the resolution. Where the Lumia 1520 really shines is the rich audio recording capabilities for videos. With four microphones, you now have isolated stereo audio to go along with your videos, strong noise cancellation along with new software for editing and uploading videos, even novice users can get great videos without the shakiness that accompany footage captured with a smartphone.
In terms of photography, the usual applies with OIS and strong low light performance and retention of details with a 20-megapixel sensor accompanied by dual-LED flash are part of the picture. The best part is that with LED flash, the flash is nearly on par with the Xenon flash on the Lumia 1020 while at the same time producing more accurate colors due to better auto white balance software. You also get raw DNG file output for better correction in post-production software like Lightroom, Photoshop, and others.
Additionally, new to photography is Nokia's Lytro-like approach to taking pictures. With the new Nokia Refocus app, you can now take a picture and then choose what is in focus and what is blurred (bokeh area) later, so with the same image you can make adjustments and tell different stories. Previously, you would have to choose what the camera is focused on prior to the image being captured.
In other areas, Windows Phone has always been conservative, so performance even on the most frugal of hardware will be possible. With the Lumia 1520's stellar hardware specs, you can expect even more dynamic performance. Opening apps was a bit faster than the Lumia 1020, and everything feels more fluid and fast. The larger, higher resolution display leads to an even better experience, now fitting a whole new column of tiles so you really do get to see more at a glance.
Yet, despite having a large screen, I cannot help but feel that Windows Phone was too limiting. Unlike on the Note 3, I cannot simultaneously multitask by snapping two apps together side-by-side, a feat that could be done on Microsoft's more tablet-centric Windows RT OS but not on Windows Phone.
Galaxy Note 3. The Galaxy Note 3 carries with it the 13-megapixel sensor that debuted on the Galaxy S4 and performance is generally good. With a focus on consumers, rather than the prosumer approach taken by rival Nokia, Samsung has packed the Note 3 with a plethora of photo filters, scenes modes, and other settings that make photography fun. The trade off is you don't get the same level of fine granular adjustments that pro users seek out, and those are found on Nokia's excellent Pro Camera app on the Lumia 1520 and 1020, with manual control of the camera for ISO, white balance, focusing, and shutter speed, and more.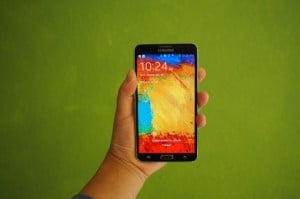 The Note 3 camera does a commendable job, and the large 5.7-inch display helps users frame their photos and see the videos they are recording better.
Where the Note 3 stands out is the software, and Samsung has made plenty of customizations and enhancements to the Android OS. Some of these features won't ever be used by many users, but a lot of them are better tied together to make things appear more polished and seamless than ever before. The S Pen now allows you to clip photos and webpages and store them in scrapbooks for later perusal, sort of like your own Pinterest on your phone. You can jot down an email address or phone number with the pen, and then you can dial or email directly from your chicken scratch so it ties in notes more easily to tasks. Moreover, intelligent software to know when you're looking at the display to automatically pause or play video, or know if the screen should be turned off when no one is looking to conserve battery, help to extend this experience further.
And when it comes to multitasking, no one can beat Samsung at this. With two different methodologies for multitasking, Samsung is really showing that Android, and in particular its Galaxy phones, can be powerful PC replacements.
Ecosystem
Though Android has a more well established ecosystem, any consumers dismissing Windows Phone would be foolish as the platform is attracting more developers and content with each passing day. Windows Phone today isn't the same as when it first launched a few years back–it's better, stronger, and more robust, and we definitely find that in better software and accessories.
Nokia Lumia 1520. Microsoft quickly debuted a new Xbox Video app just shortly after the Lumia 1520 debuted on AT&T's 4G LTE network. This is a good thing because with a screen as beautiful as that on the 1520, there needs to be more content available. With Xbox Video, Microsoft for the first time is allowing Windows Phone owners to download, purchase, or rent video content such as TV shows and movies. Previously, users had to go through other services, like Netflix or Hulu Plus.
Additionally, with Xbox Music, Pandora, Spotify, iHeartRadio, Nokia Music, and other apps, users will have a good breadth of selection for music apps as well.
What's still lacking is official content from Microsoft's Windows Phone Store for e-books and magazines.
As far as apps go, the popular belief is that Windows Phone isn't quite as strong as the selection available on Android and iOS. By the numbers, that may be true, but Microsoft is catching up and there are already a number of notable apps for Windows Phone with strong designs, including Chase, PayPal, CNN, Amazon, eBay, Instagram, Path, and more. Nokia also has a robust catalog, including free turn-by-turn voice navigation via the HERE Maps GPS app, Nokia Mix Radio, Nokia Creative Studio, and more to fill the gaps.
And while you won't find a Mophie Juice Pack case or a waterproof Lifeproof case for the Windows Phone devices out there, Nokia and partners are delivering a selection of accessories, including covers and cases, for the Lumia 1520. A wireless charging plate and optional cover also extends the experience.
Galaxy Note 3. There is little to fault with the Note 3's ecosystem, which benefits from Android's strong digital content selection, a robust catalog of third-party apps, and a vast array of Samsung and third-party cases and accessories.
Still, despite the available content selection for the Note 3, we feel that Samsung and Android could do more to expand the experience for the Note 3 owners. Currently, apps that run on the Note 3 are designed for smartphone, which means you won't find any additional content or features that are designed to take advantage of the phablet's larger screen real estate. Unfortunately, many of the tablet apps won't load on the Note 3 and what you end up is just a smartphone app that's stretched to fill the screen. Google and Samsung really ought to let users force apps into tablet mode if they want to–the 5.7-inch display could be big enough to let this happen.
Another problem right now is that not all apps are compatible with Sasmung's Multi Window View, so you can't snap all downloadable apps from Google's Play Store into this mode for simultaneous multitasking. A good number of apps, like Facebook and Twitter, will work, but not all.
Conclusion
There are a lot to love about each phablet. Both devices come with the best hardware specs, and on paper, the devices appear evenly matched. In real world performance, depending on your needs and usage, one device may pull ahead of the other.
For the Lumia, the simple Metro UI, strong video and photo experiences, and inclusion of Microsoft Office for Windows Phone gives the 1520 an edge.
On the Note 3, you have a powerful and robust ecosystem of content, robust multitasking capabilities, and a handy S Pen that adds value to having a larger screen real estate.
No matter which device you choose, if you do decide to wield such a large and powerful smartphone, you will be happy with smooth performance.

As an Amazon Associate I earn from qualifying purchases.