Samsung Galaxy Note 3 Announced: 5.7-inch Display, New Software & More
The Samsung Galaxy Note 3 is official. After months of leaks and speculation Samsung showed off the Galaxy Note 3 at a special event to kick off IFA 2013 in Berlin today.
The Samsung Galaxy Note 3 is thinner and lighter with longer battery life in a compact package according to Samsung CEO JK Shin.
After a dramatic unveiling Samsung showed off the new Samsung Galaxy Note 3 with a 5.7-inch display with a 1920 x 1080 Full HD resolution, new S Pen features and a new design that is still partially plastic, but an upgrade from the Samsung Galaxy Note 2.
The Samsung Galaxy Note 3 is joined by a new Samsung smartwatch called the Galaxy Gear, which could be a great accessory for the large screen smartphone.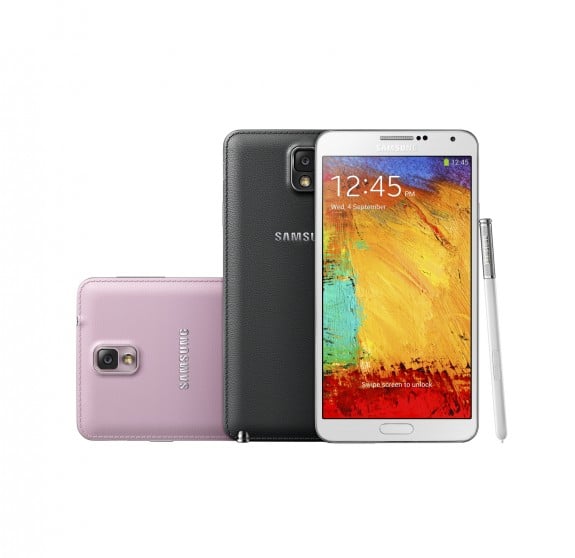 Samsung delivers an enhanced S Pen and new multitasking options as well as a larger display. Samsung includes faster and seamless LTE, Category 4 with Multiple bands for connectivity in more places.
Samsung led the event with Samsung Knox, a Samsung Galaxy Note 3 security suite, which Samsung hopes will help the Note 3 become a standard business device.

The design of the Samsung Galaxy Note 3 includes a faux leather back that replaces the plastic back found on the Galaxy Note 2 and Galaxy S4. This isn't a metal back like the HTC One, but it should help Samsung attract some new users.  The Samsung Galaxy Note 3 is 8.3mm thick and 151.2mm tall and it weighs 168 grams.
The Samsung Galaxy Note 3 comes with a 13MP rear facing camera that can record in 4K and a 2MP front facing camera that handles full HD recording at 30FPS. Users gain access to the popular Galaxy S4 features like dual shot and the many camera modes.
Samsung announced a new S Pen for the Samsung Galaxy Note 3 with quick actions that makes the S Pen the key that unlocks the speed and power of the Note 3, according to Samsung.
Users can hover the S Pen over the Note 3 to get Air Command, which offers access to 5 convenient features into one pop up menu. Samsung describes the new Air Command feature as follows.
Action Memo allows users to handwrite a note, and automatically execute a function or convert that handwritten information into formatted content. Action Memo can instantly initiate a call, add to contacts, look up an address on a map, search the web, save a task to a to-do list, and more

Scrapbook enables users to organize or track down content and information from various sources including the web, YouTube and Gallery in one place so that users can easily look back at collected content all at once. When consumers save content for future use, Scrapbook also collects source material or URLs allowing them to easily refer back to the original source.

The Screen Write feature captures the full screen image of the current page on the device and allows users to write comments or additional information onto the captured image.

S Finder allows users to expansively search for content on their device regardless of the type. By putting in keywords or filters such as date, location, and content type, users can search related documents, events, communication threads, and even the Help page – all in one place. In addition, users can also search for hand-written content in their Notes and memo applications, as well as symbols and formulas.

Pen Window allows users to use the S Pen not only for drawing sketches or writing notes, but now also for opening a small application window for a true multitasking experience. Simply by drawing a window of any size, anywhere on the screen, users can easily and quickly open another application window such as YouTube, calculator or Browser without pausing current activity on the screen.
The S Finder app allows users to search the Galaxy Note 3 for contents of all types including chats, memos, handwritten content and much more, even searching for symbols like stars.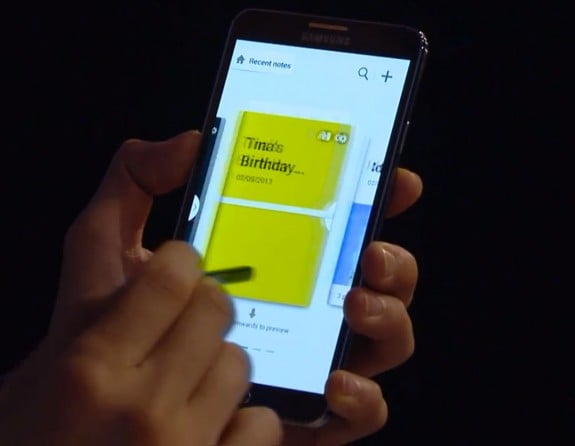 The new S Note app includes a new interface that allows users to move objects and layers freely within a note. The content in S Note syncs to PC and tablets as well as other phones and connects to Evernote with a free year of Evernote premium.
Samsung is calling this a smart display, with new Multitasking options. Users include a new MultiWindow option that lets users open the same app in two windows, to run two chats at the same time. Users can then drag and drop between apps.
With multitasking, users can draw a box on the screen, which will then pull up fast access to apps you use on a daily basis, this is called Pen Window.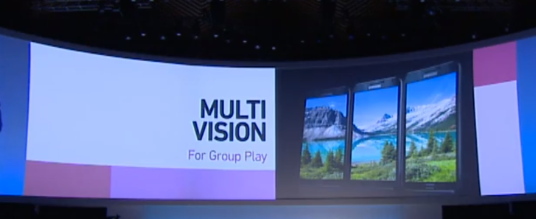 The Samsung Galaxy Note 3 adds MultiVision, a feature that lets users add three Galaxy Note 3 devices side by side to create a bigger screen for videos.
Samsung also includes Find My Mobile, a new service that users can turn on to track down a lost or stolen device. Users can disable the device and prevent a thief from resetting the stolen phone, which could help make stealing a Galaxy Note 3 less attractive.
Smart Relay will allow users to see an email on the Galaxy Gear, and have it appear on the Galaxy Note 3 automatically when a users takes it out of their pocket.