Samsung Galaxy Note 4 Pre-Orders: Where to Buy
Samsung's brand new Galaxy Note 4 release date isn't for another month, but starting today users can ensure they'll get the highly anticipated new flagship smartphone the day its released. The Galaxy Note 4 pricing and release date has already been confirmed, and buyers will want to know where to get the new phone.
Starting today pre-orders have opened up for the new Galaxy Note 4 from both AT&T and Verizon, but so far they're the only ones accepting pre-orders. The Galaxy Note 4 launch date is officially October 17th, so there's still plenty of time to reserve your own. That being said, below is everything you need to know about the Note 4, and where you can buy it.
Read: iPhone 6 vs Galaxy Note 4: 11 Things Buyers Should Know
At Samsung Unpacked 2014 in Berlin, Germany, Samsung took the stage and announced a slew of brand new products including two new Galaxy Note models dubbed Samsung Galaxy Note Edge and of course the Samsung Galaxy Note 4. We mentioned the Note 4 release date above, and we're hearing the Note Edge release will closely follow it, but at a later date.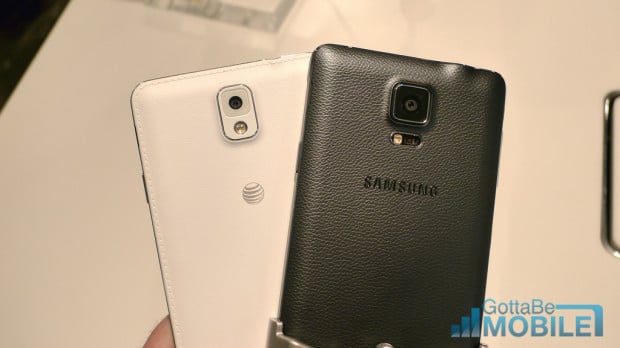 While the Galaxy Note 4 release date isn't for nearly another month, Samsung is wasting no time getting buyers on board, and this week announced a new Galaxy Note 4 deal to go along with pre-orders. Today Apple's new iPhone 6 and iPhone 6 Plus are shipping to buyers and available in stores, so Samsung is busy making sure everyone knows when they can get the "next big thing" from Samsung.
Two main carriers in the United States are offering the Note 4 for pre-order starting today, and two more will do the same next week. Meaning that almost any and all US smartphone buyers will have the chance to get a Note 4 come release date. It might sell out eventually, but shouldn't be anything like the delays we're seeing this week with the new iPhone 6.
Before we get into what the Note 4 has to offer, here's where you can get one today, and next week.
A few other regional carriers will likely offer the smartphone, and we'll be sure to update as we learn more details and pre-order pages go live for prospective buyers. It's worth noting that Verizon.com already lists the Note 4 as shipping on October 23rd, meaning they might be running out of stock soon, so you better hurry and order now.
Read: Galaxy Note 4 Hands-On
Samsung's all new Note 4 is very similar to the model last year, but has been vastly improved in terms of performance, hardware, software, and even has a new metal design around the sides. This is the first Note 4 with an aluminum edge, as the last model had a metal-looking plastic band to protect the sides.
Galaxy Note 4 Specs
5.7-inch 2560 x 1440 Quad-HD Display
2.7 GHz Quad-Core Snapdragon 805 Processor with 3GB of RAM
32GB of storage and micro-SD expansion
Android 4.4.4 KitKat (Google's latest release)
16 Megapixel OIS Camera and 3.7 front camera for wide angle selfies, panorama mode, and HD video
Fingerprint scanner, heart rate monitor, UV sensor
3,220 mAh Battery
Quick Charge (50% in 30 minutes)
Improved S-Pen
Aluminum Edges
White, Black, Gold, and Pink colors
As you can see above Samsung's new Galaxy Note 4 has a lot of impressive features, and should be one of the best smartphones of the year. With each new Note release we've seen higher sales, a better device, and improved S-Pen functions, and the same can be said again here in 2014.
The Note 4 has an improved 16 megapixel camera with optical image stabilization, a wide-angle 3.7 MP front camera, and the new quick-charge feature should have many buyers excited. This lets the phone charge to 50% full in just 30 minutes. Perfect for emergencies or before leaving work on a Friday evening for happy hour.
Again, the Samsung Galaxy Note 4 release date is officially set for October 17th, and we can expect to see pre-orders shipping on time for release day delivery, if not a day early.

This article may contain affiliate links. Click here for more details.