Samsung Galaxy S6 & Galaxy Note 5 Rumors Tease Big Feature
The Samsung Galaxy S5 release just took place and the Samsung Galaxy Note 4 is just a collection of rumors but we're already starting to hear about the company's plans for 2015 and its potential Samsung Galaxy S6 and Samsung Galaxy Note 5 releases.
For several years now, Samsung has launched two flagship smartphones to battle the likes of the HTC One, LG G series and Apple's iconic iPhone. In the beginning of the year, it's Samsung's Galaxy S that hits shelves. Later in the year, the company launches its Samsung Galaxy Note, a larger screen model that takes advantage of a unique stylus called the S Pen.
This year, the company introduced the Samsung Galaxy S5, a high-powered device that features a number of upgrades over its predecessor, the Samsung Galaxy S4. Later in the year, Samsung is rumored to be delivering a brand new Samsung Galaxy Note dubbed Samsung Galaxy Note 4. Galaxy Note 4 rumors have been running rampant lately but the device still remains in the shadows ahead of its launch.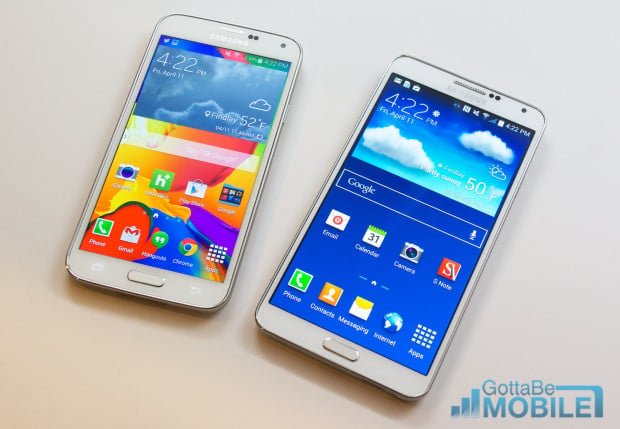 Despite the Galaxy S5's youth and the fact that the Galaxy Note 4 is months away from launch, we've already begun to see the 2015 rumor mill start to churn. It's a new report from Korean publication Ledwn that has ignited the rumor mill, pointing to a key feature that could be aboard both the Samsung Galaxy S6 and Samsung Galaxy Note 5, two devices that could very well be in Samsung's pipeline for next year.
The report suggests that Samsung has invested in a brand new plant that will be focused on producing flexible displays for upcoming devices. The plant is reportedly not going to be fully operational for several months but could become integral to the company's Galaxy-branded devices that arrive next year. It specifically mentions the Samsung Galaxy S6 and Samsung Galaxy Note 5 as potential targets.
It's clear that Samsung is invested in producing flexible displays. Last year, the company not only showed off its flexible display technology at CES 2013 in Las Vegas, it deployed a flexible display on a device called the Samsung Galaxy Round. The Galaxy Round's release was limited but the device's curved display painted a clear picture of the future.
Samsung Galaxy Note 4 rumors have asserted that the device may ultimately come with a three-sided display. Samsung officials have openly suggested that the company is looking into putting a "bent" display on board this year's version of the Galaxy Note. Here is what we've heard thus far about the Galaxy Note 4's display:
In January, a Samsung executive told Bloomberg that the company was looking into including a three-sided display on the Samsung Galaxy Note 4. An earlier report from the same publication suggested that the company was aiming to bring another curved smartphone to the market in 2014.
A recent report from The Korea Herald cites Song Jong-ho, an analyst at Seoul-based KDB Daewoo Securities, who says that Samsung will bring bent displays to the market later this year and that it will introduce a "few million units at the end of this year, initially taking aim at the niche market".
Another Samsung official recently told the The Korea Times that the company is still considering a bent display for the Samsung Galaxy Note 4.
So while nothing is set in stone, it's clear that Samsung is at least considering making huge sweeping changes to its smartphone designs, designs that have only incrementally changed throughout the years. This year's Galaxy S5, for instance, is made out of plastic but features a IP67 dust and water resistant certification for the first time.
Samsung Galaxy S6 and Samsung Galaxy Note 5 rumors remain scarce, not surprising given how early in the year it is. We've pointed out that it's possible that Samsung's next-gen Galaxy S will adopt a brand new 64-bit processor from Qualcomm, something that would bring these benefits to Samsung Galaxy S6 users:
Faster Performance – Faster chip plus support for same RAM that can deliver "lightning quick" iPhone performance.
Better Graphics – 30% faster graphics performance
Higher Resolution Mobile Displays – 2560×1600 resolution compared to 1920 x 1080 on Galaxy S5.
Better Battery Life – "exceptionally low power consumption that does not sacrifice performance."
4K video Capture – Support 4K video at 30fps and 1080P at 60fps
55MP Cameras – Support for higher megapixel cameras.
Display on External 4k Display – use an HDMi cable to play back 4K on a external device.
These are potential specifications and do not represent a full spec list for a device that is likely about a year away from its release date. As for the Samsung Galaxy Note 5, besides this rumor, details are non-existent.
The rumor mill is currently focused on the Samsung Galaxy Note 4, the successor to the Samsung Galaxy Note 3 and a device that has already been confirmed for arrival.
In recent weeks, several Samsung executives have confirmed the company's plans for a Samsung Galaxy Note 4. The device is all but confirmed for the second half of the year and it appears that the company is looking at launching it at IFA 2014 in Berlin, Germany. The last three Samsung Galaxy Note models have launched at IFA.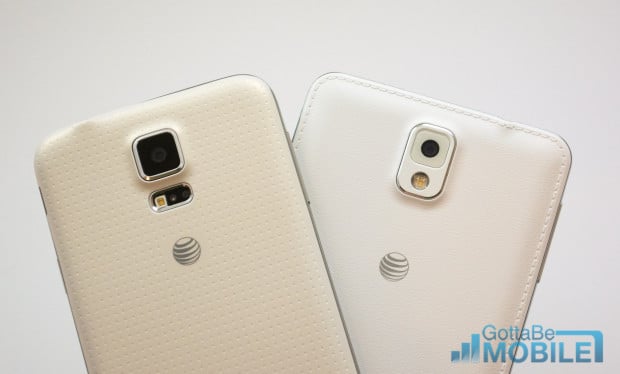 A Samsung official recently confirmed that the Galaxy Note 4 would have a brand new design but again, it's not clear if that means that it will have a curved display. Samsung patent filings have fueled Galaxy Note 4 speculation but the company is likely juggling several Galaxy Note 4 prototypes ahead of launch.
Samsung keeps its flagship smartphone designs under lock and key which means that there is a good chance consumers will not see the full design until the device's launch event later this year.
The Galaxy Note 4′s rumored specs are thought to include improved screen resolution, a faster processor, LTE-Advanced for faster data speeds, and perhaps, some changes to the touch portion of the Samsung Galaxy Note 4 screen. The improvements could bring improved Air View, Air Gesture and S Pen support to Samsung's upcoming Galaxy smartphones.

This article may contain affiliate links. Click here for more details.