Samsung Galaxy Note 7 Hands-on & Impressions
Samsung's new phablet and second flagship smartphone for 2016 is finally here. On August 2nd in New York City Samsung unveiled a better, faster, waterproof, more powerful and secure Galaxy Note 7 to replace the Galaxy Note 5. Below we'll go over a few details, new features and share some first impressions.
For months on end we've been seeing reports and rumors about the Note 7, which oddly isn't called the Note 6. Turns out almost everything was correct, and that isn't a bad thing. The Galaxy Note 7 has a lot to offer and it will be available for all come August 19th.
Read: Galaxy Note 7 Release Date Breakdown
After taking the stage and showcasing a phone that's relatively similar to the Galaxy S7 Edge from earlier this year, we were able to get our hands on it and see what's different. And while yes, the Note 7 could just be a bigger Galaxy S7 with a stylus, there's more to it than that and it's hands-down the best Galaxy Note device to date.
https://www.youtube.com/watch?v=a0a6Y9JvPqo
First up is the design, which is very familiar to everything we've seen from Samsung the past little while. That said, they've managed to refine everything in a really nice way. The new Galaxy Note 7 has the same size screen as last year, being 5.7-inches, saw upgrades in every aspect, yet is a few millimeters thinner. The results are a smartphone that looks good, made of glass and aluminum, and feels excellent in the hand. To be exact it is 2.2 mm thinner than the Note 5, and comes in at 7.9mm thick.
Yes the screen is now curved, like the Galaxy S7 Edge, but it's more subtle and refined. It doesn't drop off as fast. Samsung claims they found the perfect balance on the curved edge to be useful without sacrificing the experience while using the S-Pen stylus for long-time Note users. After using it for a few minutes, they were right. The front and back both nicely curve into the aluminum body, which makes it feel even thinner than it already is. That might not sound like much, but it does a lot for holding the phone during daily use.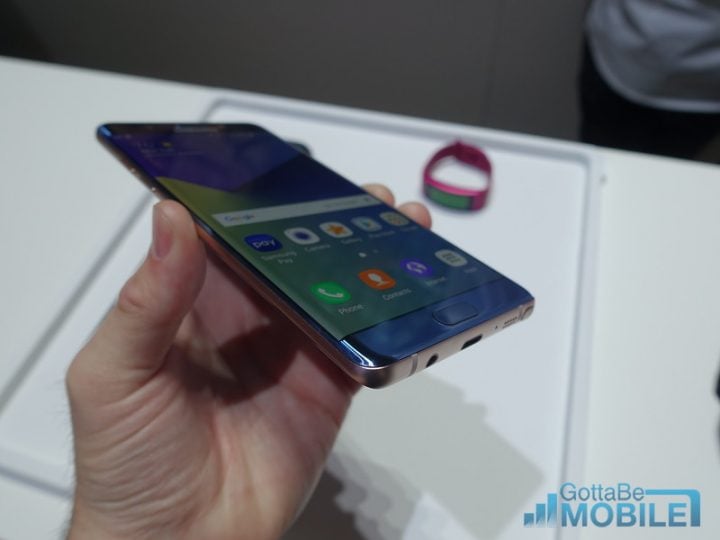 Overall it doesn't seem much different from the Galaxy Note 5, aside from the curved glass, lighter weight and the new USB Type-C port, but it is different. It looks more polished, and all comes together pretty nice.
Read: Galaxy Note 5 Review
There was a lot of back and forth from rumor mills regarding specs, a new bigger screen, crazy high specs that weren't realistic and more. And while we did want a huge battery and other things, that isn't feasible while still making it water-resistant, adding the stylus and other things. The result is a pretty capable phone that bests the model before it in every single category.
Galaxy Note 7 Specs
5.7-inch 2560 x 1440 Quad-HD Curved Display
Snapdragon 820 Quad-Core Processor with 4GB of RAM
64GB Storage with micro-SD support to expand storage
Android 6.0.1 Marshmallow
12 DualPixel Camera with IOS, f/1.7 aperture, more
5 MP Front Camera with f/1.7 aperture
Premium all metal design
Fingerprint Scanner, Samsung Pay, USB Type-C
Iris Eye Scanner technology
Integrated S-Pen Stylus
3,500 mAh Battery with Fast Charge, Fast Wireless Charging
IP68 dust and water resistant
Thinner and Lighter than Note 5
more
Last year the Note 5 had a great design but a lot of compromises as a result. That isn't the case with the Note 7. In fact, they managed to improve the premium all metal and glass design, while also making the phone thinner and lighter, and at the same time packed in upgrades everywhere. It might look like a Galaxy S7, but coming from a Note smartphone users will have a lot to love.
To say things quickly the Galaxy Note 7 has a faster processor, double the storage for apps and games, a better camera, more features with the S-Pen stylus, the biggest battery in any Note thus far, and is IP68 dust and water resistant too. For those curious, that means it can go under more than 5ft of water for 30+ minutes and come out working just fine. Both the phone and S-Pen work under water. Here's a quick video demo.
Then of course one of the biggest complaints from last year was addressed, which is storage, or the lack of it. Samsung returned the micro-SD slot to expand storage beyond the built-in 64GB of storage, which is double that of last years model. Those who pre-order will get a free 256GB SD card, giving owners over 300GB of space. Something no iPhone can offer.
With each iteration of Note, Samsung has increased and streamlined what we can actually do with the S Pen, and they did it again this year. The S-Pen stylus is smaller, mirroring the size and feel of a ball-point pen being 0.7mm, and it works under water. Yes the phone is water-resistant, and the S-Pen stylus is too. We were able to write under water, but not perfectly. It's nice for those that will ever feel the need to do so.
Air Command, accessed by the pop-up when you remove the pen, has some neat new features. They're fairly self-explanatory: translate allows you to do text-to-speech, similar to Google Translate; magnify, which of course zooms in on content to make things easier to see and read.
In use the S-Pen does feel a lot better overall. It isn't too slippery, doesn't drag on the display, and the curved edge didn't seem like much of a problem either. Writing on the Note 7 screen with the new stylus feels more natural and easier than ever before.
Perhaps the biggest change to the Galaxy Note 7 is the Iris eye scanner for improved security. A system which is far more accurate and secure than any fingerprint, which Samsung claims can't be faked by a photo or even a video of a users eye. Nothing is high enough resolution to trick the Iris eye scanner.
These days everyone uses the fingerprint scanner on their phones, so switching to something like an eye scanner may not make a lot of sense to some. Having to hold up the phone and keep your eyes still for a moment.
However, Samsung has added a few tricks for the Iris scanner that make it far more usable. One being a new "Secure Folder" inside of Android. It's basically an encrypted secure folder for apps, folders, files, documents, photos and more. Letting owners use their fingerprint for most activities, but a more secure eye scan for the important stuff.
Even further, the secure folder can have entire apps installed there, separate from the rest of the phone. Like a second Facebook for work or business, or anything else users can imagine. It is another layer of security unlike anything we've seen from Samsung. In the end we think Samsung is expecting the secure folder to be used with the scanner, more so than having that as the main unlock method of choice.
All said and done the new Galaxy Note 7 may not be the huge jump many were expecting, but it isn't really fair to compare it with the Galaxy S7. They are both their new flagship phones for 2016.
Compared to the Galaxy Note 4 or even the Note 5, it's clear that Samsung has made massive strides. Being able to make the phone thinner, more powerful, more capable, add a huge 3,500 mAh battery and then make it water-resistant at the same time is pretty impressive. Anyone coming from an older Note will love all that is has to offer. From the blazing fast charging speeds, the award-winning 12 Dual Pixel camera, to 64GB of internal storage and an S-Pen that does more than ever before.
If I had one complaint it would be on the 3,500 mAh battery. Yes it's bigger than any Note ever released, but when devices like the smaller Galaxy S7 Active and S7 Edge have a bigger battery, consumers question why and consider it a compromise. At the end of the day though, there's only so much that can fit in a sleek water-resistant shell. The Galaxy Note 7 should still have excellent battery life, better than any model before it. Fast charging with the reversible USB Type-C port should have owners going 0-100% in about 80 minutes, and getting 50% off a quick 20 minute wait. Fast charging is very helpful, and that's included here of course.
As a reminder Samsung confirmed the phone will be available in the US and around the globe starting on August 19th, with pre-orders going live tomorrow, August 3rd. Carriers in the US will have the options for Onyx Black, Coral Blue and Titanium Silver, with a gold option being limited to select markets and operators. Those who pre-order get to choose between a free Gear Fit2 wearable device or a 256 GB memory card too. Stay tuned for more details.

As an Amazon Associate I earn from qualifying purchases.