Samsung Galaxy Note 7 Release Details Firm Up
Samsung Galaxy Note 7 release details continue to swirl ahead of the rumored August release date, and now we've received some of most compelling information yet. Over the past few months we've heard a lot about Samsung's new flagship phablet, and now we have an even better idea of what to expect.
In August of 2015 the Galaxy Note 5 was announced and released, which was nearly two months earlier than prior models. Then, earlier this year Samsung unveiled the Galaxy S7 in February, and released it in March. A full month ahead of expectations. We're expecting the same thing this year with an all new and improved Galaxy Note 7, not the Galaxy Note 6.
Read: 7 Things to Know About the Galaxy Note 7 Release
According to countless reports and rumors the Galaxy Note 7 is coming this summer with a big curved display, water-resistance, a bigger battery and possibly even an Iris Eye Scanner. We've heard a lot of this before, with some details conflicting, but now one more reliable source is sharing information ahead of the Galaxy Note 7 release date. Read on for the latest details.
At this point we already have a very good idea of what to expect from the Galaxy Note 7. Simply based on leaks and rumors, not to mention the natural progression of the smartphone market and Samsung's upgrade cycle from previous years. Combine the changes we saw from the Galaxy S6 to the S7 with the Galaxy Note 5 to the new 2016 Galaxy Note, and everything we've detailed below sounds pretty realistic.
Recently the famed and often accurate leakster Evan Blass, known as @evleaks, shared information about the Galaxy Note 7 based on his sources. Most of the details we've heard before, but not from a reliable source like Blass. To take things even further, he confirmed the name, specs, one important new feature, and the screen size.

For now we're still taking everything with a grain of salt, but @evleaks has been very reliable in the past. According to him the impressive Galaxy Note 7 will have a curved display, and be 5.7-inches. The same size as previous Note models, not a bigger 5.8-inch screen like all previous leaks have suggested.
Couple confirmed specs: 5.7" QHD SAMOLED, 64GB + microSD, 12MP DualP / 5MP, IP68, black/silver/blue

— Evan Blass (@evleaks) June 25, 2016
His sources confirm the Galaxy Note 7 will not only have a fingerprint scanner, but also an Iris Eye scanner for improved security. This is mounted on the top front, near the front-facing camera, and will be far more accurate than a fingerprint sensor. Details surrounding this remain sparse.
Blass goes on to confirm the screen will stay at 5.7-inches (doesn't mention flat or curved) but will be a beautiful S-AMOLED Quad-HD display with a 2560 x 1440 resolution. Then states the Galaxy Note 7 will come with 64GB of internal storage, not 32GB and support a micro-SD card for expansion. Then as expected it will have the same camera setup as the impressive Galaxy S7 and S7 Edge, be IP68 dust and water resistant, even with the S-Pen stylus, and come in three colors. Black, Silver and Blue. Another report suggests the blue won't be so dark it's almost black, like other Samsung devices, but possibly a bright and vivid Sky Blue.
Read: Galaxy Note 7 vs Galaxy S7 Edge: What We Know So Far
We're also hearing Samsung will completely redesign and improve the user interface, known as TouchWiz, and the phone could be running Android 7.0 N or Android 6.0 Marshmallow. We'll have to wait and see.
So far we still don't know exactly what Samsung has planned in terms of the design and screen. Some reports claim there will only be one Galaxy Note 7 with curved edges, and that's all. Then other reports claim we'll see a regular Galaxy Note 7, and a Galaxy Note 7 Edge of some sort possibly with an even bigger 5.8-inch display.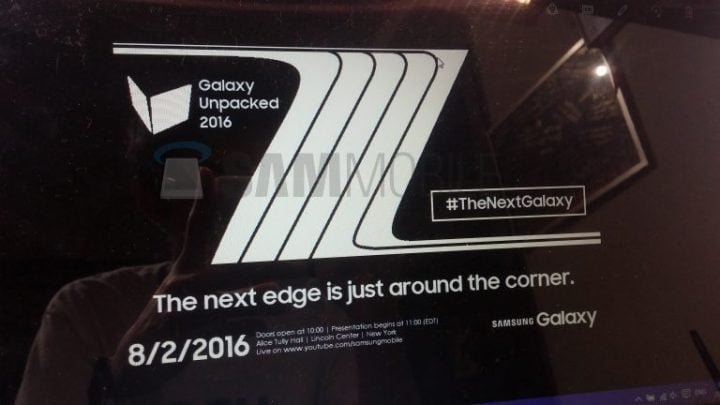 The image above is reportedly the invite for the launch. It says, "the next edge is just around the corner" hinting at the curved display. What we do know though, is that Samsung is preparing to release a stunning new Galaxy Note 7 with impressive specs and features across the board. Earlier leaks confirmed a new USB Type-C port with Quick Charging, a huge 4,000 mAh battery that will offer the best battery life on any Samsung smartphone to date, the same beautiful aluminum and glass design, waterproof, a micro-SD slot and more. Basically combining the best of the Galaxy Note 5 and the new Galaxy S7 together into one flagship phablet.
We're still waiting for more details and leaked photos, and are expecting more information to surface as the release date nears.
Everything we've seen and heard so far suggests Samsung's Galaxy Note 7 will be announced on or around August 2nd, and will be released either the same day, or within 2 weeks of the announcement. The event should take place in New York City on August 2nd, with the phone quickly becoming available from all carriers and around the globe. We only have a little over a month of waiting, so stay tuned for more details as they become available.

As an Amazon Associate I earn from qualifying purchases.