Samsung Galaxy Note AT&T 4G LTE Speed Test
The Samsung Galaxy Note is a speedy superphone thanks to the dual-core processor and AT&T's 4G LTE network. While speeds weren't so impressive on HSPA, now that I have my review unit working on LTE downloads are much faster.
I used the SpeedTest.net app in three different locations in Manhattan (NYC). The speeds weren't consistent each time, but were nice and fast overall.
The slowest download test clocked in at 15.52Mbps and the fastest was 22.63. The slowest upload was a decent 8.68Mbps and the fastest 12.97Mbps. Not bad at all.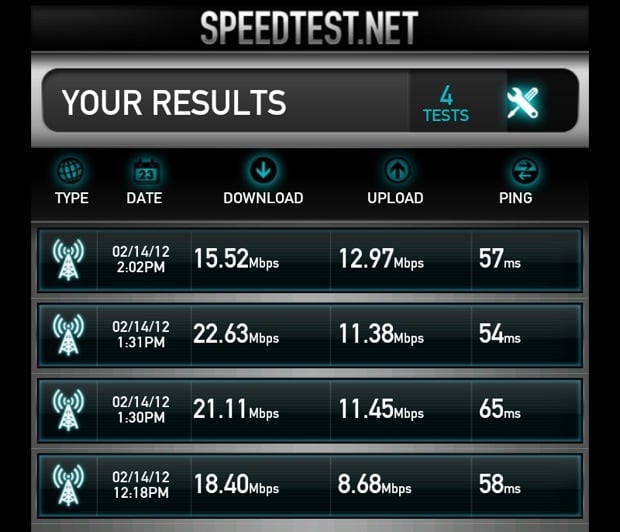 How does this compare to Verizon's LTE speeds? Here are speeds recorded for some recent Verizon Android phones:
Droid RAZR (NYC) — 13.7 Mbps (down) / 6.9 Mbps (up)
Galaxy Nexus (NYC) — 9.14 Mbps (down) / 9.74 Mbps (up)
HTC Rezound (NYC) — 29.3 Mbps (down) / 6.55 Mbps (up)
So here in New York AT&T's LTE is on a par with or besting Verizon's LTE at the moment. Keep in mind that AT&T's LTE is newer and there aren't as many customers on it. Things might slow down a bit as more people get on the network as they did with Verizon. Still, even "slow" Verizon's LTE is plenty fast. As long as AT&T's LTE does the same Galaxy Note users will always enjoy a speedy phone.
AT&T's LTE now covers 26 cities, mostly on the East coast. Currently covered cities include:
Austin, TX
Athens, GA
Atlanta, GA
Baltimore, MD
Boston, MA
Charlotte, NC
Chapel Hill, NC,
Chicago, IL
Dallas-Fort Worth, TX
Houston, TX
Indianapolis, IN
Kansas City; MO
Las Vegas; NV
New York City metro area
Oakland, CA
Oklahoma City, OK
Orlando, FL
Phoenix, AZ
Raleigh, NC
San Antonio, TX
San Diego, CA
San Francisco, CA
San Jose. CA
San Juan, Puerto Rico
Washington, D.C.
Seeing these speeds in New York City is a special treat as the carrier has had difficulty in the past with network overload and slowness. Those days appear to be over, at least for Galaxy Note owners.