Samsung Galaxy Note Pro 12.2 May Find Home on Verizon's LTE Network
The large-screened Galaxy Note Pro 12.2 that Samsung debuted at the Consumer Electronics Show earlier this month may find a home on Verizon Wireless' 4G LTE mobile broadband network in the near future. At least that's the hope that we've been given as the device was recently spotted over at the FCC for regulatory approval complete with 4G LTE radios that are compatible with Verizon's network.
The FCC listing was first published on Phone Arena. 
While an FCC approval still doesn't mean that the device would launch on Verizon, but it sure gives hope that Verizon will be carrying the device. In terms of Samsung's Galaxy Note tablets, the last Note tab that Verizon offered was the Galaxy Note 10.1, the original version, and the carrier has been quietly absent from subsequent Galaxy Note launches, including the Galaxy Note 8.0–a device that later debuted on rival AT&T–and the Galaxy Note 10.1 2014 Edition–a device that still is only available with WiFi only in the U.S. market.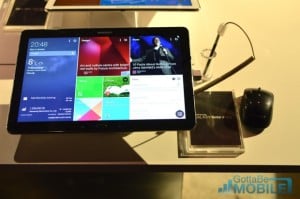 More recently, though, the Note 10.1 2014 Edition was also spotted at the FCC with Verizon LTE support. Neither Samsung Mobile nor Verizon Wireless has announced that tablet.
Given that both the Note Pro 12.2 and the Note 10.1 2014 Edition were both spotted at the FCC, Verizon could be offering its users options for new S Pen-enabled tablets.
The Note Pro 12.2 that passed through the FCC sported the model number SM-P905V and had support for LTE bands 4 and 13.
At CES when we played with the Note Pro 12.2, we found that though the screen was larger, the device was still lightweight and portable enough. The high resolution 2560 X 1600-pixel display screen was sharp and crisp, and the extra screen real estate is allowing Samsung to expand its already excellent simultaneous multitasking feature on the tablet. Now, you can run 4 apps simultaneously in side-by-side windows and on top of that, you can draw additional "Pen Windows" to layer on floating windows on top of those apps.
Given the larger screen size and the powerful features, the Note 12.2 may represent a big threat to Windows Ultrabooks on the market.