Samsung Galaxy Note Pro 12.2 Tipped for AT&T Release
The past few weeks have been filled with leaks and rumors surrounding a new set of Android tablets by Samsung, and today we're getting a few more important carrier details regarding the largest of the bunch.
While we're waiting for Samsung to officially announce these new devices, which may come early next week at CES 2014 in Las Vegas, today a few important pieces of the story have arrived, suggesting the 12.2-inch Samsung Galaxy Note Pro tablet is headed to at least AT&T, and possibly others. This is just one of many new tablets, and Samsung is set to make a big splash in the tablet market in 2014.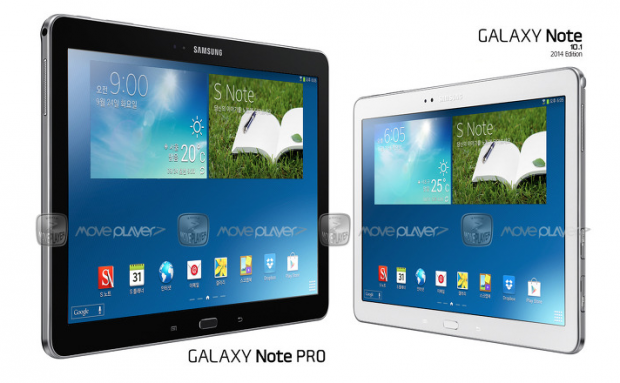 According to the popular Twitter leakster @evleaks the Samsung Galaxy Note Pro will be headed to AT&T with 4G LTE in early 2014, and is listed as model SM-P907A. Most reports have suggested a February debut, but with details already arriving by the truckload, not to mention already being cleared by the FCC, a January announcement and February release date seems likely.
Offering an HD screen like never before from a Samsung tablet, all in a large yet sleek and thin frame coming in at 12.2-inches this new Note Pro is set to be the high-end of their tablet market in 2014. At least for now. Offering a 2,560×1,600 resolution display, a Qualcomm Snapdragon 800 processor and 3-4GB of RAM, Android 4.4 KitKat, and possibly a massive 9,500 mAh battery to keep that large and HD screen glowing with content.
Read: Samsung's iPad Air Rival Tipped for Early 2014
Of course being part of the Note family it will have the S-Pen stylus and a full suite of content creation and consumption applications for users, not to mention all the other S-Pen features made famous from the Galaxy Note smartphone family. While we don't see anything major standing out here over, say, the iPad Air, the 12.2-inch screen and S-Pen stylus could help give Samsung an advantage.
We'll be on the lookout for more details, but most likely Samsung will be sharing all the facts and setting things straight in the next week or two. The company has big plans for both the high-end and budget tablet sectors, and will be pushing them hard in the new year.