Samsung Galaxy Note Pro 12.2 Tipped for February Release
A large 12-inch tablet from Samsung has been rumored more than a few times lately, with the latest reports coming in November when the 12.2-inch tablet cleared the FCC, and now we're hearing a name and release date.
We've heard a few different reports and rumors around a larger iPad coming in 2014, and Samsung looks to get out ahead and release a large slate of its own early next year. If the latest reports and leaks from MovePlayer are accurate, it will be called the Samsung Galaxy Note Pro 12.2 and below is what some can expect once it arrives. Taking the Galaxy Note 10 tablet one step bigger, and beating Apple to market.
According to multiple leaks and the FCC report, everything is lining up for Samsung to release a 12.2 inch tablet early next year called the Galaxy Note Pro, but the 12.2-inch version isn't the only one in the works. Above is a reportedly leaked press render, and below you'll even see what we're hearing is the device in the wild, a prototype that was spotted and quickly photographed.
The Korean site Seeko reports that Samsung will have the 12.2-inch Pro, as well as a Galaxy Note 8.4 Pro and even a Galaxy Tab Pro in the 10-inch form factor. If this is accurate, the Pro models could all come with the recently hyped AMOLED panels Samsung's been hard at work on.
The Samsung Galaxy Note Pro lineup could make a debut at CES in Las Vegas early January, but the release date is reportedly not until mid February, with the second week being the target for release. If the Note 12.2-inch is indeed real it should sport a beautiful 12.2-inch 2,560×1,600 resolution display and be powered by the Qualcomm Snapdragon 800 quad-core with 3GB of RAM, the S-Pen stylus, Android 4.4 KitKat, and a massive 9,500 mAh battery to keep that large screen powered on all day long.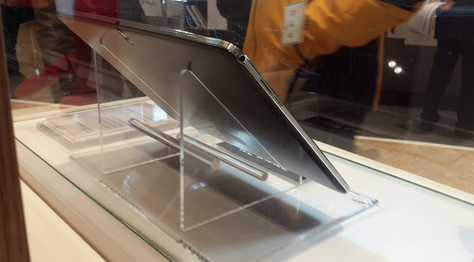 The image above is allegedly of the 12.2-inch model, but we're also hearing an 8.4 and 10.1-inch option will both be available as well coming with the same specs as above, 16GB of storage, 5 megapixel cameras on the rear, and of course also running the latest Android 4.4 KitKat. So far we've heard nothing from Samsung, and the leaks are few, but come early next year we should have all the details.
If Samsung has big plans for tablets in 2014 they'll likely announce them at CES in January, or wait until February to launch its tablet assault at Mobile World Congress in Spain. We'll keep an eye out, and hopefully snag this 12.2-inch Galaxy Note Pro as soon as it's available.