Samsung Galaxy Note Review: One Week Later
I bought a Samsung Galaxy Note last week and really like the phone. The Note commends itself with great features like a beautiful screen and the responsive S-Pen.
Samsung makes using the Note a pleasure. I'm glad I switched from iPhone because of the stellar turn-by-turn directions that whip iPhone's, for now. I love the ability to choose other default apps like my browser and camera app, and excellent input options not available to the non-jailbroken iPhone user.
Read: Why I Bought the Samsung Galaxy Note
Unfortunately, I struggle with a couple of things that frustrate me with this phone and might push me to exchange it when the Samsung Galaxy S III ships later this month. I'd hate to lose the screen size, but the items below will tempt me if the S III masters these issues.
Camera Failures
The camera app, compared to my iPhone 4S, makes it hard to get great shots. It's slow and I can't tap to focus. On an iPhone you tap the screen where you want the camera to focus. It also meters the exposure for that point. Other camera apps let you tap one spot for focus and a second spot for metering. Without Ice Cream Sandwich, this doesn't seem possible on the Note. I've looked for replacements that will let me tap to focus and/or meter a shot, but all of them say they need ICS for that feature to work.
When I hit the shutter button, the phone lags about half a second behind before taking the shot. It kills me. I lose great shots that I could get on the iPhone 4S. I take a lot of pictures with my phone, so this irritates me. If you're a Note user and found a way around these weaknesses with GingerBread, please let me know.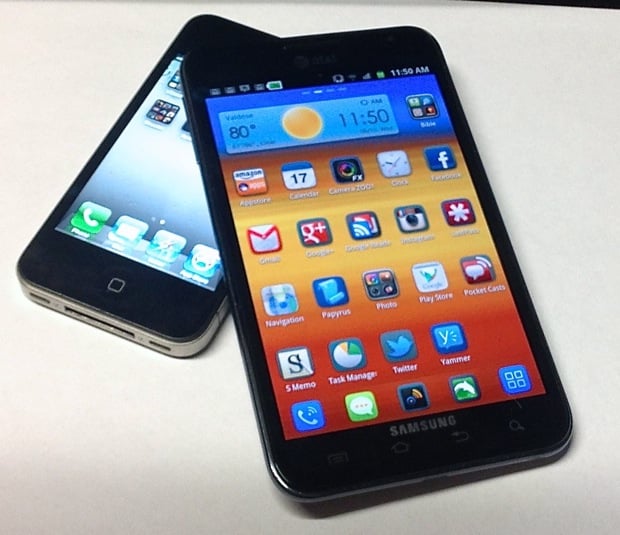 OS Updates
Speaking of Ice Cream Sandwich, we're told it should come by month's end. The OS shipped last year!
Love or hate Apple and the iPhone, but they keep updating the phone and every model back to the iPhone 3GS which will get iOS 6 when it finally launches in the fall, albeit a dumbed down version. A two-year old iPhone gets updates, but a phone released this year still isn't updated.
I can't understand why carriers and OEMs can't fix this problem. Maybe they don't care about the more passionate fans since the common user doesn't get that excited about OS updates. Apple understands that the passionate user will evangelize for Apple due to this kind of issue. Android phone makers and the wireless are too focused on hard bottom line numbers, they miss that spending the cash to develop updates for recent and even older hardware provides enough good will to make customers their PR people.
Battery Life
I'm not going to complain too loudly about the poor battery life on this phone, but I will complain softly. I never had to plug my iPhone into a power source as often as I do my Note. The Note's large display and real 4G LTE connectivity use battery life fast.
If I keep this phone, I'll get a higher capacity battery eventually. I'm taking a trip next week and that will really test the phone since I won't be near a power outlet for hours during the day. I may need to get an external battery backup to carry.

As an Amazon Associate I earn from qualifying purchases.