Samsung Galaxy Note Review: Editors' Choice Award
We awarded the $299 Samsung Galaxy Note a Most Versatile Device award in large part due to this phone's two most prominent differentiators: the large 5.3-inch screen and the S Pen. However, just being big and new and pen-enabled isn't enough to capture the hearts of the Android-loving populace. You need the newest OS, a powerful processor, LTE speeds, and a high resolution display. Oh, and it should make phone calls.
We awarded the $299 Samsung Galaxy Note a Best of CES 2012 award for Most Versatile Device in large part due to this superphone's two most prominent differentiators: the large 5.3-inch screen and the stylus — pardon — S Pen.
Ironically, these are also the GNote's most scoffed at aspects. Naysayers write the phone off as too big (everyone will laugh at you!) and trot out no less an authority than Steve Jobs to denounce the inclusion of the pen.
All of this is a little dramatic and unnecessary.
Every time smartphones add more fractions of inches there are complaints, yet consumers flock to "big" phones, anyway. And if no one wanted a stylus there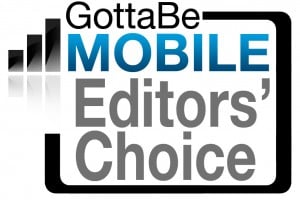 wouldn't be scores of third party pens on the market.
However, just being big and new and pen-enabled isn't enough to capture the hearts of the Android-loving populace. You need the newest OS (or a promise to upgrade), a powerful processor, LTE speeds, and a high resolution display. Oh, and it should make phone calls.
Samsung and AT&T deliver on all of that, but does the Galaxy Note's size overshadow its benefits? We don't think so, and that's why we've given it an Editors' Choice. Read on to find out why.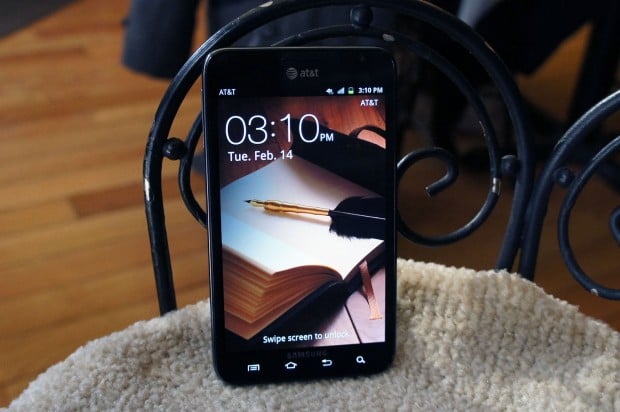 Pros

Large, high resolution display
Pen ads functionality and is backed by several good apps
Comfortable, attractive design
Good cameras
Speedy performance and network

Cons

Display is big drain on battery
Palm rejection isn't consistent
Not great for small hands
Review Summary
Despite being a larger than average phone, the Galaxy Note isn't uncomfortable to hold thanks to the design and its light weight. The 5.3-inch display's high resolution means less scrolling, more text, crisper fonts, and a great multimedia viewing experience. Still, users with small hands may not find it comfortable.
The S Pen isn't necessary but adds functionality even users wary of styli will appreciate. In combination with pen-enabled apps the Galaxy Note makes a nice memo pad.
Battery life may not be what you'd hope for thanks to the large screen and LTE network. If 24-hour battery life is a priority for you, this may not be your phone. If speed and multimedia are, the Galaxy Note is worth a look.
Galaxy Note | $299 | AT&T

Samsung Galaxy Note Review Guide

Related Galaxy Note Review Articles

Buy the Galaxy Note

Design and Hardware
Let's get this out of the way: the Galaxy Note is a big phone. You will notice the size the first time you see it in person and hold it. When you pull it out in public people will say "What is THAT?" When you hold it up to your ear the first time it will seem odd.
You'll get over it.
One reason is that, even though the Galaxy Note has a big footprint (5.8 x 3.3 inches) and a 5.3-inch screen it's not a heavy or thick phone. It's 0.38 inches thin — 0.01 inches thicker than the Galaxy Nexus and 0.01 inches thinner than the Galaxy Tab Plus — and weighs 6.3 ounces — 1 ounce more than the Galaxy Nexus.
You're not going to get an abnormal amount of arm fatigue holding this phone.
Aesthetically, the Galaxy Note looks more like it belongs to the Galaxy Tab family than the Galaxy S II line. The glass front is smooth and level and the plastic back only has a slight curve to it. The rounded chrome edges make holding the Galaxy Note comfortable.
The power button (on the right) and volume rocker (on the right) stick out just enough to find by feel but don't ruin the line. Neither does the headphone jack on top. The micro USB port sits on the bottom edge right in the center (useful for docking). The S Pen port is also here.
An 8MP camera, LED flash, and tiny speaker grill grace the back.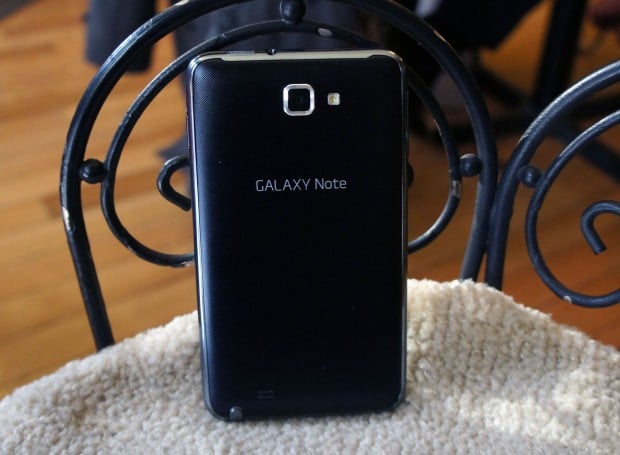 To access the microSD card and SIM card slots you must remove the back, which pops off easily. The battery is removable as well.
There are two colors available at launch: Ceramic White and Carbon Blue. The latter is so dark blue it looks black. The white version has a white front and back that makes the chrome look lighter.
Galaxy Note Display
There's no point to having a big 5.3-inch display on a phone if it doesn't take best advantage of the space. Samsung didn't make the tragic mistake of coupling a large screen with a stingy resolution. So users get a spacious 1280 x 800 pixels, which translates to 284.8 ppi (pixels per inch).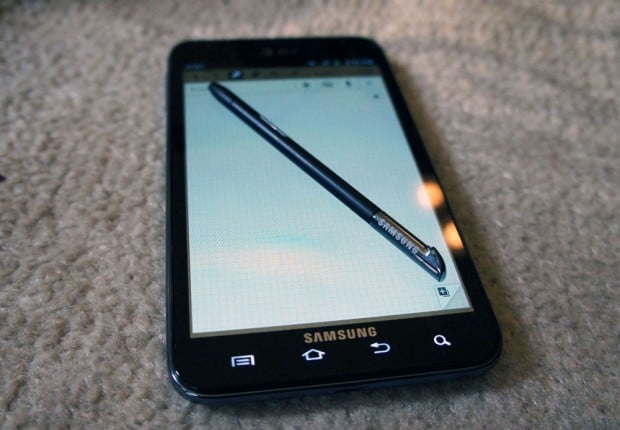 At this res you can expect a generous amount of text on the screen at once when reading web pages and eBooks or scrolling through your Twitter feed and G+ circles. Text is nice and crisp at small sizes as well.
The high pixel density doesn't mean UI elements are smaller or more difficult to get at with a finger. And you can fit more on a Home screen — 5 spaces across instead of the 4 you usually get with larger smartphones.
The HD Super AMOLED display is beautiful and very bright when turned up to 100 percent. I found that I could turn the brightness down to between 10 and 15 percent and not lose any depth. This helped cut down on battery drain as well.
As is typical with this type of display I experienced true blacks and colors that pop. White backgrounds were also true white at greater brightness levels but took on a slight bluish cast at lower ones. Everything is nice and crisp, especially HD content.
The glossy screen is reflective enough to use as a mirror. It does well in direct sunlight with the brightness up all the way. If you keep brightness down to save on battery visibility goes down accordingly.
Viewing angles are wide enough that you can share the screen with a couple of people, a must for a smartphone this big.
Holding and Using the Galaxy Note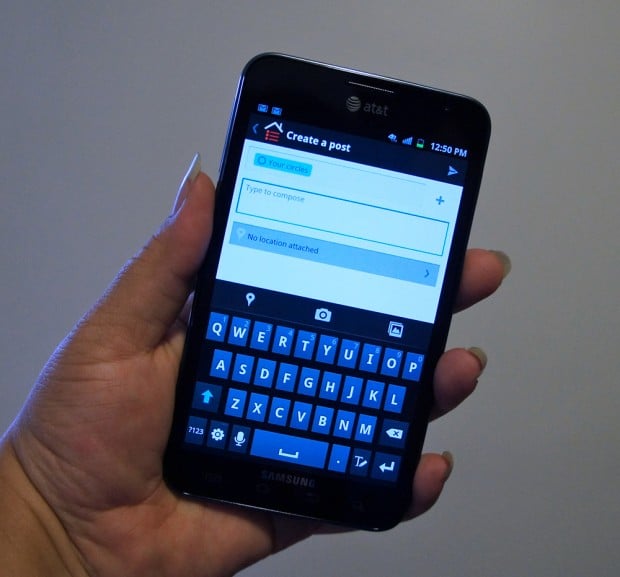 The Galaxy Note is a very holdable smartphone, but many potential buyers wonder if the bigger form factor will make it more difficult or challenging to use than a 3.5 or even a 4.3-inch sized device. This depends on several factors such as hand size and how much you value one-handed use.
I have average-sized hands and the Galaxy Note fits right in the cradle of my palm. Since it's wide, my hand definitely felt the difference after hours of use, but that was only the first day.
While it was possible for me to do some tasks one-handed such as scrolling and typing, the balance of the handset made that more awkward than I'm used to (I own a HTC Thunderbolt and often go one-handed). I defaulted to holding the Galaxy Note with one hand and dealing with input using the other, similar to the way I use a tablet.
One benefit of the width is that I can type with two hands in portrait mode comfortably. Because I have long fingernails this is difficult on smaller displays. The landscape keyboard stretches out to make typing even more accurate for those of us who can't use the tips of our fingers. It is a stretch to reach the middle keys, but not an uncomfortable one.
S Pen – Note Taking & Navigation
It's possible to use and enjoy the Galaxy Note without ever touching the S Pen that comes with it. If one were to keep it tucked into the port you could even pretend it doesn't exist. You'd be missing out on some nice functionality, though.
The S Pen is a digitized stylus developed in partnership with Wacom. Since it's so small it doesn't require batteries like the pens for the HTC Flyer or Lenovo ThinkPad Tablet. Similar to those styli it has a fine tip about the size of a ballpoint pen which allows for better accuracy when selecting, drawing, or writing plus pressure sensitivity. Even though there are no batteries involved the button on the side does allow for extra functionality.
The one place where the S Pen does not work is on the buttons beneath the display. To compensate, Samsung built-in gestures that replicate the functions. Hold the button on the side and swipe up from the bottom for Menu, swipe down for Home, and swipe left for Back.
In my time with the Galaxy Note I've unconsciously attempted to use the pen on those buttons a bunch of times. Over time I would probably get used to doing the gestures, but using buttons on Android is an ingrained habit and hard to break. It would have been nice to make those buttons compatible with the S Pen in some way — perhaps by making the other end of the pen conductive plastic.
Holding the button and tapping on the center of the screen activates the Note's screenshot feature. Double tapping while holding the button brings up S Memo Lite. (More on these apps below.)
The S Pen itself is light and thin and not uncomfortable to hold. The button doesn't sit naturally under the fingers, though; another reason the gestures don't come as easily as just tapping the Home/Back/Menu buttons. But using it in lieu of a finger ended up being surprisingly natural after just a short time using the Galaxy Note.
Aside from screenshots and S Memo, owners can also type by writing using the Samsung keyboard. The first time I saw this version of the keyboard was the Galaxy Tab 8.9. It's still not the most efficient way to enter text because, unless your handwriting is fairly neat, the recognition engine can be slow and inaccurate. I like having the functionality, though.

If you prefer to use Swype there's no handwriting area but tracing is just as easy with a pen (and sometimes more accurate).
Note taking is deeply ingrained here, obviously. Can it replace a small notebook for those who still cling to handwritten notes?
The Galaxy Note is almost exactly the same size as the traditional Moleskine, which is 5.5 x 3.5 inches, but the notebook is thicker. There isn't much bezel on the display, so you have almost as much edge-to-edge writing space. You can adjust the thickness of the pen's line down to a very thin line, so even those with small writing can fit several words on a line.
The screen responds to pen input very quickly. While I did note an infinitesimal delay between penstroke and response when writing fast, that's only because I was looking for it.
Unlike the HTC Flyer and some other pen-enabled handheld devices, the pen making contact with the display doesn't produce a loud, annoying clicking sound and doesn't feel like I'm scraping against glass (even though that's what I'm doing, in essence).
The palm rejection worked really well when my palm hit the display, but I had mixed results when it hit the buttons beneath. The phone ignored my palm sometimes, but other times interpreted it resting there as a long press. This only presented as a problem when I had the phone sitting on a flat surface, as I would a notebook. When I held it in one hand and wrote with the other it didn't happen.
As a person who still enjoy writing notes by hand I would use the Galaxy Note for this purpose. I wouldn't use it for my diary or when I need to take extensive notes, though.
Galaxy Note Performance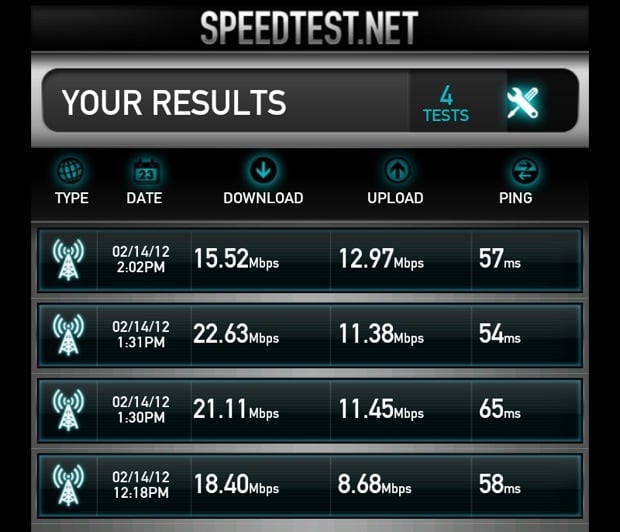 Inside the Galaxy Note's thin chassis is a 1.5-GHz dual-core ARM processor and 1GB of RAM. This combo makes for a snappy, speedy phone that handles everything from gaming to opening large documents.
When playing Fruit Ninja I never experienced lag or less than optimal performance. Firing up Grand Theft Auto III was a particular treat because the display is so good. While driving around, rampaging, or engaging in hand-to-hand combat the gameplay remained smooth and graphics rendered exactly as I'd expect.
Speed is also on display when opening apps, changing screens, and writing with the S Pen.
The Galaxy Note is one of a handful of phones that can run on AT&T's 4G LTE network. It averaged 19.4 Mbps down and 11.1 Mbps up (measured by the Speedtest.net app), which is on a par or faster than scores we've seen on recent Verizon Wireless LTE phones.
If you're eager to buy a Galaxy Note even if you don't live in one of the 26 cities with LTE coverage it will work with current 4G/HSPA networks. In New York City I saw speeds of just 3.1 Mbps down and 1.0 Mbps up on HSPA.
Galaxy Note Battery Life
On my first day of use the Galaxy Note only lasted 6 hours. Granted, I was using it very heavily since I was getting to know the device. However, that whole day it was only on the HSPA network, not LTE, so the outlook wasn't promising.
However, after several days of use and several recharging cycles (where I drained the 2,500 mAh battery completely before plugging it in) I saw 10 – 15 hours of battery life with medium to heavy usage on the AT&T LTE network. That's with apps updating and downloading in the background, several hours playing games, 15 – 45 minutes of phone calls using a Bluetooth headset, using the camera and updating social networks.
During this time I kept the screen brightness set very low around 10% but didn't use Wi-Fi or any other battery saving tweaks. With it up closer to 50% I saw a dramatic increase in energy consumption.
Galaxy Note Call Quality and Audio
Holding this smartphone up to my ear was weird the first few times. The length isn't really an issue, it's the width. After making a few calls the weirdness wore off.
The people I called reported that my voice was clear and loud. They could hear some background noise when I was out on a noisy street, but not so much it distracted or overpowered my voice. Callers came through clearly through the earpiece.
Though there's only one tiny speaker on the back of the Galaxy Note it pumps a surprising amount of volume. I was able to fill a medium-sized room with audio played through Google Music. While tinny, it was nice enough for sharing songs or YouTube videos with friends in a noisy environment.
Galaxy Note Cameras
The 8MP camera on the back of the phone takes rich and detailed pictures when in natural light. Indoors in good lighting images also do well, but dim lighting challenges the sensor. The flash doesn't blow out subjects too much, but neither does it make for the best images.
The camera is capable of recording 720p and 1080p 30fps video. Again, with good natural lighting these come out well, as you can see in the video samples below. In low light you get a noticeable hit in quality.
Inside the microphone provides very good sound, but outdoors, you run the risk of ruining your video with wind noise as you can see in the samples below.
Galaxy Note Sample Video Indoors 720P
Galaxy Note Sample Video Indoors 1080P
Galaxy Note Sample Video Indoors Low Light
Galaxy Note Sample Video Outdoors 720P
The front-facing 2MP camera is better than most offerings, making it a great tool for taking self-portraits and avatar shots as long as you're in good light.
The camera app offers a nice range of functionality from white balance and exposure control to scene choices, panorama and a few effects. On the video side my favorite feature is the ability to leave the flash on while recording so you can light up a darkened room.
I also like that users can choose which of these settings is just one touch away on the main screen with shortcut control.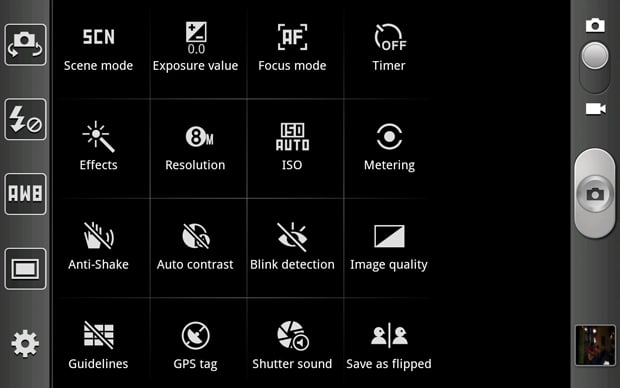 The Galaxy Note doesn't have a super speedy shutter like the Galaxy Nexus. Actually, there's an odd delay after the shutter sound before you see a super brief preview of the picture you just took. It's hard to see if the shot came out, especially if you used the flash.
Software and Apps
Currently the phone runs Android 2.3.6 Gingerbread with Samsung's TouchWiz UI on top. The company has promised that this Note will get an upgrade to Ice Cream Sandwich 4.x soon, but has not released any details on timing.
TouchWiz adds aesthetic changes to Android as well as a good selection of widgets for the large Home screens. Some of these widgets are resizable, a feature not usually found on Gingerbread.
The Galaxy Note comes with a large parcel of pre-loaded apps, but not all of them are CRAPPS. Several relate to the S Pen or are otherwise useful. Most others are AT&T specific and a handful are found on most Samsung handsets.
S Memo is the flagship S Pen app. Users can create text or handwritten memos plus drawings. It even includes a handwriting recognition element. My writing is not the neatest, so the app isn't able to correctly interpret it all of the time.
Memos aren't trapped here — users can export them to other apps like Evernote or Springpad, send them via email and Bluetooth (as images in the case of handwritten ones) , or attach them in other apps, like the Calendar.
If you hold the button on the pen and double tap the center of the screen you can bring up S Memo Lite, which sits on top of whatever app you're in and allows for quick notes. Users can switch back and forth between S Memo Lite and the primary app without losing the note. This is particularly useful when taking notes while on a call.
Tapping the center of the screen once while holding the pen's button takes a screenshot. Once captured, users have the option to draw on or crop the image and send it to other apps or attach to email and MMS. GNote saves these to the Gallery.
Other than Samsung's apps there are around 19 third-party apps with additional S pen capabilities. Polaris Office (pre-loaded on the Note), Evernote and Skitch are among the most prominent. To make finding compatible apps easy Samsung added an S Pen section to the Samsung App store (which draws data from the Android Market).
Aside from apps that take advantage of the S Pen there are a few other notable pre-loads. The big, beautiful screen calls out for video content. Users can rent or buy movies via Samsung's Media Hub or Google Video and watch their favorite shows via LiveTV, an AT&T app (free for 7 days, then $9.99/month).
Is the Galaxy Note Worth It?
With a two year contract the GNote costs $299, which is on the high end for mobile phones but not unique. The Galaxy Nexus debuted at that price, as did the Droid RAZR Maxx, and we recommended both of those handsets. The Note has extra functionality, extra screen space, and a pen.
Plus, for some owners this device will eliminate the need for a tablet. There's no comparison to a 9 or 10-inch slate like the iPad or Galaxy Tab, but if 7 inches is more your style, the Note will be big enough for many, especially given the high resolution.
Keep in mind that this price won't hold forever. Plenty of popular, high cost phones come down in price via the carrier or Amazon a few weeks or months after release. If budget is a concern, wait a while.
New AT&T customers will want to opt for the $30/month 3GB data plan at least, which comes to $720 over two years. Power users may feel that this might not be enough — a 5GB, $50/mo plan is also available — but consider that AT&T service comes with free access to AT&T hotspots, so you won't always have to use your data plan when you're away from home.
The Galaxy Note is a versatile phone, a decent tablet, an excellent mobile multimedia machine, and a good camera rolled into one device. While the size isn't a big impediment, for some consumers the GNote is going to be too much. For others the benefits are worth the lack of back pocketability.
This is a phone that you should definitely see for yourself before you buy it. There's no absolute way to tell if your hands are big enough or it fits comfortably until you hold it.
Samsung Galaxy Note Gallery

As an Amazon Associate I earn from qualifying purchases.