Samsung Galaxy NX Hands-on
Today Samsung finally introduced the Galaxy NX, a mirrorless camera that runs Android with LTE connectivity and can use interchangeable lenses.
The Samsung Galaxy NX looks like a DSLR camera with a large 4.8-inch display, but it feels much lighter than more traditional large cameras. The size and its lightweight make the galaxy NX easy to carry with just one hand. There is a grip on the right side of the device for those users who just want to use one hand.
Accessing the shutter and record buttons on the grip was somewhat awkward at first, though users accustomed to cameras of that size likely won't have any issue.
The 4.8-inch HD screen on the Galaxy NX looks beautiful, making it easy to preview photos. The is also a viewfinder available for those who prefer to take photos that way.
When taking a photo the Galaxy NX uses on-screen controls like the Samsung Galaxy Camera. Those controls include a large number of Smart Modes that will help users take better photos depending on the current situation. In the few moments we had with the device, the touchscreen controls seemed rather slow. Specifically it took a few second to get to the Smart Modes selection screen. Samsung may speed up the software before the camera comes to market.
The Samsung Galaxy NX will ship will Android 4.2.2, complete with a Samsung skin that's fairly similar to the Galaxy S4 and its many variants. The camera comes with some preloaded software like Trip Adviser, but not nearly as much as the Galaxy S4 itself.
Like the Samsung Galaxy S4 and Galxay S4 Zoom, the Galaxy NX includes 3G and 4G LTE connectivity, though Samsung did not confirm any carriers for AT&T is a likely bet.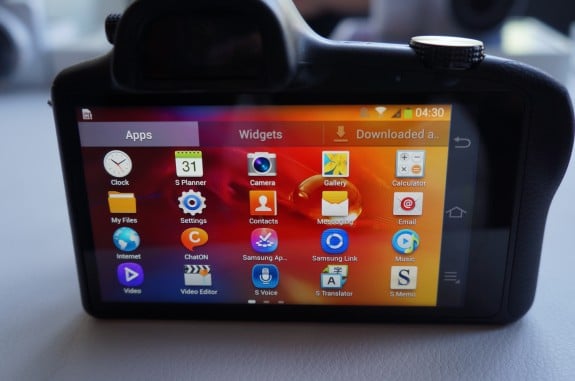 As a mirrorless camera the Galaxy NX looks like an interesting choice. Without looking at test photos on another device it's hard to say how good it is. The camera internals are very similar to the Samsung NX300, which is a high-quality camera. The only downside to the line is users are reliant on Samsung's line of 14 lenses. No other company makes lenses for the NX line at the moment.
The Samsung Galaxy NX Camera release date and price for the U.S. is still to be determined.