Samsung Galaxy Round Appears With Curved Galaxy Note 3 Design
Samsung and LG are both working on smartphones with curved or flexible displays, and lately we've been focusing a lot on Samsung's effort. The company confirmed it was coming soon and recent reports have stated the phone could be announced as soon as next week.
Yesterday news broke that the flexible smartphone will in fact be called the Samsung Galaxy Round, and now this afternoon we're reportedly getting our first look at the device. Famed leakster @evleaks revealed two images of the device, as well as a few additional details. Could this really be Samsung's smartphone with a curved display?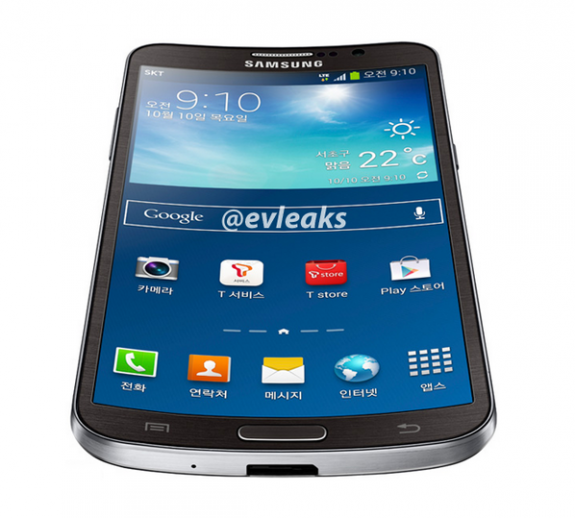 Consumers may have a hard time buying into this design, but along with the leak comes news that this device will be a limited edition product for South Korea only. At least for now. Meaning we won't be seeing this from any US carriers anytime soon. That aside, lets take a look at the second picture and a few features we see on board.
Right away you'll notice the large port on bottom. Which appears to mirror the micro-USB and USB 3.0 port on the Galaxy Note 3. Then evleaks posted a second image that gives us a glimpse of the back, which you'll see the same faux-leather design as the Note 3. Most previous rumors stated this would be nearly identical to the Galaxy Note 3, only have a curved display, and so far those appear to be accurate. Well, as long as these images are the real deal.
The LTE-A logo on the rear confirms LTE-Advanced support, which also means the device will likely be powered by Qualcomm's Snapdragon 800 quad-core processor. The only thing missing is the S-Pen stylus from the popular Note series. Rumors have the flexible display coming in at 5.7-inches, but looking at the images the design is closer to the 5-inch Galaxy S4 than the Note 3. Just by looking at the camera setup.
The Samsung Galaxy Nexus and even the Nexus S had curved glass from top to bottom, but did anyone think Samsung would curve the device from side to side? Not to mention this is the actual screen being curved, not just the glass on top. It's a unique idea, that's for sure.
No other details are available at this time regarding the Samsung Galaxy Round. Or whatever they'll name this oddity, so stay tuned for more details.

As an Amazon Associate I earn from qualifying purchases.