Samsung Galaxy Round: Features You Need to Know About
After all the rumors and speculation Samsung finally announced its first smartphone with the YOUM flexible display technology they've been working on. Yesterday they revealed the Samsung Galaxy Round, and right out of the gate its been receiving heavy criticism.
Many might have been expecting an actual device with a flexible and bendable display, but the point here isn't that it can flex freely, it's that the screen is actually curved yet we still get to enjoy a 5.7-inch full 1080p HD screen. We're seeing a lot of complaints about the shape, design, or just the phone in general, but there's a few new features worth pointing out. It may not be the innovation many were hoping for, but most products aren't a home run on the first try. This is only the beginning.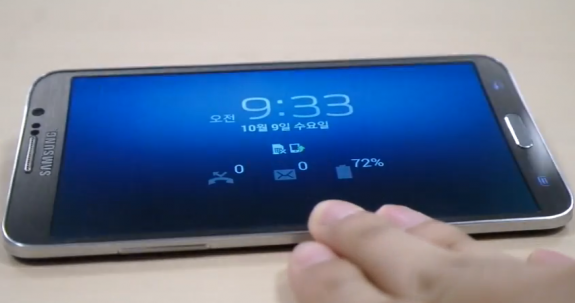 Many of Samsung's recent smartphones like the Galaxy S4 or new Note 3 have tons of motion and gesture controls for hands-free usage. Things like Air Gesture where a simple swipe of your palm 3-inches above the display will temporarily active the screen so you can quickly check for notifications and missed calls. These are simple and effective, and Samsung's added those types of real-use benefits to the Galaxy Round.
Galaxy Round Roll Effect
Again, the design might not appeal to many consumers, but this is the first device of its kind and Samsung added a few neat features to accompany those curves. As you can see in the image above (and video below) a quick tilt of the rounded device to curve the display towards you will illuminate the display. Which will then quickly and easily display the time, date, alarms, missed calls, texts and even battery life. That's a lot of information without touching any buttons.
This feature is similar to the Air Gesture with other Galaxy Devices, but now a slight angle does this, instead of hovering your palm over the top of the device. Both will probably be included, but it's nice to see Samsung actually making practical uses out of that bent design. This is somewhat similar to the Active Display feature found on the Moto X. Also, for those curious about the new Samsung Galaxy Round here's another video showing off more of those features while also comparing it to the newly released Galaxy Note 3.
Bounce UX Music Controls
Like other Samsung devices with larger than average screens we also have an array of one-handed operation features. Users will be able to customize the keyboard to either side for easy one-handed use, enable multi-window mode where you can have two apps running at once. Think YouTube on the top half and Gmail on the bottom. Then for music Samsung has introduced a new feature called the Bounce UX. When the Galaxy Round display is off but music is playing, a quick tap on the bottom left corner will go back, and a tap to the bottom right will play the next track.
Samsung's also introduced a feature called Side Mirror, which will enable a tilt to the left or right to move between photos and galleries on the device. Some might call these gimmicks, but Samsung appears to be using the curved design to its advantage. We're also assuming many of the Air Gesture, Motion Control, and other S-features seen in our Galaxy Note 3 Review will be present with the Round.
Do These Features Matter?
At first glance many are dismissing the Galaxy Round out of the gate, and we understand why. It's a unique design we've never seen before in a smartphone, and change can be difficult. Don't forget that LG has something similar in the works, so this could be a trend. While there's no telling how the consumer market will react to these devices as a whole, at least Samsung's making an effort to bring advanced features to the device.
Do these features matter? Yes, and no. While they're useful for a device that is curved, most can still be done with other features found on Samsung's range of Galaxy devices. Some users might love some of these small little improvements, others will see them as gimmicks. At least Samsung's trying to push the boundaries though. As we all know how that worked out with the original Galaxy Note.