Samsung Galaxy Round Reportedly Only a Prototype
Earlier this month, Samsung announced the Galaxy Round, which is a new smartphone that sports a curved display, as well as a curved body. It's definitely the first of its kind, and Samsung already confirmed that it would be hitting South Korea first, with no word on US availability. However, don't get your hopes up, as it's said that the Round is merely just a prototype, according to SamMobile.
Furthermore, the device will see very limited production, including in South Korea, where only a handful of these devices will be made. This doesn't necessarily mean that the phone won't make its way over to the States, but don't be surprised if it doesn't. It's more than likely to remain in South Korea.
It's said that while Samsung officially announced the phone and will release it to the public, it's essentially just a prototype device being used to test out curved OLED displays. It's pretty expensive too, with a $1,000 USD price tag over in South Korea, which is probably why Samsung is only making a few of them.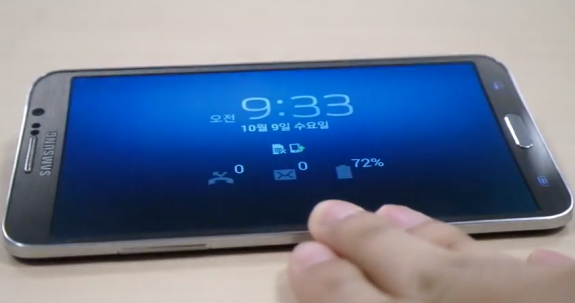 However, the device isn't all that different from the Galaxy Note 3, aside from the curved display, obviously, and it's lack of an S Pen. It has a 5.7-inch full 1080p HD display, though, and comes with some similar features that you'd find on the Galaxy Note 3.
This isn't the first smartphone to come with a curved display, though. Google's Nexus S and Galaxy Nexus both had curved displays on the x axis, but this is the first device where the display is curved on the y axis. It's certainly a unique device and it's one that many enthusiasts probably want to get their hands on, but sadly, a lot of them won't.
While the Galaxy Round is merely just a prototype that will see a limited run, it could open doors for similar devices in the future, whether they're made by Samsung or another phone manufacturer. One thing is for sure, though: Samsung is interested in curved OLED display technology, and we should definitely be seeing more from them in the future.